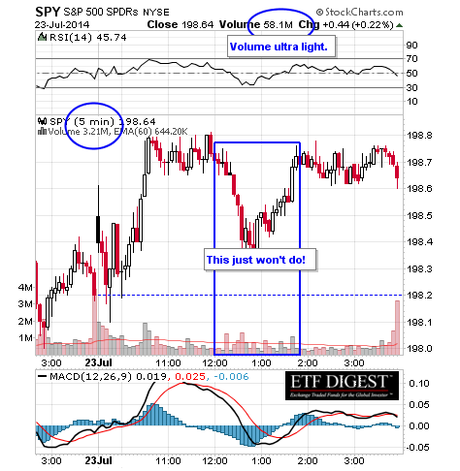 Up, up and away!  
Don't worry about the fact that the volume is so low we had to check if the market was actually open.  Don't worry about the fact that net $852M flowed OUT of SPY yesterday - even as the index gained another half a point.  Just keep your eye on the prize at 2,000 on the S&P and all will be well.  
China is giving us a boost this morning with positive PMI data but, as I noted to Members this morning, the PMI is just a survey of the OPINIONS of Purchase Managers for what they expect over the next 6 months and it's mainly just a feedback loop of market sentiment.  As Dave Fry observed:
Overseas China stocks rallied on mere speculation the government will promote stimulus measures to boost growth. The government may engage in "monetary easing and support the housing market," said Benjamin Tam, a fund manager who helps oversee about $1.5 billion at IG Investment Management (Hong Kong) Ltd. "People are still optimistic that the government policies will support growth in China. All of that is positive and that's why the market is moving higher." This is the speculative chatter driving up shares.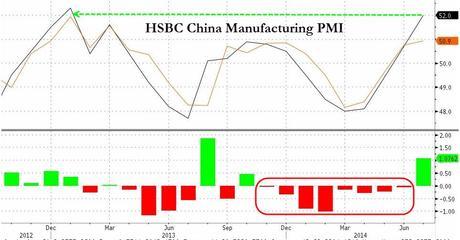 Last summer, for example, China's September PMI came in surprisingly positive last year and then had 9 out of 10 negative reports afterwards.  Yet, somehow, this kind of history lesson does not stop traders from rushing back into Chinese stocks as if they've just gotten the "all clear" signal they've been waiting for.  
Of course MORE FREE MONEY is always good for the markets and we're not fighting the Global Fed (in fact, Tuesday's $10,000, 1,000% trade idea is right on track with only 22 days to completion) – just trying to temper the enthusiasm – just a little…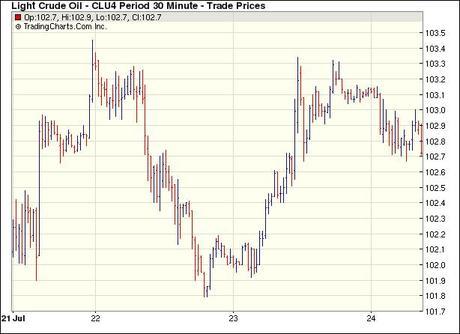 We're still shorting Oil (/CL) Futures at that $103 line and we hit it again this morning and hopefully we'll get a nice pullback around 10:30 – after the natural gas report shows a nice build.  Natural Gas (/NG) is not playable at $3.78 but it will make for a nice long at $3.50 – if we get there.  
As noted in yesterday's post, we are still EXTREMELY skeptical of this rally – though that does not stop us from going along for the ride.  What it does do is keep us mainly in CASH!!! with one hand firmly on the exit – just in case it all hits the fan.  As of last night, our Long-Term Portfolio was up 19.6% and our more bearish Short-Term Porfolio was up 11.5%.  The S&P meanwhile, even if it hits 2,000, is up just 8% from it's 1,850 start in January.  
So our gains are mostly off the table and we'd LOVE to see a nice, HEALTHY correction back to 1,950 but, so far, the market refuses to oblige.  That's why we went long on the Russell on Tuesday – as the other indexes break up, the Russell has turned into a laggard and could easily pop 5% to catch up.  
Meanwhile, we're watching the Dow and the Nasdaq closely to see if they can make new highs before the clock runs out on the week: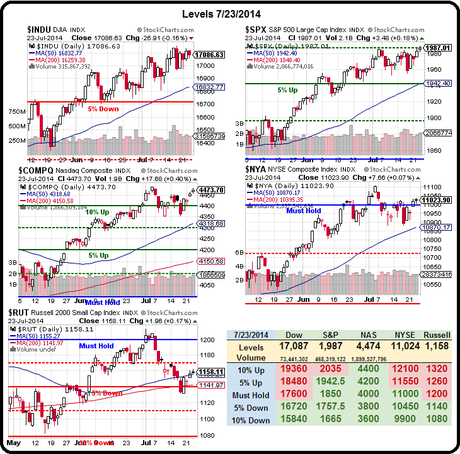 Email This Post  

Twitter  

LinkedIn  

del.icio.us   Google+  
This entry was posted on Thursday, July 24th, 2014 at 8:07 am and is filed under Immediately available to public. You can leave a response, or trackback from your own site.
Do you know someone who would benefit from this information? We can send your friend a strictly confidential, one-time email telling them about this information. Your privacy and your friend's privacy is your business... no spam! Click here and tell a friend!