The prior Friday had been options expiration day and we had been slammed up to our 100% lines on our Breakout Levels and AAPL was recovering after being slammed down on rumors that Steve Jobs was dying (remember the picture "evidence" that turned out to be doctored?).  We were also worried about the pending Government shutdown at the time as well as Libya (but Egypt was still the main event a month ago).  My comment in the Monday (2/21) Morning Alert to Members was:  
If you think you are too long (and I REALLY hope no one who subscribes here is) this morning, then the Dow futures can be shorted at 12,350 or lower as that's about where we got that moronic stick on Friday so we can assume the action above that level was fake, Fake, FAKE.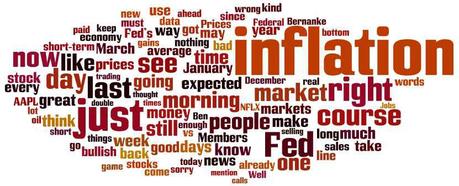 Japan upgraded their economic outlook that day and oil was trading at $86.55 a barrel but, as you can see from our tag cloud that week – we were expecting inflation to kick into high gear.  We already had our bearish bets in place so we had no new plays other than combo on PCLN which was:
Buy 3 Apr $540 calls for $4.50 ($1,350) 
Sell 4 March $530 calls for $3.10 ($1,240) 
Sell 2 April $350 puts for $3.50 ($700)
That spread was a net credit of $590 and now the March calls, of course, expired worthless and the Apr $540s are still fetching $2.50 ($750) and the April $350 puts are just .30 now ($60) so that's another net $690 to cash out for a total gain of $1,280 on a play that cost nothing but margin over 5 weeks.  This is what you can do with well-hedged plays rather than risking your cash with directional bets!  
On Tuesday, the 22nd, my prediction that morning was that we would "Drop 'Till the Prop" and drop we did, all the way from 12,400 back down to 11,555 (6.8%) on the Dow before bottoming out on Tuesday, the 15th (which I remember because I was on TV, calling a bottom).  One of the big factors we discussed that Tuesday (2/22) was the fact that the NAR had been lying to us about home sales and they were far worse than they seemed – that has been borne out by recent evidence…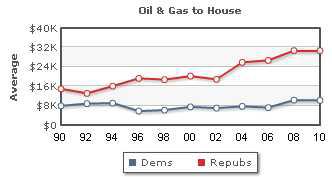 What really gave oil a huge boost that week wasn't Egypt or Libya – it was the Republican cutbacks on virtually all of the programs in the President's Budget that were designed to promote either public transportation, energy conservation or alternative energy research (see post for list).  Obama can talk about our energy future all he wants but if Congress refuses to fund it – then we remain at the mercy of our friends at OPEC as well as the speculators, who got their biggest windfall since 2007 – the last time Republicans controlled the House (just an unfortunate coincidence, I'm sure).  
I won't rant about it here – I did that in that post when I predicted that these actions would send oil back up.  Now it's up and we're shorting again so water under the bridge I guess – except that the water is oil and the oil is sucking $10Bn PER MONTH out of the pockets of US consumers at the moment – in order to "save" $8.8Bn off the budget.  We had picked 5 long plays on energy stocks that Friday and I reiterated them that Tuesday Morning on DVN, ECA, NFX, XEC and UPL and, on the  whole, they held up nicely – certainly giving our well-hedged positions no trouble at all: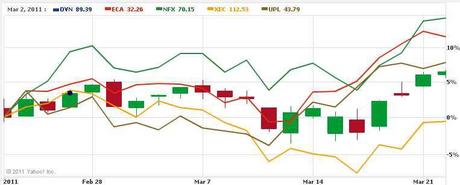 Amazingly, that day, we were also long on oil futures over the $95 line (/QM) and I even liked the USO $37 calls at the time – it's funny to look back just a month and realize how different our stance was on oil!  As I often say – we play for the ranges – at that point we were clearly heading up, now we are at a point that we feel is the top of the range (oil $105) so it's prudent to play for the pullback until proven otherwise.  
So where does that bring us to on March 31st – the final day of Q1?  Once again we think the move up is fake, Fake, FAKE (as I made clear yesterday) and we will be fairly surprised if it is different this time but we will be keeping our eye on those 100% levels but, as I warned Members in this Morning's Alert – we're getting our covers on now as we don't want to be anyone's fool tomorrow if the bottom drops back out sooner than we expect: