I've listened to preachers

I've listened to fools
I've watched all the dropouts
Who make their own rules
One person conditioned to rule and control
The media sells it and you live the role
Mental wounds still screaming
Driving me insane
I'm going off the rails on a crazy train – Ozzy

Wheeeee, that was fun!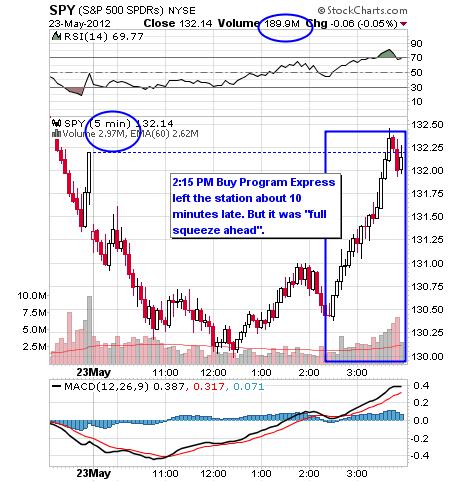 We called for a "Whipsaw Wednesday" and it doesn't come much more whipsawed that that.  Fortunately we stuck with the plan from my morning post to take the money and run on our short plays and we even pulled the hedges off our $25,000 Portfolio, leaving it 100% bullish at 11:11 in Member Chat.
That left us a little nervous for the next hour but, of course, we had a plan for that too and, at 12:27, I put up a chart of the our indexes over the last 5 days saying: "Note our lows of last Friday – Those are the lines we need to give up at if we fail them!"
That's a very important point about aggressively trading – it's OK to pick a bottom and flip bullish, but ONLY IF YOUR BOTTOM HOLDS!  The biggest problem traders have is they guess a bottom (1,300 on the S&P was ours) but then, when their premise fails – they FAIL to give up on the position.  This is much like saying in the morning that you don't think it's going to rain – then having breakfast and seeing it pouring with rain outside – and refusing to take an umbrella because you didn't think it was going to rain (see "The Microwave Oven Theory of Behavior" for more on this subject).  
Here was the chart we looked at at 12:27 in chat: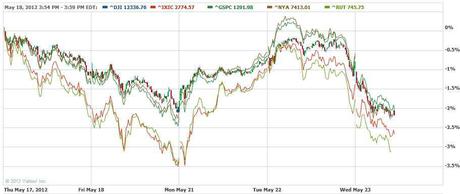 Things were not looking good, were they?  Remember, we had gone bullish on that first pause and failed to hold that line so the first thing we had to do was make a new plan — just in case.  If you don't know EXACTLY what you are going to do "just in case," you are going to let yourself get shoved around by these crazy markets.  We had laid out our Just in Case plays in the Morning Alert at 9:57 with three aggressive hedges to…