Where does it all go?  The key difference between last year's "Operation Twist" and this year's "QInfinity and Beyond" is the lack of what was called "sterilization."  In Twist, the Fed bought the long Treasury notes while selling the short ones thus "sterilizing" the net effect on the money supply to keep inflation down.  In December (when we were crashing – remember?) the Fed announced they would go back to making open-market purchases of long-dated treasuries AND mortgage-backed securities WITHOUT subsequent sales – ie. POMO – ie. MONEY FOR NOTHING! 
Yesterday was a $3Bn day, today is $1.5Bn, tomorrow $1.25Bn, Monday $1.5Bn, Tuesday $3Bn, Wednesday $1.5Bn, Thursday $5.5Bn ('cause it's Valentine's day, I guess) and next Friday will be the first business day of the month that the Fed will rest ahead of the holiday weekend (President's day on the 18th) but then MORE FREE MONEY comes in every other day of the month.
As noted by Evil Speculator: "That is not the end of the story – there is another factor we need to consider and it's the actions of the ECB on my side of the Atlantic. Draghi has been cooking his own stew of sterilized injections by swapping a portion of the ECB's on-balance sheet exposure for an unlimited off-balance sheet commitment via the Outright Monetary Transactions program. He's doing this by concurrently offering one-week deposits to the banking system. Banks bid competitively for the deposits, thus permitting the ECB to withdraw from circulation an amount of money equivalent to what it has spent via OMTs."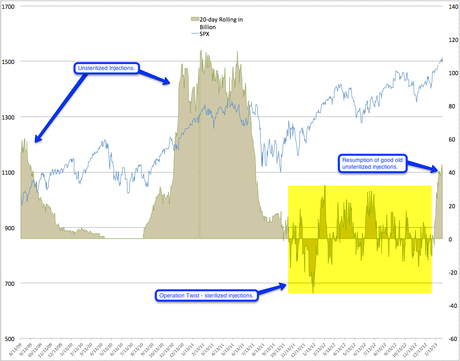 As I said on Tuesday, the tide is coming in and the Fed is adding water to the Ocean and THEY ARE NOT GOING TO STOP until we are all swimming in so much cash that our $20Tn debt (by that time) is only 1/2 of our GDP.  Since our current GDP is $16Tn, that means the Fed is going to have to pretty much triple it through the end of the decade and that means we need China-like 10% annual growth and the way we get there is with our friend inflation.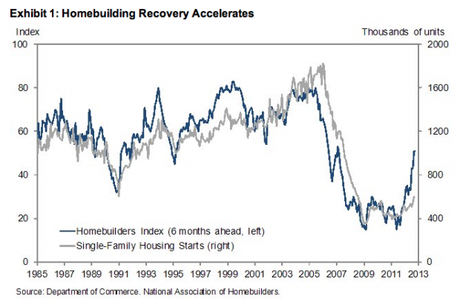 Sound like madness?  Not really.  Housing, for example, is 18% of our GDP and homebuilding activity is still down about 66% from it's early 2000's level.  Millions and millions of jobs were lost in that sector and millions and millions of
…
This article will become free after 48 hours (see below for free content). To read the rest of this article now, along with Phil's live intra-day comments, live trading ideas, Phil's market calls, additional member comments, and other members-only features -
Subscribe to Phil's Stock World by clicking here
.