That's the question investors have for the Dow as we continue onward and upward to record highs.  Our own Big Chart has a target of 14,400 for the senior index and making and holding that line will finally get us to roll our targets higher – per our 5% Rule, which has been right on the money since 2009 so no sense in ignoring it now, is there?
I mentioned in yesterday's post that the Dow today is not the same Dow as we had in 2007 so, in general, comparisons are silly but we have to play the hand we're dealt and keep in mind that any index that is based on 30 stocks that are now selected by a Rupert Murdoch company is certainly nothing any serious investor should be basing decisions on.  
What we can take very seriously is S&P 1,440 – long gone already along with our targets on all our other indices save the Nasdaq, which has been dragged down by AAPL's 40% drop, costing that index 8% or about a 250-point handicap and it's STILL just under that 10% line.  
In fact, the NYSE is about to test a critical 2.5% line at 9,000 and 1,550 is the 12.5% line on the S&P and the Russell is closing in on 17.5% over it's own Must Hold line (940) so a lot of thing lining up for the big cross that will officially put us up and over the top and will raise our Must Hold lines up to those 5% lines as the market confirms it's next leg higher.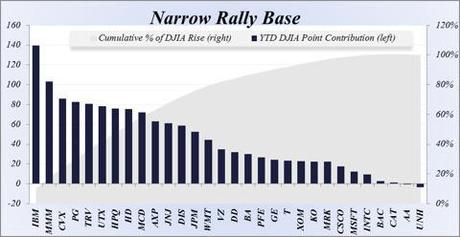 So it's the Dow that is WAY behind and needs to catch up and, to see if it has the gas to get going – let's look at the individual components and see if they are likely to let us move higher or if they themselves are toppy after a 10% run for the year.
Tom Luongo put up this useful chart showing who has contributed the most and the least to the Dow's rally this year.  Not surprisingly, in the price-weighted index, it's IBM getting the lion's share as that stock has gone from $190 to $208 – up $18 and adding about 140 points to the index (8 points per Dollar is about right).  Here's a fun fact, had AAPL been put…
This article will become free after 48 hours (see below for free content). To read the rest of this article now, along with Phil's live intra-day comments, live trading ideas, Phil's market calls, additional member comments, and other members-only features -
Subscribe to Phil's Stock World by clicking here
.