As I told you yesterday, the damage is done.  Extending the crisis past Christmas doesn't make it  go away and the Dollar fell 1% today on the "great' news that we "fixed" the debt ceiling.  So Congresses "fix" cost you 1% of EVERYTHING you EVER earning in your ENTIRE life.  It's all worth 1% less now – happy?  
If it took you 40 years to earn what you have, that's about 6 months of your life murdered by Government idiocy and, believe me, they are not done yet.  As I warned yesterday, this may only be stage one of the decline of the American Empire – just like Rome, we have Senators constantly plotting against the Emperor while lining their own pockets and doing anything it takes to remain in power, rather than actually trying to do what's right for their country.  
I was particularly disturbed this morning by a clip from the Daily Show which highlighted what's going on at the State Governemnt level with 26 GOP states refusing to cover millions of people who fall through the Medicare/Obamacare crack, which was meant to be covered by Federal Aid but GOP Governors, like Rick Perry, are refusing the aid – a political stand that is literally killing people!  
The Daily Show
Get More: Daily Show Full Episodes,The Daily Show on Facebook
In the interest of being "fair and blanced," here's a good Conservative cartoon from Investors.com, which, like almost all of the Financial Media, is a thinly-masked right-wing propaganda sheet.  Still, this they can make good points in that, regardless of who you want to blame for Obama's inbility to magically completely reverse 8 years of Bush destruction in less than 4 years, there are still a TON of problems facing us that this debt fiasco only managed to distract us from: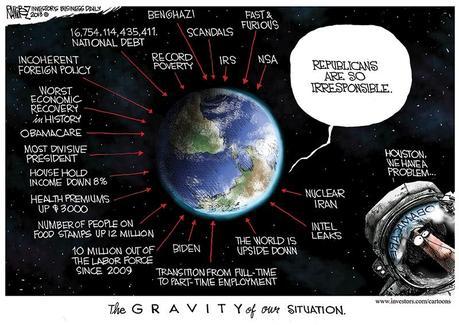 Notice how they use the word "gravity" because it's a popular movie at the moment and, despite the fact that the cartoon has nothing to do with gravity, focus groups show it helps get your attention and focus groups are how we run the GOP, right?  
IN PROGRESS
You must login to see all of Phil's posts. To read the rest of this article now, along with Phil's live intra-day comments, live trading ideas, Phil's market calls, additional member comments, and other members-only features -
Subscribe to Phil's Stock World by clicking here
.
To signup for a free trial membership, click here.