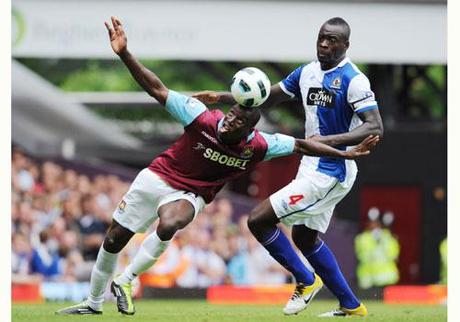 And then there were seven. But realistically four.
West Ham, 33pts - West Ham, West Ham, West Ham... I suppose technically the Hammers "turned things around" this past weekend against Blackburn, earning a 1-1 draw from the fixture. Add this point to what they've accumulated in the five matches prior to this weekend and you get a grand total of.. one point. I think it's safe to say their stellar midseason form has taken a bit of a dip. They're currently at the bottom of the table and have only two matches to make up the four point deficit on Wolves (the first squad out of the drop zone, at present). Their two remaining games are definitely winnable, which helps since they're also 'must-wins'. This weekend's fixture is away to Wigan, another relegation-threatened club, before they welcome Sunderland to Upton Park on the 22nd. A draw does West Ham no good in either fixture, as they need more than just points. They need help.
Wigan, 36pts - Wigan can improve their odds of survival immensely if they take care of bottom-feeding West Ham come Sunday. A win would not only potentially move them clear of the drop zone (for the time being), it would also ensure West Ham's future lies beneath the top flight. Their 1-1 draw with Aston Villa this past weekend did not help their cause, as the two extra points would have moved Wigan out of the bottom three. That being said, they are only one point from safety, and as long as they take care of their own business they should (could) be alright.
Blackpool, 36pts - If I were a bettin' man, I'd definitely have all my money on red. Blackpool's final two matches are at home against Bolton and away to Manchester United. Needless to say, it does not look good for the Tangerines. They weren't able to take advantage of a poor performance by Tottenham over the weekend and walked away from the fixture with a 1-1 draw (is anyone else noticing a trend?). Their only hope is that Bolton comes in uninspired with nothing left to play for, and Manchester United clinches the title against Blackburn, thus ultimately trotting their reserve squad out for their final fixture against Blackpool. Good news for the Tangerines, however: they continue to have one of the best nicknames in sports. So there's that.
Wolves, 37pts - Wolves are slightly less bad than the rest of the bottom three. Their 3-1 victory over West Brom over the weekend moved them out of relegation territory. For now. While their last two fixtures are certainly manageable, at Sunderland and then home against Blackburn, their work is by no means done. Even a draw could see Wolves overtaken by Blackpool or Wigan if either of the two are able to walk out of their respective matches victorious. The severe congestion at the bottom of the table is certainly giving me a headache, which is obviously far more important than the anxiety any of these relegation-threatened clubs might be feeling.
Teams with a mathematical possibility, but a realistic improbability, of relegation*: Birmingham (39), Blackburn (39), Aston Villa (42)
*Don't be surprised to see any or all of these squads involved in next week's rundown.