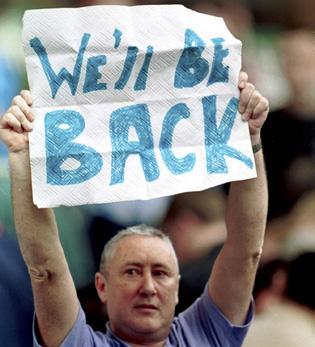 Well we are finally here. The last week of the season is finally upon us and by Saturday afternoon we will know which teams will be playing in the Championship next season. I would like to thank all of the readers of the rundown and of course my partner Zach for holding it down and filling in for me last week. This season has been the most exciting and wide open relegation battles in recent memory. With West Ham being relegated and locking up 20th place, we will have a total of 5 teams battling to avoid finishing 18th and 19th. Here is the final rundown of the season.
20. West Ham United (33 pts, -24 GD) -
Relegated
19. Wigan Athletic (39 pts, -22 GD) –
Wigan travel to the Britannia to face Stoke on Saturday. Wigan has been playing pretty well down the stretch to put them in a position to stay up. A comeback 3-2 win over West Ham last week might have given Wigan the momentum they need to get the 3 pts. Stoke has absolutely nothing to play for and I look for Wigan to go out and grab the 3 points on the road and put the pressure on the others around them to grab points.
18. Blackpool (39 pts, -21 GD) –
A couple of weeks ago I mentioned that Blackpool's final three games would be their death sentence. I just felt that closing out with Spurs, Bolton and United would not allow them to accumulate the necessary points. To my surprise, Blackpool has gotten results out of games with Spurs and Bolton. A 1-1 draw at White Hart Lane and then last week's thrilling 4-3 home victory over Bolton. Now that United has won the title, I don't see any way that Blackpool loses this game. United have the Champions League Final the following week and will surely trot out a weaker squad. Sir Alex should just field the reserves as he should not waste one single body that he expects to play against Barcelona. Blackpool will play well at the Theatre and will get the 3 points here.
17. Birmingham (39 pts, -20 GD) –
Birmingham has had a disappointing run of form to put themselves in this predicament. While teams around them have been getting results and climbing up the table, Birmingham has been stubbing their toes against opponents who really do not have much to play for. This week Birmingham travels to White Hart Lane to face Spurs. Unfortunately for Birmingham, Spurs are fighting with Liverpool for fifth and a Europa League spot. I don't see Birmingham getting a result here.
16. Wolverhampton Wanderers (40 pts, -19 GD) 15. Blackburn Rovers (40pts, -15 GD) –
I had Wolves left for dead a couple of weeks ago but they have come on strong with 7 pts in the last 3 matches. This weekend's Wolves-Blackburn is more like a Relegation Cup tie. The winner of this match will be in the Premier League next year. The quality of this match will depend on what is going on in the other 3 matches of relevance. If the Birmingham, Blackpool and Wigan all jump out to leads in their games, the Wolves and Birmingham game could become spectacular. Both teams would have to go all out for the victory as a loss or a draw would relegate them. Blackburn is in the best position because of their substantial lead in goal differential so I would not be surprised to see them park the bus if they can get by with a draw.