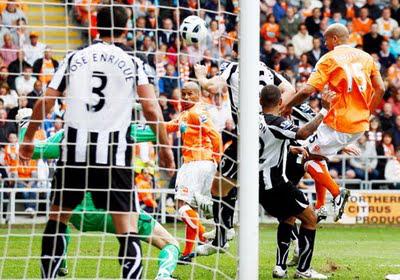 There are four games remaining and the relegation battle is far from decided.Every team at the bottom has a legitimate shot at staying up.It will be up to the performances over the next four games to decide who will be in the Premier League in 11/12.
20. West Ham United 32pts- West Ham had the unenviable task of facing Chelsea at Stamford Bridge over the weekend.Unsurprisingly, the Hammers fell 3-0 to the Blues.They are now the squad that conceded Fernando Torres' first ever goal in a Chelsea uniform.This week, West Ham travels to Eastlands to face Manchester City.I don't see any points in this one for the Hammers, but they need to focus on the 3 games after in which they face Blackburn, Wigan and Sunderland and have a legitimate chance at grabbing all 9 which would certainly keep them in the Premier League.
19. Wolverhampton Wanderers 33pts- Wolves have played two games since the last rundown and now have played as many games as their rivals.On the weekend, they secured a 1-1 draw at home against Fulham.Steven Fletcher scored in the 22nd for Wolves.They were leading all the way until the 80th minute when substitute Andrew Johnson scored to secure the point for Fulham.Disappointing result for Wolves as they need every point that they can muster.Wolves then followed that with a 3-0 beat down at the hands of Stoke City on Tuesday night.This match just adds to the list of terrible performances that Wolves have put in recently.This weekend, Wolves travel to St. Andrews Stadium to face Birmingham City.Wolves need to come out firing and grab at least a point.
18. Wigan Athletic 34pts- Wigan ended up serving as the slump busting team for Sunderland.The Latics ended up losing 4-2 on the road at the Stadium of Light.Wigan scored first with a Mohamed Diame goal in the 52nd.Asamoah Gyan answered back in the 55th with a goal and the rout was on.Franco Di Santo did answer back in the 90th to make the score look a little better for Wigan.This weekend, Wigan welcomes Everton to the DW Stadium.Everton has been playing very well lately and I don't see any points in this one for Wigan.
17. Blackpool 34pts- Blackpool exit the drop after a one week stay thanks to a 1-1 draw at home against Newcastle United.Peter Lovenkrands scored in the 17th to put Newcastle up 1-0.In the 32nd, DJ Campbell equalized for the Tangerines and they were able to hold on.Blackpool is still in a ridiculous tailspin.They have 2 wins since the beginning of the calendar year and have played to only 3 draws on top of that. So you add that up and the tangerines have accumulated just 9 points since December 28th.To stay up Blackpool will need to get some wins before this season ends.
16. Blackburn Rovers 35pts- Blackburn suffered a disappointing 1-0 home defeat at the hands of Manchester City on Monday night.Edin Dzeko won it with his first ever Premier League goal for City in the 75th minute.Blackburn will need to re focus and turn their attention to Bolton this weekend.Bolton beat Arsenal 2-1 at home and then followed that performance with a terrible 3-0 drubbing at the hands of Clint Dempsey and Fulham.So who really knows what we will get from Bolton.Blackburn will need to go in focus and looking for 3 points especially since it the game is at home.