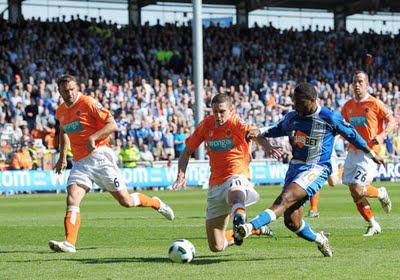 It is definitely becoming crunch time for the bottom dwellers of the Premier League.

 

Five games left for most teams and every point is important for these five squads.

 

Wigan is the big winner of the weekend as they move from bottom of the table last week to 17th and out of the drop zone thanks to a 3-1 victory over Blackpool.

 
20. Wolverhampton Wanderers, 32 pts-
After a solid February and March, Wolves have started April very poorly. Wolves were off this weekend because their scheduled opponent was involved in the FA Cup.

 

So they will look to come back rested against Fulham over the weekend.

 

Fulham has been trucking along just above the relegation fray and are coming off a 2-0 loss at Old Trafford.

 

Fulham will be looking to pick up all 3 of course but this is a game that Wolves need to focus on getting at least a point if not all 3 to give them a chance.

 

Luckily for them, they have played one less game than their rivals so have an extra game to possibly pick up points.
19. West Ham United, 32 pts-
West Ham suffered a gut wrenching 2-1 loss at the hands of Aston Villa over the weekend.

 

The Hammers started things off with a goal from Robbie Keane in the 2nd.

 

Then Darren Bent equalized in the 36th for Villa.

 

It looked as if West Ham would at least secure a point until Gabby Agbonlahor hammered home a header in stoppage time to give Villa the victory.

 

Next up for the Hammers is a trip to Stamford Bridge to face a surging Chelsea.

 

Then they can look forward to a trip Manchester to face the FA Cup finalists.

 

If you are a West Ham fan all you can do is pray the other teams around the Hammers fall as well.
18. Blackpool, 33 pts-
Blackpool continues their downward spiral with a deflating 3-1 home defeat to Wigan.

 

This is a game Blackpool needed bad as Wigan were bottom of the table and the Tangerines were at home.

 

Next up for Blackpool is a home game against Newcastle.

 

This will definitely be a tough game but at this point all hands need to be on deck to right this sinking ship.
17. Wigan Athletic, 34 pts-
Wigan do exactly what I said was possible in last week's rundown.

 

They got a decisive victory over Blackpool and moved all the way from 20th to 17th.

 

Next up for the Latics will be a trip the Stadium of Light to face Sunderland who has accumulated a grand total of 1 point since the end of January.

 

This is a game where Wigan needs to take advantage of a struggling side and get 3 points.
16. Blackburn Rovers, 35 pts-
Blackburn continued their poor form over the weekend with a 2-0 loss at surging Everton.

 

Leon Osman scored in the 54th and Leighton Baines finished off Blackburn with a converted penalty in the 75th.

 

Blackburn welcomes Manchester City to Ewood Park this weekend.

 

Blackburn will hope that City will still be on the high of beating United in the FA Cup Semi over the weekend.

 

I would not be surprised if City came in to this game overlooking Blackburn and end up dropping points.