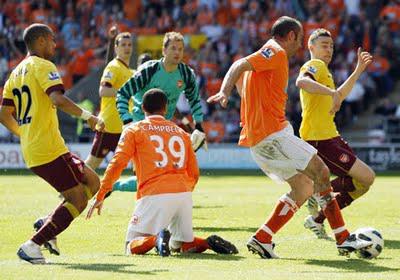 It was a terrible week for the bottom three teams in the Premier League.All three, Wigan, Wolves and West Ham suffered defeats and now look up and see only three other teams within 3 points of the drop zone.Blackpool is the only other team that can possibly be in the drop zone by Monday based on the goal advantage cushion Birmingham and Blackburn have.
20. Wigan Athletic 31 pts- Wigan had the unenviable task of traveling to Stamford Bridge to play Chelsea over the weekend.This game was sandwiched between Chelsea's two vital legs in their Champions League Quarter final match versus Manchester United.That looked to be an advantage for Wigan but Chelsea played well enough to get the 1-0 win and grab the 3 points.It was a tough result for the Latics but not surprising at all considering the opponent.Next week, Wigan travels to Bloomfield Road to face Blackpool in what looks to be a mammoth 6 pointer.Get a victory over Blackpool and Wigan could easily be out of the drop zone by Monday.
19. Wolverhampton Wanderers 32 pts- Wolves were embarrassed 3-0 over the weekend at the hands of Everton.After the 4-1 beat down last week at the hands of Newcastle coupled with the Everton disaster and Wolves look to be in deep trouble with no signs of escaping the drop.Not how a team should be playing when battling relegation.Wolves welcome Fulham to Molineux this weekend and better put on a better performance if they even want to think about playing Premier League Football next year.
18. West Ham United 32 pts- West Ham may have been feeling the effects of their disappointing loss at the hands of Manchester United.This past week, the Hammers did not look like the same team and ended up losing 3-0 to Bolton.Bolton's Daniel Sturridge terrorized the West Ham defense and the Hammers were never really in the game.This weekend West Ham welcomes Aston Villa to Upton Park.Villa still needs points to make sure they avoid the drop so I expect a very tough match up for West Ham.As I said a few weeks ago, West Ham's biggest problem will be their schedule.After the game with Villa, they go on the road for two straight weeks to play Chelsea and then Manchester City.
17. Blackpool 33 pts- Blackpool fell to Arsenal 3-1 at Bloomfield Road on Sunday morning.Blackpool controlled possession for the first 10 minutes or so but Arsenal struck quickly with goals from Abou Diaby and Emmanuel Eboue at around the 20 minute mark.Blackpool made it interesting with a goal from Gary Taylor Fletcher in 51st and Blackpool looked like they would tie it soon after.The Blackpool goal never came and RVP finished it off with a goal 76th.Blackpool is sinking fast and need to get back on track this week at home against bottom of the table Wigan.
Safe…for now: Blackburn 35pts and Birmingham 35 pts- These two teams are 3 above the drop with a significant goal advantage so they miss out on the rundown this week.They both had to settle for a point as they played each other over the weekend.The match finished with a 1-1 draw.This weekend Brum welcomes struggling Sunderland to St. Andrew's while Blackburn travel to Goodison to face in form Everton.Obviously both teams are not out of the woods yet but I believe that the four teams in 17th through 20th place will be battling it out until the end.