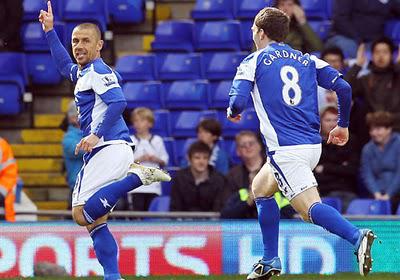 Alright back with another rundown.The Premier League is killing me with all of these teams in the relegation battle.I thought by now it would be down to 4 or 5 teams in danger of going down.Anyway, here is this week's version.
20. Wigan Athletic 31pts- Wigan got a nice 0-0 draw against Spurs DW Stadium on Saturday.A surprising result but not shocking since Spurs have not won a Premier League match in almost two months (granted that is only 5 games but still).Wigan will travel to Stamford Bridge on the weekend to face a fuming Chelsea.Maybe Chelsea will be upset about their recent results in the Premiership and the Champions League.Possibly, Chelsea will be looking ahead to that second leg clash at Old Trafford.Either way it will be tough for Wigan to get anything out of this game.
19.Wolverhampton Wanderers 32 pts- Wolves were smashed 4-1 by Newcastle at St. James' Park.Terrible performance for a team that was on a roll going 4 games unbeaten prior to their trip to Newcastle.Wolves host Everton this weekend for the early morning kickoff on ESPN2.This is a game that Wolves need to pull out especially at home.Everton has been better lately but Wolves will need to forget about the Newcastle disaster and get back on track.
18. West Ham United 32 pts- West Ham lost a disappointing 4-2 to match on Saturday to Manchester United.West Ham cannot help but feel like they missed a massive opportunity due to the fact they led United 2-0 until the 65th minute.After that the wheels fell off for the Hammers and Wayne Rooney ended up with a hat trick.West Ham will have to regroup this weekend as they travel to the Reebok to face Bolton.Bolton has been struggling as of late and West Ham has to go in firing like they have been in the last month or so.
17. Blackpool 33pts- Well Blackpool is definitely in a dogfight to stay up now.Everyone predicted at the beginning of the season that this team would finish last and they have stayed out of the drop zone thus far.Blackpool lost 3-0 to Fulham at Craven Cottage on the weekend.Terrible performance for a team that has shown it can play with anyone in the league.This weekend they welcome Arsenal to Bloomfield Road.Again as I have said for weeks now in the rundown, any match against Arsenal is winnable even for the teams at the bottom of the table.This game will be played on Sunday and will be one that the Tangerines will definitely be up for. Definitely would not be surprised to see Blackpool getting points out of this one.
16. Aston Villa 34pts- Aston Villa had to settle for a disappointing 2-2 draw at Goodison Park against Everton.Leon Osman kicked off the scoring for Everton in the 38th minute.Darren Bent answered back in the second half with two goals in the 47th and the 68th minute.Unfortunately for the Villains they gave up a late penalty in the 83rd when Jean Makoun brought down Phil Jagielka in the box.Leighton Baines scored from the spot to make it 2-2.This week, Villa welcomes Newcastle United to Villa Park.Newcastle is sitting pretty in 9th after their 4-1 thumping of Wolves.Villa has to put on a better home performance than they did in their last outing at Villa Park against Wolves.Its crunch time for the Villains as they have easily have the most to lose out of any other team in the relegation battle if they do indeed drop to the Championship.
15. Birmingham 34pts- Huge result for Birmingham with their 2-1 win over Bolton at St. Andrews over the weekend.A Kevin Phillips goal in the 4th kicked the scoring off for Brum.In the 59th Craig Gardner chipped in and secured the three points for Birmingham.This weekend, Birmingham travels to Ewood Park to face fellow relegation battler, Blackburn.This 6-pointer will be equally important for both teams as both sit with an equal number of points.A win one way or the other could send one team up the table even further.
14. Blackburn Rovers 34pts- Blackburn secured a nice scoreless draw at the Emirates against Arsenal.The Gunners were close to full strength and were still not able to unlock the Blackburn D over the 90 minutes.Definitely a solid result for Blackburn as they have a good chance to win this week in the aforementioned match against Birmingham.This game is obviously imperative for both teams but Blackburn really needs to focus on this one since they are at home.