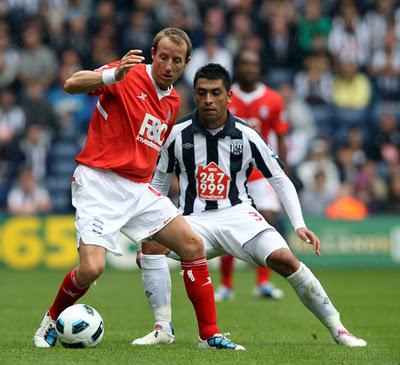 It was a very good weekend for the teams in the relegation battle.
The only team that was not able to avoid defeat was Wigan who lost to Manchester United.
West Ham and Wolves were able to capture much needed victories in their games against Liverpool and Blackpool respectively.
Let's take a look at at the bottom of the table.
20. Wigan Athletic, 27 pts - 
Wigan suffered a heavy 4-0 defeat at home against Manchester United on Saturday.
The 4 goal victory was particularly flattering for United, as they were certainly not as dominant as the score line would indicate.
Wigan started the game very well, but it was United who struck with a Javier Hernandez goal in the 17
th
 minute.  The goal was unexpected as it looked as though Wigan were going to be the squad first on the score sheet.
Once Hernandez scored again in the 74
th,
 the game was over.  United added two more goals after the game's outcome had already been decided.
Wigan has to regroup and turn its attention to their game this weekend against Manchester City at Eastlands.
It will be very difficult for Wigan to get anything out of this game as City is battling for the title at the opposite end of the table from Wigan.
Wigan's best hope is for the other teams around them to lose this weekend.
19.
West Ham United, 28 pts - 
West Ham was able to secure a shocking 3-1 win at Upton Park against Liverpool.
The Hammers pretty much controlled the game from start to finish and were able to produce a 2 goal halftime lead courtesy of Scott Parker and Demba Ba.
Liverpool got one back in the 83
rd 
with a 
Glen Johnson goal, but West Ham was able to secure the 3 points with a Carlton Cole strike in the 90
th
This weekend, West Ham welcomes Stoke City to their grounds.
The Hammers need to carry over their form from last week in order to pick up the 3 points.  
I would certainly not be surprised to see West Ham out of the drop zone by the end of the weekend depending on what the teams around them do.
18.
Wolverhampton Wanderers, 28 pts - 
Wolves move from 20
th
 last week into 18
th
 place after their impressive 4-0 thrashing of Blackpool at Molineux on Saturday.
This was a game that Wolves needed to get the full 3 pts from if they wanted to give themselves a shot at staying up.
Blackpool had just come off a mid week victory over Spurs and maybe came into Molineux a tad over confident.
Wolves took advantage with goals from Matt Jarvis, Jamie O'Hara, and two from Sylvan Ebanks-Blake.
This weekend Wolves turn their attention to a home match against Spurs.
I would not be surprised to see a weakened Tottenham side as they prepare to welcome A.C. Milan to White Hart Lane on Wednesday for their Champions League 2
nd
 Leg match, one in which they will certainly pour all their efforts into.
Wolves need to come into this game focused on getting the win as Spurs will likely not be focused and looking ahead to midweek.
17. West Bromwich Albion, 29 pts - 
West Brom
 was able to stay out of the bottom 3 again this week due to a draw against Stoke City.
Just like the week before against Wolves, West Brom got a late equalizer from on-loan striker Carlos Vela to secure the point.
Although the draw was obviously better than a loss, West Brom needs to start getting 3 points instead of 1 if they want to stay out of the drop zone.
This weekend, West Brom heads to St. Andrews to play Birmingham City.
Birmingham is not out of the relegation battle either so this is definitely a match that West Brom will look to secure a victory.
16. Birmingham City, 30 pts - 
Birmingham have to be on a high as they have won their second trophy in club history with a Carling Cup victory on Sunday against Arsenal at Wembley Stadium.
The Blues get back to Premier League competition this weekend with the aforementioned home match against West Brom.
Luckily for Birmingham, they have 2 games in hand against the rest of their competition at the bottom of the table.
Let's see if Birmingham can carry some confidence from their trophy triumph into the rest of the season.
It would be absolutely shameful for Birmingham to secure a spot in Europe (which they have due to their Carling Cup victory) 
and
 be relegated in the same season.
Teams that is safe…for now -
 Blackpool/Blackburn Rovers/Fulham.
All three of these teams are sitting at 32 points.
Blackpool welcomes Chelsea to Bloomfield Road so they will have a challenge to even get a point in that one. 
 It would be no surprise to find them officially part of next week's
 rundown.
Blackburn and Fulham actually play each other this weekend so one of these teams will look to get three points and open up a gap between themselves and the bottom three.