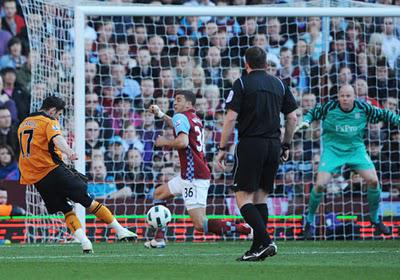 By: Brandon Whitfield
We are back with another edition of The Relegation Rundown.

 

Wigan and Wolves get much needed victories to help their cause while West Ham and West Brom secure solid draws against the two North London clubs.

 

All of a sudden Aston Villa and Birmingham are in serious trouble...Let's look at the jumbled mess that is bottom of the table.
20. Wigan Athletic, 30 pts -
Wigan's 2-1 win over Birmingham was more than just big, it was GINORMOUS for the Latics.

 

If they wanted any chance of staying up they needed to get three points there. Liam Ridgewell scored a disputed goal in the 6th minute for Birmingham.

 

In the 26th minute, Tom Cleverley taps in a ground cross that Ben Foster should have smothered, but the ball just tipped his hand and fell right into the path of Cleverley.

 

Wigan dominated most of the chances and possession and looked to be on the way to an unlucky draw.

 

That was until Maynor Figueroa (famous for this ridiculous 60 yard goal from last season) scored his 3rd ever goal for Wigan with a beautiful shot from outside the box in the 90th minute.

 

After this weekend's international break, Wigan will host Spurs at the DW Stadium.

 

After that game they will travel to Stamford Bridge to play Chelsea.

 

This is a stretch where you expect Wigan to not secure any points.

 

Wigan is still only 3 points from safety and very much alive to stay up.
19. Birmingham, 31 pts -
I think it is safe to say that Birmingham is officially suffering from a post Carling Cup hangover.  Earning only 1 point in 3 games since the victory over Arsenal has put Birmingham firmly in the drop zone.

 

Birmingham will welcome the Stu Holden-less Bolton Wanderers to St. Andrews next.

 

That will be a tough game as Bolton is a quality squad this season.

 

It is all up to Birmingham whether they stay up with their Carling Cup trophy or if they will represent the Championship in the Europa League next season.
18. Wolverhampton Wanderers, 32 pts -
In the very first Relegation Rundown, Wolves were dead last and looked to be dead.

 

Wolves have collected 7 points in the last 3 games which puts them on the brink of exiting the drop zone.

 

Unfortunately for Wolves, West Ham has also been on a tear and holds a goal differential advantage at the moment.

 

This weekend Wolves traveled to Villa Park to face Aston Villa.

 

Wolves came away with a solid 1-0 victory thanks to a Matt Jarvis goal in the 38th.

 

This was an excellent result for Wolves as Aston Villa have more talent on paper (although they obviously are not showing that this season).

 

Wolves travel to St. James' Park to face Newcastle on April 2nd.

 

St. James is a very difficult place to win, but Wolves will go in with plenty of confidence based on their recent form.

 

Unfortunately for Wolves, they did lose defender Ronald Zubar to season ending surgery.
17. West Ham United, 32 pts -
West Ham continue their hot form with a 0-0 draw against Spurs at White Hart Lane on Saturday.

 

The Hammers have secured 7 points over the last 3 matches, which include victories over Liverpool and Stoke to go along with their solid road draw against Spurs.

 

The problem for West Ham will be their schedule down the stretch.

 

For their next match they welcome league leaders Manchester United to Upton Park.

  I would not be surprised if West Ham were to lose 6 of their last 8 matches

.

 

They still have fixtures against Chelsea, Manchester City, Bolton, Aston Villa and Sunderland.

 

West Ham needs to focus on every game to try to secure points because there are not many lesser opponents left on the schedule.

 

Let's see if new signing Demba Ba can carry them to safety a la Carlos Tevez in 2007.
16. West Bromwich Albion, 33 pts -
I am sure if you told Roy Hodgson before the match that he would draw against Arsenal, he would have taken that.

  But a

fter jumping out to a 2-0 lead, he would probably be disappointed not to secure the 3 points.

 

West Brom got goals from Steven Reid in the 3rd and Peter Odemwingie in the 58th.

 

Then Arsenal came back with goals from Arshavin and RVP to salvage the point.

 

They really would like to have the 3 points considering their next three games include Liverpool, Sunderland, and Chelsea.

  Points will be at a premium during this

 stretch.
15. Blackpool, 33 pts -
Blackpool will have to settle for the draw over the weekend, even after starting off with a 2-0 lead thanks to two Charlie Adam goals.

 

In the 25th Adam converted a penalty, and then four minutes later scored off of a free kick from just outside the box.

 

Blackburn struck back with a Chris Samba goal in the 49th, which pinballed around the box a couple of times before falling to Samba who powered a low shot into the net.

 

In the 90th, Junior Hoilett headed in a ball that was weakly punched out of the area by Blackpool goalkeeper Richard Kingson.

 

Blackpool will feel very disappointed with the result as they should have held off Blackburn for the 3 points.

 

On April 3rd, the Tangerines will head to Craven Cottage for a match against Fulham.

 

That is a game Blackpool needs to get 3 points if possible.

 

Blackpool needs to continue to play with confidence, which they have done most of the season.
14. Aston Villa, 33 pts -

Okay, it's official:Aston Villa is having an absolutely dreadful season.

 

Their next match will be in April, so that means that the Villains will begin April only 1 point above the drop. There is too much talent on this squad to even be talking about them right now.

 

Their next match will be against Everton at Goodison Park.

 

Its crunch time for Villa because if they mess around, they will find themselves in the Championship, which would be a DISASTER for that team.

 

It would be a mass exodus of players out of there if that were to happen as Chelsea, Man. City, and United would be sitting there waiting with their low-ball offers. Maybe the home fans booing them off the pitch will help this team wake up.
13. Blackburn Rovers, 33 pts - 
Blackburn will find themselves lucky to at least salvage a point against Blackpool, especially since they were down 2-0 during the match.

 

Next up for Blackburn will be a trip to the Emirates to face a struggling Arsenal.

 

With Arsenal in second place, you would think that Blackburn has no chance, but I am sure Arsenal will keep the Rovers in the game until the end.

 

Unfortunately for Blackburn, Cesc Fabregas has a good chance of playing in that game.

 

Their important game will come one week later in an old fashioned 6 pointer match against Birmingham.
Teams that are safe…for now -
Fulham, 35 pts/Newcastle 36 pts.

  

I think it is weird to put these two teams in this category.

 

I mean technically both teams are mid table with Fulham sitting in 12th and Newcastle in 11th.

 

Realistically there would have to be an epic meltdown for these teams to drop because there are so many teams below them.

 

Either way, Fulham and Newcastle are just three and four points above the drop zone respectively, so they both have to make sure to not have any long losing streaks down the stretch.