Theme Thursdays is a fun weekly event that will be open from one thursday to the next. Anyone can participate in it. The rules are simple!

This week's theme is yet another easy one. As much as I like challenging themes sometimes we just want a break… dont' we?



MALE PERSON
Description of a man/boy…

When he tried to be seductive it almost made her laugh. His
hooded eyes were as warm as an iceberg. His voice so gravelly, that
no matter how much he tried to infuse honey into it, the effect was
still like nails being dragged across concrete.
The Last Soul  by  Carolyn Rosewood


The BTT question of the week is:
TO Be Asked


TO Be Answered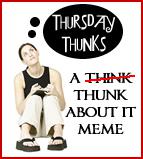 Pointless Questions in 10 seconds…

1. Do you know how to french braid?

Yes! Love them!

2. Two guys are walking down the street. One drops his hat and reaches down to pick it up, the other kicks him in the ass. Do you laugh?

Of course!! Just imagining it makes me laugh already!

3. You wake up one morning and dogs are meowing and cats are meowing – what are fish, elephants and crocodiles doing?

Barking?

4. You are going to your high school reunion. What award are you going to win?

Errr…artist of the class! lol!

5. You find yourself stranded on a deserted island. Soon you find a laptop with a lifelong battery & internet connection, then you find a cave with an endless supply of food and a spring of fresh water. A cruise ship comes along to save you – do you get on it?

Heck yeah! Cruise for free!

6. How many shortcuts do you have on your desktop?

Too many…

7. I offer you a pie… the most delicious pie you have ever seen. You either have to eat the entire thing in one sitting or allow me to slam it into your face, which do you choose?

Oh, slam it already!

8. Are you a pen stealer?

….Maybe…

9. A dude from China comes up and offers you german chocolate cake, french fries and a boston cream pie… what color is your car?

Pink!

10. Sometimes you just have to tap your foot to your favorite song – which tv series season finale are you watching?

BONES!



My Thursday 13 this week is…
Well, as the last questions was about TV Shows, I'll develop from there…
13 shows I watch :
1. True Blood (CAN'T WAIT)
2. Bones (the season finalle is TODAY!)
3. Game of Thrones (LOVING IT!!!!!!)
4. Spartacus (Amazing!)
5. Camelot (Very interesting perspective!)
6. Vampire Diaries (Guilty Pleasure)
7. Breaking Bad (Genious)
8. Glee (Oh, come on! Ignore the script and have fun!)
9. The Big Band Theory (Hilarious!)
10. Weeds (It used to be better…)
11. Being Erica (Fantastic canadian series)
12. United states of Tara (Crazy, crazy, crazy! Surprises me everytime!)
13. Secret diaries of a call girl (The show ended this year =[ )
I watch a few more, but this are the ones that came to my mind!
Oh,and don't forget to join this lovely blog hop every Thursday!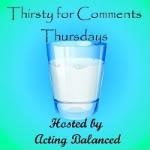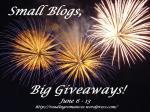 Sign up to host the big giveaway! (Click here)