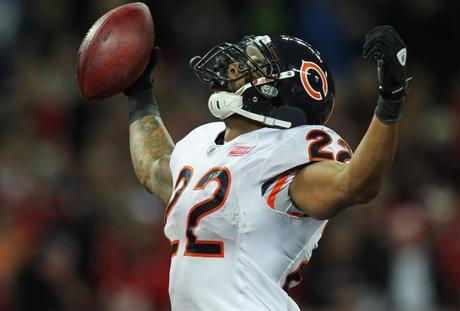 My mailbag has been filling up with people angry about my tiers of teams from my last Tuesday Night Cornerback. So, now to defend my pride are my responses along with my Week 9 picks. Remember these are actual emails from actual readers.
Chiefs @ Chargers-
Dear Matt,
Do you think they'll like me more in London?
-Matt, Kansas City, MO
Hey, Matt. Unfortunately for you, I don't think you're going to get the chance to see how things go across the pond1.
Pick: Chargers
Cardinals @ Packers-
Hey Matt,
I got beat up last week, and I know our offense isn't the best, but you're writing us off for the playoffs already. We beat your beloved Patriots, how can you say that?
Larry, Phoenix, AZ
I know you beat the Patriots, and if you were in the AFC you probably would sneak into the playoffs there. The bad news is that you play in a tough division and honestly the NFC is just so much deeper than the AFC. Besides, even if you made the playoffs you wouldn't make it far with Kevin Kolb/John Skelton as your quarterback.
Pick: Packers
Lions @ Jaguars-
Yo Matt,
I'm scared with the way the year is going. I don't think we can make the playoffs and me being on the Madden cover questions if I should keep playing if there is nothing at stake for us anymore. I don't want to tear an ACL. I am the best wideout in the game. I need to protect my future.
Calvin, Detriot, MI
Hey, Calvin. I agree with you, but you can't just sit out the year. You have to be a leader. This season has been tough, and your deep division hasn't helped. I think maybe a new coach would help and get you guys to take that next step. Until then, keep those ACL's safe.
Pick: Lions
Bears @ Titans-
Hey Matt,
I was just wondering how you could say I'm not the answer at quarterback? I have only played in 9 games in my career. How can you decide something that big off a sample size that small? I have 8 TDs and 2 INTs in my career. How am I not the answer? Please, do tell.
Jake, Nashville, TN
Okay, Jake, no need to get angry. From what I have seen you can't throw down the field with any type of accuracy. Your completion percentage last year was barely over 50%. So, even if your passes are getting intercepted, they aren't getting caught either. This year your completion percentage went up, but only because your yards per attempt went down. Your record in those 9 games by the way is 2-7. So, just worry about football not what I think of you.
Pick: Bears
Broncos @ Bengals-
Hey Matt,
I don't see any reason we can't compete this year. Why do we have to wait until next year? We made the playoffs last year, Baltimore is banged up, so are the Steelers. This is when we make our move.
Andy, Cincinnati, OH
You make a compelling argument Andy, but then I remembered some things: You didn't beat the Ravens or Steelers once last year, you've lost three games in a row, one of those losses was to the Browns. I stand by what I said. Better luck next year.
Pick: Broncos
Panthers @ Redskins-
Yo Matt,
I don't care that you're disappointed in me. I'm a playmaker. We gonna be just fine, don't you worry. I got this. We gonna be fine.
Cam, Charlotte, NC
Well, Cam, your decision making needs to improve. Interceptions were a problem for you last year, and again this year you have 8 already. So, I think the completion percentage needs to come up before any turnaround is going to happen. You've lost five games in a row. If a turnaround is coming you need to make it happen fast.
Pick: Redskins
Ravens @ Browns-
Dear Matt,
Wah!! I'm elite!! Why don't you believe me?! We are a top team in the AFC!! We don't have any question marks. My arm and the offense will carry us!! Wah!! I'm elite damn it!!!!
Joe, Baltimore, MD
Hi, Joe. Your claim of being elite is falling on deaf ears here. You haven't played a good game since beating New England2 and last week you were all-world bad against the Texans. Now, you have a big question mark on defense behind you and for some reason your coach lets you throw it 50 times a game without blinking. I just don't know where this season is going for you guys, but this game is a cross roads for the Ravens.
Pick: Ravens
Dolphins @ Colts-
Hey Matt,
I was looking forward to this week. This game has got playoff implications for the two of us, and I was going to play a great game and climb over Andrew Luck in your rookie QB rankings. Now it looks like I'm not going to be able to play. I guess I'll just stay home with my smokin' hot wife.
Ryan, Miami, FL
Ryan, you have it made either way. This game is still a big one. Many thought that Matt Moore might be a better option at QB before the season began. So, now we have the unlikely3 chance of seeing if they were right. Hopefully you will be back to full health soon. The Dolphins' future appears to be now. We'll see if Andrew Luck and the Colts can step up and win another big game this year.
Pick: Dolphins
Bills @ Texans-
Dear Matt,
You know we just had a bad game. I don't see why one loss should drop us so far in your rankings. We are still a top team, and you're lucky I don't come find you and get you for picking the Packers over us that week.
J.J, Houston, TX
Oh, hey J.J, haven't heard from you in a while. You see, I just thought that the Packers would be in nobody-believes-in-us mode and would come out and give you guys a tough game. I didn't really think they would win…
Pick: Texans
Vikings @ Seahawks-
Hi Matt,
I know you think we are going to stumble at the finish line this year and miss the playoffs, but I think we got a great group of guys here. I'll just keep handing off to Adrian and the defense will keep hitting the other quarterback and everything will work out just peachy.
Christian, Minneapolis, MN
I think you have spent too much time in Minnesota, Christian. Anyway, you're right I do think you are going to stumble. Your division is too tough and the NFC is too deep. You had a great year, and the future looks bright, something to be proud of. Don't get me wrong. I want you guys in the playoffs, I just don't think it will happen.
Pick: Seahawks
Buccaneers @ Raiders-
Hey Matt,
Why are you writing us off so soon? We are 3-4, there are plenty of game left to play. Why all the negativity. Look who we have in front of us: Tapenade Manning and Phillip Rivers. Are you saying we can't catch those two teams and make the playoffs?
Carson, Oakland, CA
Well, Carson, I believe you. You have made a great argument. Let's see how Manning plays when the weather gets cold. Let's see how the Chargers fall. I think you actually do have a good shot of coming from behind here. I'll keep my eye of you.
Pick: Raiders
Steelers @ Giants-
Dear Matt,
Thanks for saying we are your top team. We'll have to lose some games so no one believes in us again. Thanks a lot.
Eli, New York, NY
No problem, Eli. I'll make sure no one forgets how good you are.
Pick: Giants
Cowboys @ Falcons-
Hey Matt,
Did you look at our record? That's right 7-0! Who the hell are you to say we aren't the best team in the league? We are the best and we're going to prove it. 16-0 baby! 16-0. I'll be riding the carpet all the way to the Super Bowl because we won't have to play a single outdoor game for the entire playoffs. 19-0 baby!
Matt, Atlanta, GA
Wow. I've already had my say on this. We'll see who's right. Anyway, just because you said that, I'm picking the Cowboys.
Pick: Cowboys
Eagles @ Saints-
Dear Matt,
I know this season everything has gone wrong for us, but the Eagles aren't going to beat us. Everything for has gone wrong for them, too. I think we can at least hang our hat on beating a September-Super Bowl Champion.
Drew, New Orleans, LA
You're right Drew. Everything has gone wrong for both of you. I don't think anything good will happen the rest of the year either, but I think you can hang your hat on beating this September-Super Bowl Champ.
Pick: Saints
I hate the idea of a team in London. If it happens, it won't be the Chiefs. Maybe the Jaguars, then move the Dolphins into the AFC South, and the London Jaguars into the AFC East. I just don't think having a team across the ocean and the travel expenses and the time zone changes could be kept up with. It is a crazy idea.
Thanks for that by the way.
Unlikely in that you had to be replaced because of injury and not for sucking.