China's PMI languished at 48.7, up very slightly from 47.6 last month and, although well into contraction (below 50), it's NOT worse and that means the news is not even bad enough to be good (begging for more QE) and so, it's bad news that is bad in China's 11th consecutive month of contraction in manufacturing and the Shanghai Composite index dropped 2% this morning, to re-test the 3-year low at 250, down from 307 in April and down from 388 in April of 2011 – not a good trend. 
Overall EU PMI was 46, up from 45.1 in August but composite output fell to 45.9 from 46.3 and that is a 39-month low.  "The eurozone downturn gathered further momentum in September, suggesting that the region suffered the worst quarter for three years," says Markit. The flash PMI is consistent with GDP of -0.6% in Q3, "sending the region back into a technical recession."  France, which had been one of the stronger EU nations, dramatically turned sour with a drop from 46 in August to 42.6 for September.  Manufacturing hit a Greece-like 39.8 (down from 45.3) with France's composite at 44.1.  While private-sector output plummeted, "new business and employment also showed accelerated declines," says Markit. "Yet more weak PMI data points firmly towards a contraction in Q3."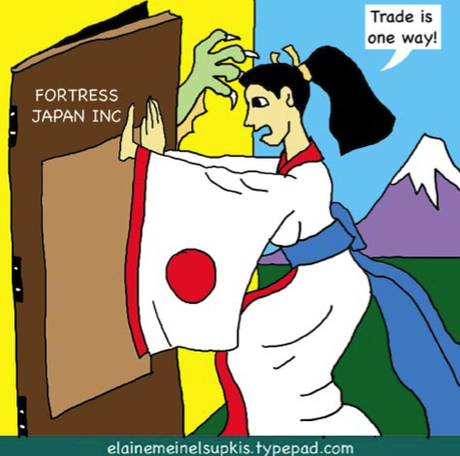 Retail sales in the U.K. 
fell
 0.2% in August as
the Olympics
took center stage in the nation. Despite the sporting distraction being over, economist Samuel Tombs forecasts more decreases for retail sales over the next few months with consumer confidence in the nation still weak.  Back in Asia, Japan's and China are continuing to threaten each other and it's hurting companies who do business in both like Komatsu, who make 15% of their sales in China.  That Nikkei stock was down 3.1% this morning and
Japan once again ran a trade deficit for August
.  
The Euro remained lower against the Yen, adding to evidence that the region's debt crisis is sapping growth.   "We think at these levels, Euro is a sell because of the state of the European economy," said Joseph Capurso, a strategist at Commonwealth Bank of Australia (CBA) in Sydney. "The lessons of the last decade have shown that the Bank of Japan's asset purchases are simply not enough to change the trajectory of the Japanese economy or the currency.  The economy is going to get worse before it gets better in Europe."
The Dollar is pushing up half a point this morning, to 79.65 and that's roughing up the Futures at the moment.  After a 10% drop in oil for the week, we were satisfied to take the money and run yesterday and congratulations to all who played along.  Our first short play (mentioned in Monday morning's post) was the DUG weekly $19 calls at .30 last Friday (where they opened Monday as well) and they closed out at .95 yesterday with DUG testing $20 – up 233% for the week.  We also closed the SCO October $37 calls at $5 – those were in the virtual $25,000 Portfolio (featured Friday) and 10 of those calls purchased for $3,730 on Aug 9th and September 12th sold for $5,000 on September 19th for a $1,270 profit – a 34% gain in a month is not bad…
Of course the big winner was the short oil contract (/CL) at $100, which gained $10,000 per contract as it plunged to $90 this week.  If we get another dip to $90 and it holds today, we'll be tempted to pick up a quick long into the weekend but a strong Dollar will not bode well for oil – or for our indexes, which are still struggling to prove themselves despite the massive stimulus: