We have our ever-reliable Big Chart and our 5% levels and, as I had noted Tuesday morning, we're not very impressed until and unless we retake our strong bounce levels and, so far, we're rejected at our WEAK bounce levels across the board.  As I said on Tuesday "Anything less than strong bounces on the day will keep us on the bearish side" and we did get nice bounces on Tuesday – but they didn't last 24-hours.  
Dow 14,660 (weak), 14,700 (strong)
S&P 1,560 & 1,570
Nasdaq 3,220 & 3,240 
NYSE 9,010 & 9,070
Russell 915 & 930
Transports 5,960 & 6,120
SOX 425 & 428
That's keeping us nervous and the VIX is nervous too, at 16.51 but that's nothing compared to real panic (mid-20s) and TLT is "only" 122.79 – not too many people panicking into 1.8% bonds either – although in Germany they're getting 1.3% and Japan is still under 1%, even with the Yen devalued by 20% since November.  The BOJ plan is to PUNISH savings while the US policy is more like actively discouraging it and, in Europe – they just take it from you.  All achieve the same ends – it's just the means we quibble over.  Speaking of the rest of the World, let's check out the Multi-Chart: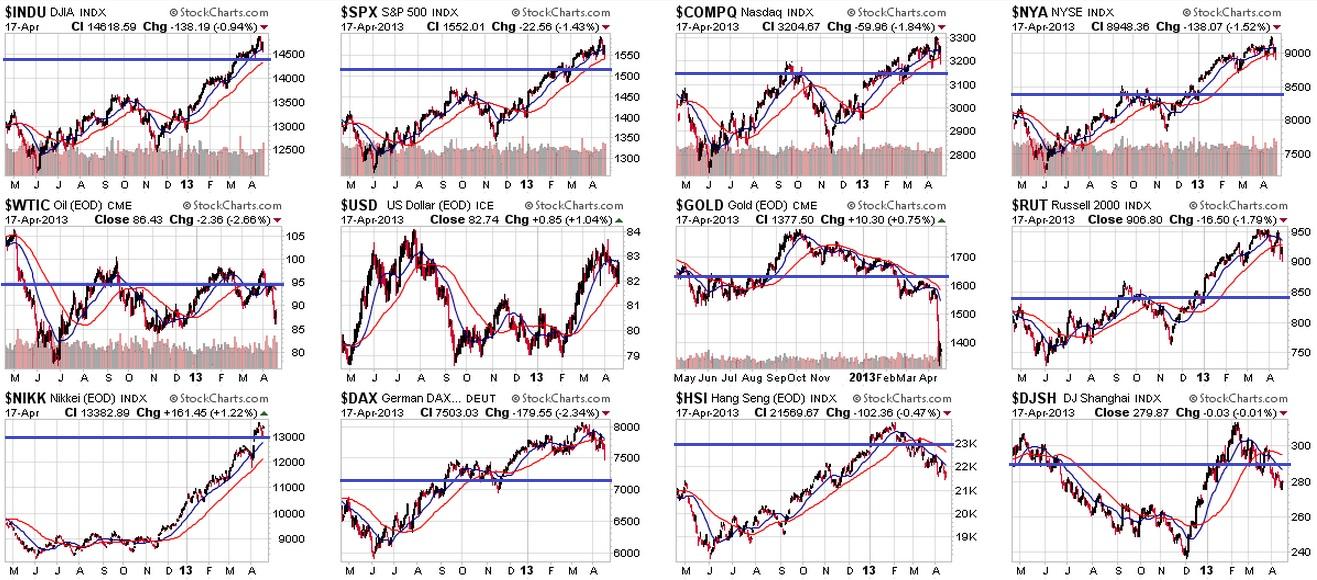 The blue lines are our Big Chart's 5% lines extrapolated for the other indexes and those would be our "Must Hold" lines…
This article will become free after 48 hours (see below for free content). To read the rest of this article now, along with Phil's live intra-day comments, live trading ideas, Phil's market calls, additional member comments, and other members-only features -
Subscribe to Phil's Stock World by clicking here
.