We had a 1% sell-off yesterday into the ECB's expected rate cut (and they did, indeed, cut rates 0.25% this morning) and that sent the Euro flying up to $1.32 again (we discussed why in Member Chat yesterday) and the Dollar fell to 81.50 again (yesterday's low) and the Futures are up about half a point at 7:57.  
So, are happy days here again or is this just more irrational exuberance?  
As you can see from Dave Fry's weekly Dow chart, we're holding the bottom of the steeply rising channel so far but that Dollar has dropped from 83.32 last week to 81.50 this week and that's 2.2% and 2.2% of the Dow is 323 points so try putting 14,427 in as the bottom of that candle and you'll get a better idea of how the Dow is really doing without Central Bank shenanigans.  
Unlike Mr. Fry, we are not long on the Dow – not in the short-term anyway.  We are, in fact, using DIA puts as one of our hedges and TZA is another one, though I did want to cash out the more volatile TZAs yesterday in anticipation of an ECB bounce.  While the Dow is holding up fairly well – that's just 30 companies.  The Russell has 2,000 companies in the index and they dropped like 2,000 small rocks yesterday, falling the full 2.5% for the day – indicating they are more likely to drop another 1.25% than to bounce more than 0.5% today.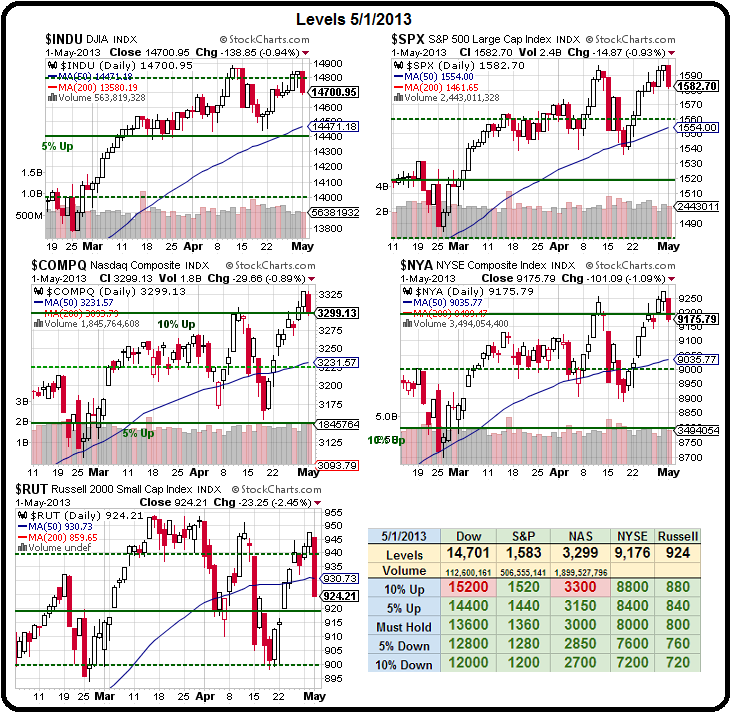 As you can see from our Big Chart – those "M" patterns we were expecting are beginning to form and, of course, AAPL is keeping the Nasdaq above it's 10% line but thing can turn ugly very very fast if our favorite stock drops again.  We did, in fact, add two new AAPL trade ideas to our AAPL Money Portfolio in this morning's Member Chat and we do plan to sell a few short calls to lock in some of this run's gains on that one.  As to the indexes – we have fat support lines at 3,300 on the Nasdaq (10%), 9,200 on the NYSE (15%) and 920 on the Russell (15%) and, if those 3 break – we're looking at another 2.5% drop with virtually no support so watch out for a Dollar bounce that can set the…
This article will become free after 48 hours (see below for free content). To read the rest of this article now, along with Phil's live intra-day comments, live trading ideas, Phil's market calls, additional member comments, and other members-only features -
Subscribe to Phil's Stock World by clicking here
.