Today's Throwback Thursday comes to us from Beverley.  It is a picture of her great aunt Dolly in the 1930s.  Wow, what an outfit this is! Particularly because this picture was taken in  the pre-war post depression era, not a time where people felt inclined to slip into their glad rags.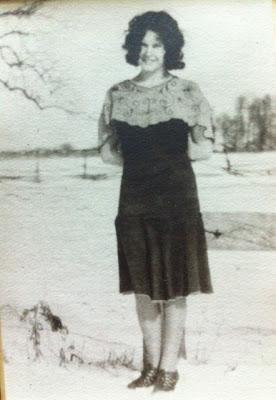 It's true that this frock is not exactly modern.  However, if it looks familiar it is because this dropped waist style of dress was re-popularized in the 1980s (Prom, anyone?!). As were smocked dresses. T
he small details are what 
I love most about this vintage outfit. Most notably, the scalloped edge of the smock on upper half of the dress, and the embroidery.  Doesn't it make you wonder what color the smock is?!
A huge thank you to Beverley for sharing this vintage fashion moment with us! We'll see you back here for next week's edition 
of Throwback Thursday.