With Halloween around the corner what better time for a truly funky Throwback Thursday?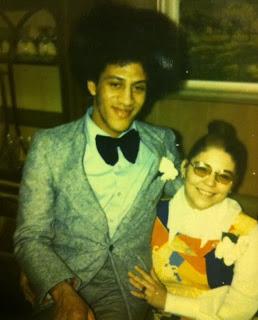 Could this picture be anymore indicative of the seventies? I love how fun these outfits are! Although they don't look like outfits that we would see in everyday life currently, they are still representative of 1970s trends that have become repopularized. There has been an influx of bright patterns recently and a departure from standard black jackets in menswear. We have also seen larger pronounced collars buttoned up all the way in women's wear.
It is always fun to take a glance into a decade, especially one as diverse as the seventies. A huge thank you to Maryann for sharing this fun vintage moment! Heres hoping it provides you with some Halloween inspiration!