I lived for 18 years at the top end of a cul-de-sac and looking through my large lounge window became a happy pre-occupation. I soon developed into an avid people watcher. I enjoyed their comings and goings. Over time I saw events happening that drew me into the lives of my neighbours. 
On one occasion I saw a car pull up in front of nearby house, very early in the morning. It was still dark. I watched as a man got out of the car and went into the driveway. He didn't go to the front door, so I was suspicious. I got dressed and went out, where I saw the man putting a clamp on the wheel of their car. I knocked on the door, even though the man told me to go away and mind my own business. The residents were shocked. It evolved that the couple hadn't paid a parking fine from Wyre Borough Council. A bit extreme to say the least. 
One of my neighbours was very strange. He once invited me into his house with an offer to look after our pet hamsters while we went on holiday. The floor of his living room was completely covered by empty crisps packets. There were dozens of milk bottles, some containing dregs on every step of the staircase. The man was obviously OCD. I learned later that he was on the on the sex offenders register following an incident involving a local child. I was shocked, some months later to see him in an upstairs room showing a young child a model railway set. Naturally I called the police. Better to be safe than sorry.
I wonder what happens if you witness something more sinister through a window. In the classic Hitchcock movie
Rear Window
starring James Stewart and Grace Kelly, Stewart plays a professional photographer recuperating from a broken leg. His rear window looks onto a courtyard with several apartments and during the warm summer evening the residents have their windows open. Over time he playfully gives names to the people he sees. 
A young couple lives in one apartment. The wife is confined to bed. One evening he hears a shout and later sees the man leaving the apartment several times carrying a bag. The day after, a large trunk is carried away by a haulage firm. The next evening he realises that the woman is no longer there and becomes convinced that the man has murdered his wife and disposed of her body. Of course there wouldn't be a story if Stewart and his girlfriend didn't get involved and try to solve the crime. The movie won a number of Oscars and is often cited as Hitchcock's best. If you haven't see the film, it is well worth a watch. 
Another movie on the theme of 'seen through a window' is
Girl On The Train
, based on a book by Paula Hawkins, starring Emily Blunt. The plot is complex but again this is a movie that is well worth watching.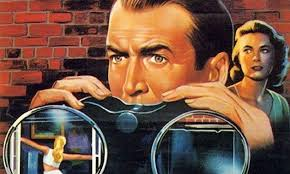 Trawling the internet, I came across an album called
Through the Window
by an artist called Chris Cornell. These are the lyrics from the title song. 
Through the Window
The clouds that gathered turned to rain
The candles on your sill burned out
The weather on your face
Turned to match the mood outside
Reading through poems that you saved
That make the gloomy hours make sense
Or do they lose their power
With the yellowing of age
I saw you suffering
Through a foggy window in the rain
When you thought no one was watching, yeah
Going through your memories
Like so many prisons to escape
And become someone else
With another face
And another name
No more suffering
You sold the best of yourself out
On a chain of gray and white lies
One syllable at a time
You should have made them pay
A higher price
I saw you suffering
Through the cracked and dirty window pane
I was ashamed that I was watching, yeah
Going through your imagination
Looking for a life you could create
And become somebody else, yeah
With another face
With another name
No more suffering
I wish that I could find a seed
And plant a tree that grows so high
So that I could climb
And harvest the ripe stars
For you and I to drink
And spit the ashes from our mouths
And put the gray back in the clouds
And send them packing with our bags
Of old regrets and sorrows
'Cause they don't do a thing but drag us down
So far down
The past is like a braided rope
Each moment tightly coiled inside
I saw you suffering
Through the yellow window of a train
With everybody watching, yeah
Too tired for imagining
That you could ever love somebody else
From somewhere far away
From another time
And another place
With another life
And another face
And another name
And another name
No more suffering
Thanks for reading. Adele
Email This
BlogThis!
Share to Twitter
Share to Facebook
Reactions: