AAPL was our 2014 trade of the year, so we are thrilled with their Q1 earnings and expecting to see $600 on this run (I sent an Alert to our Members early this morning and you can see it on Twitter as well) detailing our strategy as well as discussing PSW's Rule #1 and it's practical implications.  In our first Webcast of the year, we picked AAPL as our top trade idea and again, on TV on March 6th, I was almost embarrassed to say AAPL was once again our trade of the year for BNN (it was last year's trade too).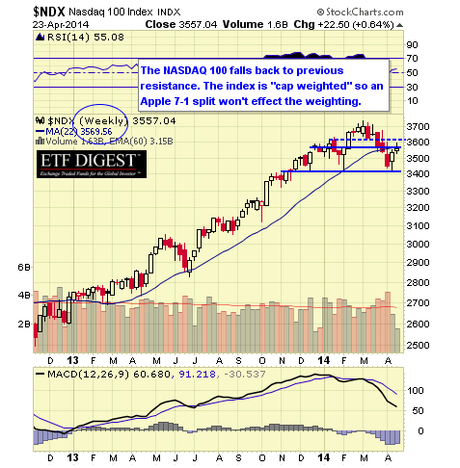 The fact was, there simply wasn't a more obvious way to make money tnan buying AAPL at just over $500.  When AAPL dipped to $480 in February, we PRESSED our long bets from January, rather than abandon them.  As I was saying, our 2013 trade of the year was also AAPL and I hate to seem like I don't have any other ideas but that options spread netted 550%, turning $2,800 into $15,400 in 2013 (the spread matured this year at 614% but we killed it early).  
Rolling that $15,400 into this year's trade has another 525% of upside potential (at AAPL $650), which would return $80,850 if AAPL is at $650 or better in Jan 2016.  So, starting with $2,400 in Jan 2013, we can parlay our bet to $78,450 in profits (3,268%) in just 36 months – not bad!
This stuff isn't hard folks, that was starting with just two contracts in 2013 and following our trade of the year.  In 2012, our trade of the year was BAC – which turned out to be the best-performing stock in the S&P that year.  In fact, on Jan 5th of 2012, I laid out my case for putting 100% of your portfolio into BAC and simply leaving it there for the year.  I was even crazy enough to go on TV on the 17th and say the same thing!   Lucky it worked out, really…
Of course, we don't only make picks once a year.  Just yesterday morning, in Member chat, Wobat said: "Did i miss the debrief on AAPL?  Been waiting to scale in another round," to which I replied:
AAPL/Wombat – We added AAPL to the Income Portfolio on the 15th, the $500/550 bull call spread that's already up $1,000 out of a potential $29,000.  We never got a dip in AAPL worth adding puts so we just have the bull call spread but, paying $50,000 back on $21,000 down at $550 – who needs short puts?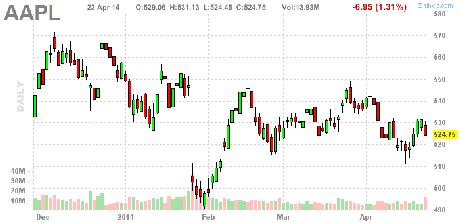 That's a very simple options strategy we were able to employ on earnings day, where we buy the 2016 $500 calls for $68 and sell the 2016 $550 calls for $47 for a net of $21.  Since the calls we buy are $50 lower than the calls we sold, we will have $50 more than the short caller at any AAPL position over $550.  We did this yesterday morning, at 11:47 in our Member Chat Room, on the day of AAPL earnings.  This position requires no margin at all, just $21 in cash ($2,100 per 100 option contract) and returns $50 ($5,000) in 2016 if AAPL is simply over $550 – and it was at $530 when we made the trade!  
Don't be scared of options, this was a very simple way to be bullish on AAPL, enter the stock for and effective net $521 on 100 shares (per contract) into earnings with a potential upside of $29 (138%) and all AAPL had to do was go up $20.  So we got a discount on the entry and tremendous leverage for the upside at the same time.  This is what we teach you how to do at Philstockworld!  
Into the close, I sent out a special Alert to our Members with 4 more earnings plays (5 if you count the fact that I reiterated our stance on AAPL) to take advantage of the day's action and they were:
10 CAKE Oct $45/49 bull call spreads at $2 ($2,000), selling 8 June $47 calls for $1.90 ($1,520) for net $480.  Our premise here is that CAKE would have margin pressure on rising food costs (they did) and sell off a bit.  The short calls will expire worthless and most of the long spread's value will remain intact and, if CAKE comes back, we may get the full $4,000 at $49 come October for an upside potential of $3,520 (733%) in just six months.  Again – don't be scared of options!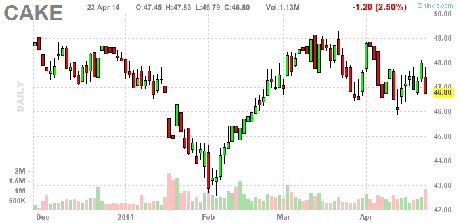 CROX – We simply like establishing a position by selling the 2015 $12 puts for $1.60, which nets us into the stock for $10.40 – a very nice 30% discount to the current price.  We just did a Live Webinar yesterday where we discussed the importance of buying ALL of our stocks for a discount.  This too, is what we teach you at Philstockworld (and you can SUBSCRIBE HERE to get these trade ideas and educational tips every day).  This trade, by the way, is still available as it turns out CROX earnings aren't until next week.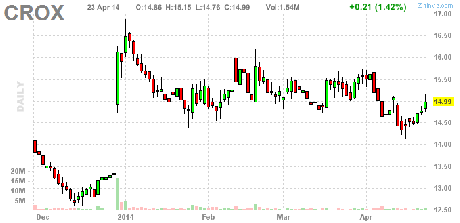 4 FB June $60/50 bear put spreads (a more complex trade) at $4.40 ($1,760) with 5 short June $60 puts at $4 ($2,000) gave us a net $240 credit and that bet was, essentially, that FB would stay over $60.  Earnings were good so the short puts we sold should expire worthless and we keep the $240 credit plus whatever value remains on the  bear put spread as a bonus.  Not bad for a night's work, right?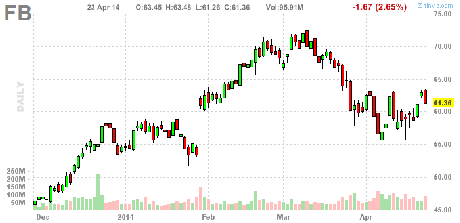 With TXN we set up a complex butterfly-style trade, where we bought 10 2016 $50 calls for $3.10 and 10 2016 $40 puts for $3.25 to cover the sale of 10 June $44 puts for .65 and 10 June $48 calls for .75, so we collect $1,400 in premiums against our $6,350 in longs (22%) in 57 days with 600 more days to sell down the road.  If all goes well, we collect $1,400 10 times over two years ($14,000) against our $6,350 long investment for a 220% return on our investment.  Again – this stuff isn't that complicated, we teach it every day!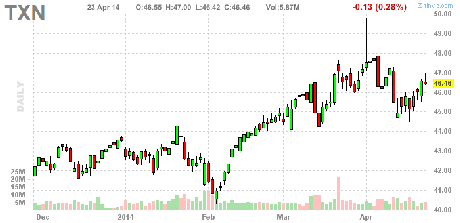 As to the broader market.  AAPL is not the market – it's a huge part of the Nasdaq (about 17%) and the S&P (3.5%) but AAPL's gains were already Samsung's losses, as they had a very poor report last Q and likely will again this quarter.  That's net neutral for their suppliers as well and not any kind of rel indication of the economy. 
Nonetheless, we're going to have a nice rally today and we should re-test those March highs but, more likely than not, we're going to use that opportunity to load up on shorts again – just in case we get another healthy rejection.

 Email This Post  

Twitter  

LinkedIn  

del.icio.us   Google+