Wheeeeeee – what great fun!
We finally got a move in the market that wasn't up yesterday and the thrill is back in the markets all of a sudden.  Congratulations to anyone who followed our early morning tweet yesterday at 3:24 am, which was:
Futures Fun: Good Chance for Quick Gains Shorting /CL, /NKD and /TF $$ $IWM $USO $EWJ #Futures — bit.ly/YYHM2c
 Those Nikkei Futures ended up dropping a cool 1,000 points for a ridiculous $5,000 per contract gain and THIS is why we love the futures as you can usually stop out with a fairly small loss but, once in a while, you can get some spectacular gains.  
We're now looking to go long on a possible bounce over the 14,700 line (now 14,665) in the Futures as the 7% panic may be just a bit overdone.  Europe was down about 2.5% earlier this morning but seems to be holding that line and the FTSE is "only" down 1.7% – all because the Fed Governors weren't 100% doveish (only about 80% doveish).  What a silly, silly market this is.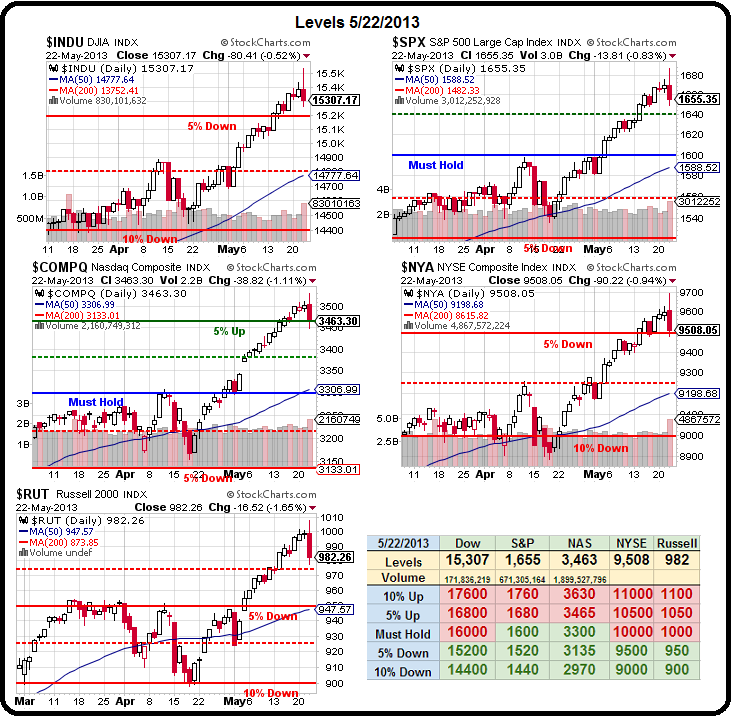 As you can see from our Big Chart – it's much ado about nothing, so far as this long-needed correction hasn't even violated our 2.5% or 5% lines.   We overshot and now we correct – it's the way of the World, my friends.  In fact, last Friday, we made our final adjustments to the $25,000 Portfolio and we expected this drop, as you can see from these adjustments to our main hedges:
QQQ – May $70s now $3.90 can roll straight across to June $70s at $4.15 for .25 credit.  We're $5 in the money on the longs and happy to add a $70/75 bull call spread if we have to roll callers up further but, for now, we're locking in profits on the $67/70 spread which is $5 in the money yet priced at $1.50 so – if we end up paying the callers $4 that's -1.65 against the gain of $4 on the longs – we can live with that but, at the moment, the position shows a $1.45 loss on the short calls vs a .51 gain on the longs.  This is why you need to understand how the options work over time and not be ruled by current
…
This article will become free after 48 hours (see below for free content). To read the rest of this article now, along with Phil's live intra-day comments, live trading ideas, Phil's market calls, additional member comments, and other members-only features -
Subscribe to Phil's Stock World by clicking here
.