That's what the market is trading on now.  No one is waiting for an actual deal to be reached and we are getting that classic Bugs Bunny Market effect, where investors are stampeding in and out of positions whenever Lloyd and Co. throw the switch.  Once again we are forming the "M" pattern that we predicted on the Big Chart and we completed "neat" M's yesterday, unlike the sloppy Ms we had in May and the neat M's are bouncier, of course, because they lead to oversold conditions.  
We did get a bit oversold yesterday, as you can see from David Fry's NYMO chart below, with a 2% drop in our indexes and the VIX rocketing up to 23, which is up 35% since Friday's close.  Now THAT's panic!  Note on the NYMO, we are no as oversold as we were in mid-June (when the Dow bottomed at 11,862 on Greek panic) and before that mid-March (Japan quake panic – Dow 11,555) and before that Mid November (China Panic – Dow 11,000) and before that late August of last year (State Governments were going to default – thanks Meredith! – Dow 10,000).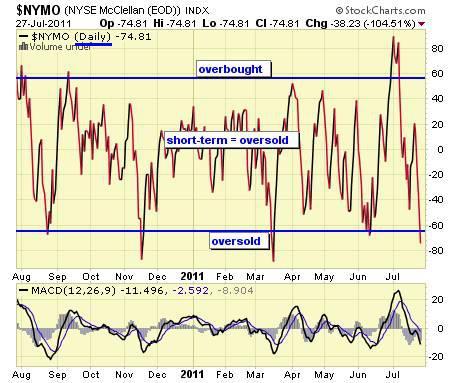 Are you seeing a pattern here?  Aside from the fact that every quarter, the Gang of 12 finds some reason to stampede everyone out of equities and into Treasuries so they can buy low (from us) and then pump the markets back up so they can sell high (to us) – those panic lows are getting progressively higher:  10,000, 11,000, 11,555 and 11,862, which just so happens to be the -2.5% line on our big chart.  These are not coincidences folks, this is what happens when we let Robots control our markets!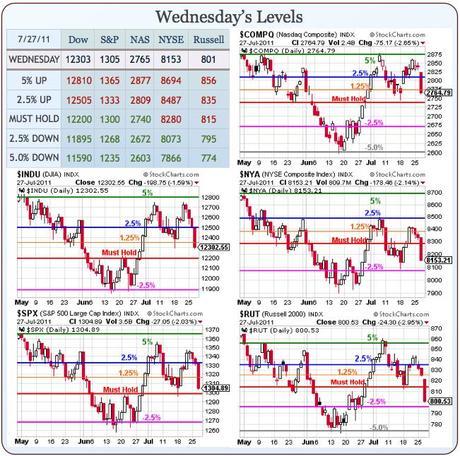 795 will be our first test line on the Russell but, if that holds, we will be happy to begin layering in some bullish bets as the fix will once again be in and all it will take is a little magical fairy dust sprinkled around by the IBanks and we can rally again.  What will it be?  What magic words will flip that switch and send investors flying back into equities?
In this morning's Alert to Members, I predicted that less than 400,000 people losing their jobs was likely to do the trick as we…