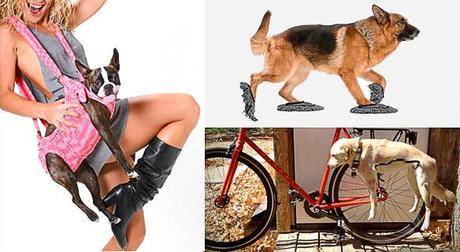 Are these three "MUST HAVE" pet products on your list?

Slippers, carrying bags and bicycle racks are all common household items known to the human world. In the constant search of modern man to reconcile convenience and efficiency,
a series of recent products made for DOGS have recently surfaced to illustrate how the world could do without them? What you are about to see will make you fall off your seat as we present the three "Must Have" products for DOGS...or not!!!!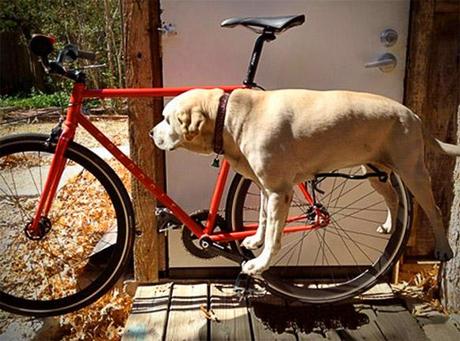 A large-sized dog demonstrates the Fairdale Dograck | Fairdale
1.
THE DOGRACK
Just as the name implies, the Fairdale Dograck is designed for bicycle owners who travels with their dog by Fairdale. Inspired by the SKATERACK, which was designed to fasten a skateboard along the side of a bicycle for those ex, this device was created to prop your dog up while riding your bicycle for those extra long trips.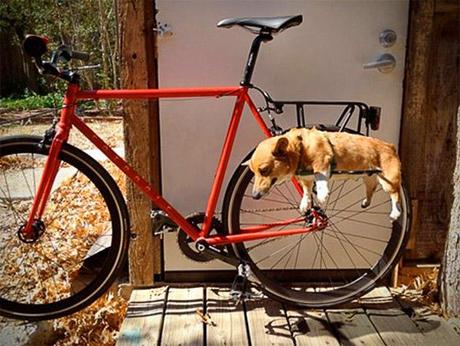 The Fairdale Dograck gives this Corgy a lift | Fairdale

According to their website, "With this simple system a dog can be supported on the rack with ease. The dog is positioned behind the pedal stroke of the rider for maximum heel clearance." It is even noted that this device is not breed specific and can work on a variety of animals as well. "Our tests have had equal success with raccoons to turtles."
SOURCE: Fairdale Bikes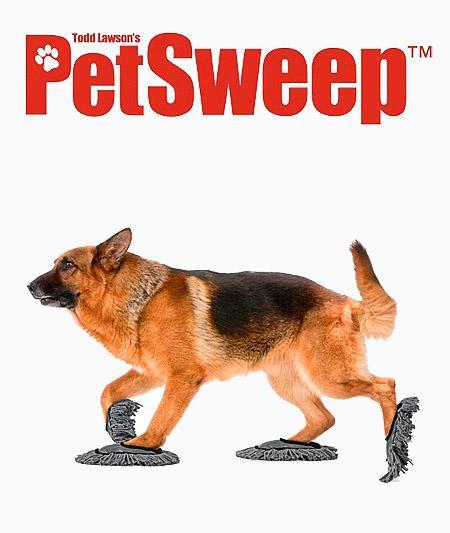 This German Shepherd is going domestic with the Pet Sweep | Prank Pack

2. THE PET SWEEP
Tired of mopping your bare floors? Well, wait no further. Introducing the Pet Sweep, the revolutionary way to have your floors cleaned while giving your pet the exercise he needs.
Described as "innovative pet shoes", you can now have your pet sweep the floors and clean your home brought to you by noted animal author and inventor Todd Lawson. Just imagine, leaving your home and returning to clean bare floors all thanks to your dog!
The perfectly color-coordinated slippers comes in Autobahn Red and Tahitian Gold to bring a zest of color to any home.
SOURCE: Prank Pack
Is this Lab experiencing the joys of domestic cleaning? | Prank Pack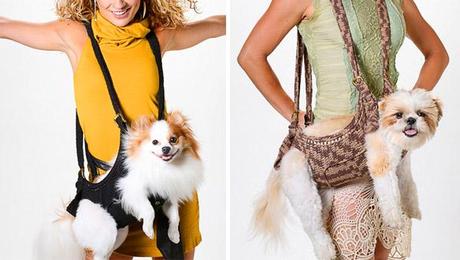 The Pupoose is taking the Pet World by Storm | Solent News & Photo
2. THE PUPOOSE SLING CARRIER
Are you tired of walking or carrying your dog for mile-long walks? Wait no further, this is the solution for you! Bringing new heights of laziness for pet owners comes the Pupoose Sling Carrier. Described as the most ergonomically designed pet carrier, while giving you the most lightweight and luxurious, soft fabric available, it has four holes at the base of the garment to allow your pet to slip its feet through the holes. Created by dancer, dog lover and inventor, Shannon Beach. There's also a neck cushion made as a security strap. All this, while allowing you to be hands free so you can talk on your cell phone or go shopping for new nylons.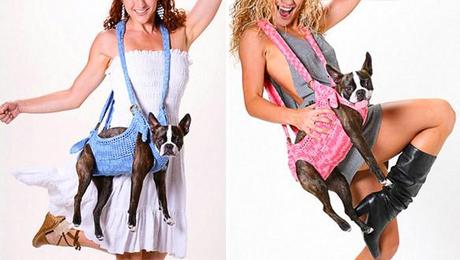 The Pupoose allows you to be hands-free for Good Ole Times. | Solent News & Photo

Now folks this item really is REAL! Unlike the previous two items listed above, we were able to verify it's existence and it is a real hot seller at around $60 retail! It can be found through online retailers, but please whatever you do, don't try this with a Great Dane! After all, your dog's not getting the workout, you are!
SOURCE: Bit Rebels 
VIDEO: Watch the Incredibly humorous commercial for the Pupposse sling carrier.