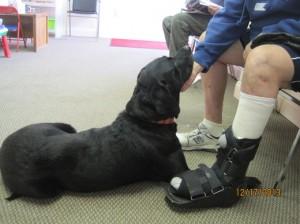 Two months after having one of her legs amputated, a local dog is now a source of comfort for human amputees at a Westport prosthetics and orthotics office.
The 8-year-old black Labrador retriever named Callie Mae joined the staff at Atlantic Prosthetics & Orthotics in November, according to local veterinarians.
"Callie's constant presence is immeasurably beneficial to patients who often cannot shake hands or rise to greet, but who take tremendous comfort when Callie stations herself by their side," said a statement from Kathleen Easterbooks, who adopted the dog along with her husband, Bob Easterbrooks, president of the business that has fitted thousands of patients with custom braces and artificial limbs since 1981.
"It's almost like she understands, given her own amputation, how challenging it can be for human patients who are trying to make their way in the world despite their disabilities," she added. "It's heartwarming to see Callie in action."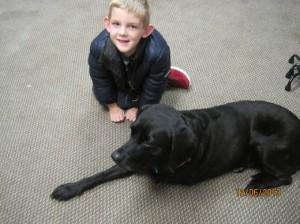 The dog often comforts wheelchair bound patients by leaning in and positioning her head under their hands so they can feel her fur, Easterbrooks said. She also sometimes simply stays near patients as they endure lengthy therapy sessions.
Callie Mae became the office's official comfort dog shortly after her front left leg was amputated by veterinarians at the MSPCA-Angell Animal Medical Center in Jamaica Plain, according to officials there.
The dog arrived at the animal clinic in October with extensive nerve and tissue damage to the leg that caused her to drag her foot, leading to recurring, painful injuries.
Staff at the clinic said she was surrendered there by her longtime owner who told veterinarians they did not have the money, nor the time, to help Callie Mae through her injury.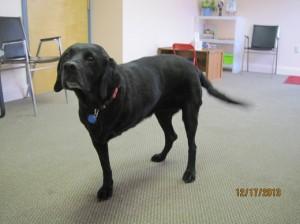 "Callie Mae reminds us all of the bravery and steadfastness that animals possess," said a statement from Alyssa Muro, manager of the MSPCA-Angell adoption center. "We are thrilled that such a brave and sweet dog can leverage her own experience with disability to support others on their way to recovery."