Hi Friends!
I'm excited to share with you some of my new

favorite breakfast ideas

!  I used to just have a cup of coffee in the morning and eat my first meal around 11am.  A little over a year ago I started eating a healthy breakfast (one that includes some carbs/protein and fat) I have been able to lose weight and I believe completely ramped up my metabolism. :-)
There are so many variations on making overnight or refrigerator oats but here are some of my favorites.  For the last 2 months I've pretty much rotated these 3 breakfasts.  Both of the pumpkin recipes freeze great!  Sometimes I'll make a giant batch and put them in individual serving containers.  It's so nice to just pull one out the evening before for when you need a healthy breakfast FAST!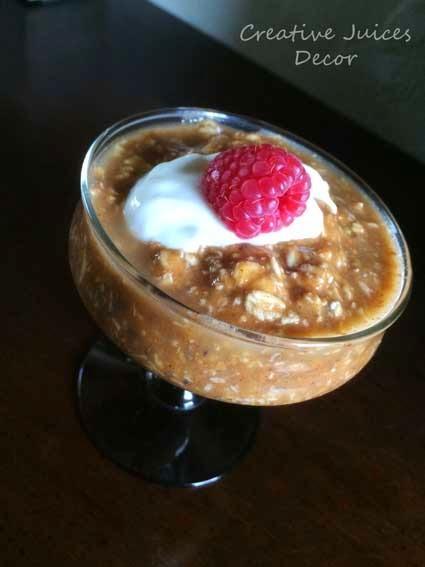 Pumpkin Pie Oats Breakfast
Recipe - Individual Serving:
1/2 cup of raw (uncooked) oats.3/4 cup egg whites (from a carton)1/4 cup pure pumpkin puree (from can is fine)1 Tbsp 
Unsweetened Shredded Coconut
1/2 Tbsp chia seedsEither 7 drops of
liquid Vanilla Stevia
or 1/4 tsp White Stevia PowderCinnamon and pumpkin pie spiceStir and let sit overnight or at least an hour in the refrigerator - ENJOY!
Nutritional info:
 339 calories / 28g protein / 42 carbs /10 fat and 12 fiberNOW, before you guys freak out on me (like I did my friend when she first had me eat her chocolate version of this) but egg whites from the carton are pasteurized and totally 
safe to eat raw
. :-)  Believe me, I researched it as I wasn't convinced at first :-) 
I added a blob of plain non fat greek yogurt - mostly just for the picture :-)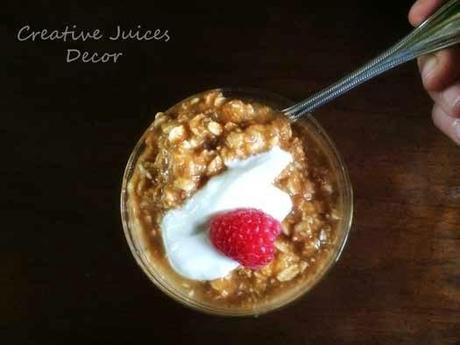 Creamy Pumpkin Pie Oats
Recipe - makes 4 one cup servings

2 cups unsweetened almond, coconut or flax milk 1- 15 oz can pumpkin 3/4 cup nonfat greek yogurt1 1/2 cup raw oats3 scoops of Vanilla Whey Protein  (or Casien) powder (100 grams)Splash of vanilla25 drops of liquid Vanilla Stevia or 1-2 tsp White Stevia Powder (or till tastes right for you!)Cinnamon and pumpkin pie spice till it tastes right
With all of these recipes - you can feel free to add a pinch of salt.
Nutritional info for one serving:
 (approx) 266 calories/ 24 protein/ 31.4 carbs/ 5.2 fat
Stir till well combined and divide one cup servings into any container (glass mason jars work fine) You can freeze or put in your refrigerator to eat soon!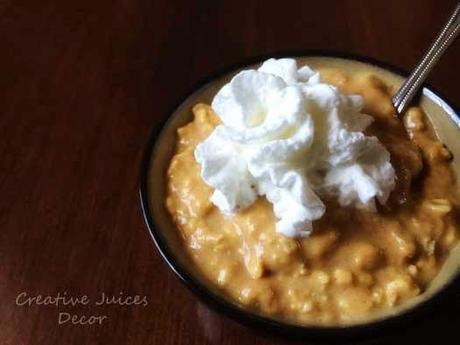 Yes, that is whip cream :-)  I guess I'm not so healthy after all - hee,hee!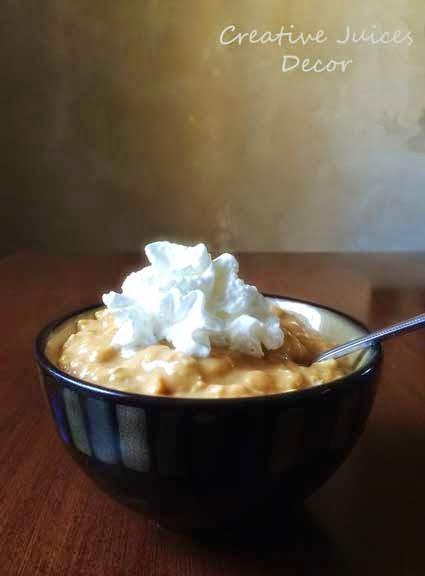 This final breakfast isn't a "refrigerator" oat recipe but I make it ALL the time and it's officially one of my
husband's favorite healthy breakfasts
.  He's down 20+ lbs following the same system I did, Burn the Fat, Feed the Muscle and now weighs less than he did in high school!  (Have I ever told you guys how picky of an eater he is!? hee,hee.....and he REALLY likes this!)
This breakfast will FEED your muscle - hee,hee....that picture was from the beginning of summer, still following the book, it is packed full of great straightforward information.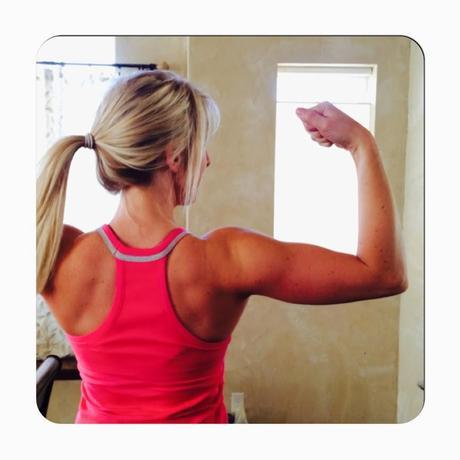 Berry Muffin (Taste-A-Like) Breakfast
(that's a lame name but my engineer husband calls it "Breakfast Hash" and that's even worse!)
This one is SIMPLE! I use the Pampered Chef Manual Food Processor Chopper but you could either just mix it up
really
well or use a normal food processor.
Approximately 3/4 cup cooked oatmeal4 cooked egg whites (or 1 egg plus 3 whites)1/2 cup raspberries or blueberriesSprinkle of Stevia and cinnamonDash of salt (optional)
Either add a few nuts to the mixture or a TBSP of
peanut butter
for some healthy fat!
Make sure its all well blended and you have yourself a fantastic healthy and FILLING breakfast.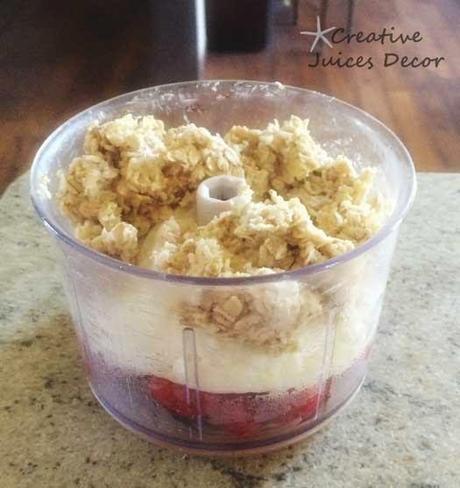 It really does taste like a muffin :-)  And when you think about it, to make a muffin the main ingredients are oats, eggs, berries and extra spices!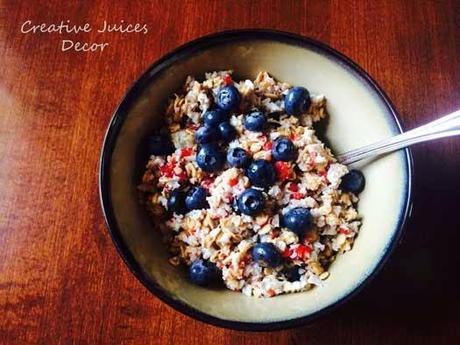 If you want to make this FAST,  microwave your egg whites :-)  
ALSO, I love using oatmeal that's been refrigerated for a day or two.....it isn't so mushy but more like individual oats.  I guess that is personal preference but give it a try!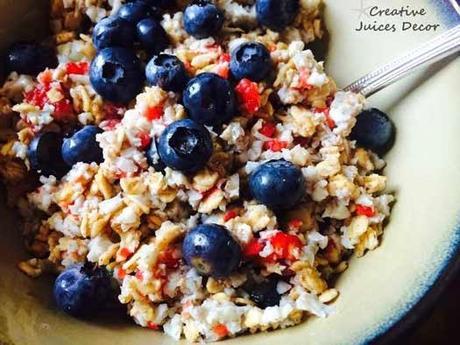 Feel free to check out (or follow) my
Heath and Natural Living
Pinterest board.  I have a LOT more yummy healthy breakfast ideas pinned there. :-)  
If you are not a fan of pumpkin - how about:
CHERRY ALMOND overnight oats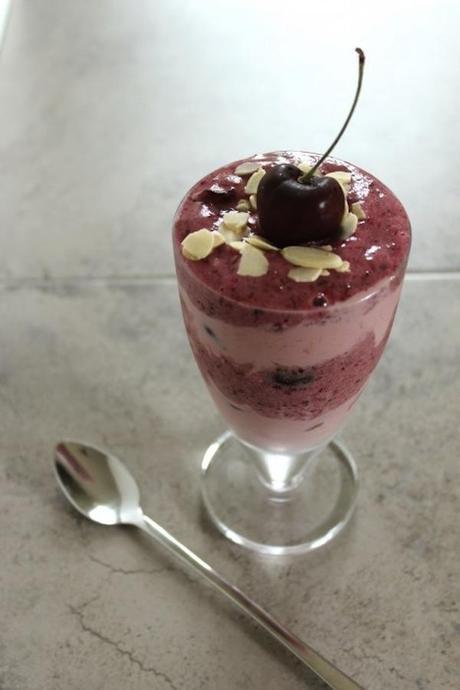 OR
Chocolate Cake Batter Overnight Oats
!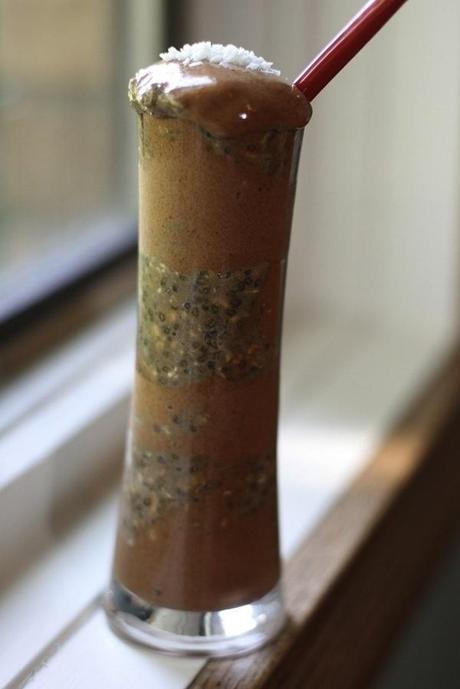 ENJOY my friends!!!  
As always, I hope to inspire all your Creative Juices not only in design but in the kitchen!
Disclosure Policy