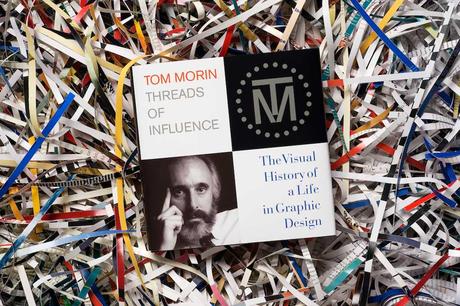 Threads of Influence is the detailed excavation and mapping of one life, that of Tom Morin, graphic designer to corporate America for over 40 years. In this book, he assembles the defining moments and influences of his life in design to produce a lush visual landscape, a world flourishing with both personal and professional remembrances and peopled by family, teachers, clients, corporations, and contemporaries.
VSUAL got in touch with designer & writer Tom Morin to know about his upcoming book titled 'Threads of Influence'. We discovered that his book is an indispensable resource for students, professionals and educators alike. Tom's book walks us through his life and illustrates with real life experiences, how a designer is born.
Introduction
What makes a graphic designer?
Five years ago, Tom Morin set out to answer this question. The initial catalyst was helping his aging father move from the old family home in Rochester, New York, and confronting the accumulation of his father's 88-year life. As he sifted through his father's effects, Morin realized that he was looking at not only his father's life, but his own: that among the books and photographs, the scrapbooks and newspaper clippings, the letters and report cards and his own early artwork were strands that had been inextricably woven into the tapestry of his own life, making of him one of America's most prolific graphic designers.
Unable to simply consign all of this history to the dustbin, Morin packed it up and began the long drive back to his home in Galisteo, New Mexico. At the same time, he began the much longer journey that has resulted in his new book, Threads of Influence: The Visual History of a Life in Graphic Design, to be published by the Galisteo Press in October 2011.
"Traveling back home," Morin writes in his preface to the book, "I thought about my own years of accumulation, most of which was in the attic over my garage… Many memories had already slipped away, others were rapidly fading, and still more resided with relatives and friends…  My studio was also filled with books, samples, and mementoes from 42 years of working in the design world."
Would it be possible, he wondered, to take all this personal and professional memorabilia and stitch it all together into a cohesive timeline—one, he writes, "that would pay homage to all the influences and adequately portray the guidance, instruction, and faith shown to me by so many people?" Gripped by the realization that he did not want a near-century of family and professional history to be lost, he set about writing it down, documenting it, photographing it, and, finally, designing a book to house it all.
The pages shown here are but a small part of Morin's 352-page volume-plus-DVD, which begins with his grandparents arriving in central New York State. From there, the book traces key influences in Morin's family and upbringing, his education, and his career as a graphic designer and teacher of design. Through his written memories, some 1100 color and black-and-white images, sketches describing some of the greatest figures in graphic design history, and 39 personal essays provided by some of Morin's top-flight colleagues, Threads of Influence documents how home-life, teachers (think the likes of Paul Rand, Herbert Matter, Alvin Eisenman, and Walker Evans), colleagues (Steve Chapman, Eddie Byrd, and C. Wynn Medinger, to name a few), and students (in Boston, Rochester, and Santa Fe) continually shaped and reshaped his thinking and his life, in the end forming a graphic designer who is much more than the sum of his parts.
Introductory Chapter
His story begins with relatives migrating from France, England, Ireland, and the American Midwest to settle in Fulton, New York, where Tom was born in February of 1944. His extended family includes business entrepreneurs, inventors, architects, artists, ranchers, musicians, teachers, ministers, lumbermen, an antique dealer, and one vaudeville silent movie projectionist. Tom's family moved to Rochester, New York, in 1954. During his youth, Tom found school difficult, but his interest in art came easy. Classes at the University of Rochester's Memorial Art Gallery and his father's architectural designs and constructions were his initial inspiration. But it was while summering on an aunt and uncle's sheep ranch in St. Helena, California, as  a young teen that he was introduced to "Uncle Rudolph," a family friend and founder of the esteemed Rudolph Schaeffer School of Design in San Francisco. His new uncle promptly offered Tom a Schaeffer School scholarship, whenever the lad was ready to attend.
Tom barely graduated from high school in 1962, but was accepted at Syracuse University as a "risk" student. There he studied advertising design with the Bauhaus-trained Dr. M. Peter Piening. Piening was "by far the most influential thread in my tapestry," says Morin. Four years under Piening's expert and gracious eye led to a semester at the Den Grafiske Hjskoles (Graphic College of Denmark) in Copenhagen, a sojourn that marked Tom's pivotal shift from advertising to graphic design.
A summer internship at the Xerox Corporate Design Center, managed by Jack Hough, led to Tom's being accepted into Yale University's graphic design program in the fall of 1966. Two years of studying under Alvin Eisenman, Paul Rand, Herbert Matter, Bradbury Thompson, Norman Ives, and Walker Evans cemented his direction.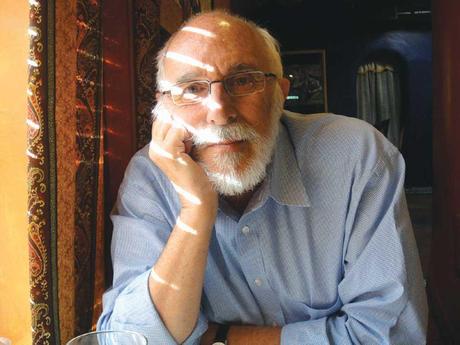 Tom Morin is principal and designer for Context Design Inc., Galisteo, New Mexico, U.S.A.  Mr. Morin has enjoyed a prolific career as a graphic design consultant to corporate America, working for clients such as Alcoa, Champion, General Electric, JPMorgan, Westinghouse, and Xerox. His current focus includes teaching design and typography and designing books for museums and publishers. He is the author of a new visual memoir called Threads of Influence: The Visual History of a Life in Graphic Design. This long-awaited book will be the focus of an exhibition at the Yale University Art of the Book Room Library and Collection in January 2012.