"How Much?"
Two words that have echoed all my professional life.
As young designers, we always knew what we were worth for a client: the value we would bring to his business, the increased brand value, the costs we would save for him but when it came to costing our own efforts to achieve this, we were hopelessly out of sync.
Years ago, I was called upon to do the product graphics and colour schemes for a tractor. A large industry with heavy spending on a research centre, it was an ideal client to have. The briefing was professional, the meetings were cordial, till the time came to discuss the quote. " You would charge that to put just a few lines on the tractor?", I was asked. "If it is just a few lines, you would have done it yourself, " the young blood in me retorted. I dug my heels and got what I wanted.
But I have not been so lucky, all the time. In fact, most often I have been cajoled, requested, brow-beaten and bullied into accepting a lower fee.
"We cannot afford it now."
"Let's start with this, for now"
"We are not a corporate company with unlimited funds. We are an NGO."
"We are not an NGO with foreign funding. We are an industry."
The reasons were many. The excuses were endless. But it is rather clear: most people don't want to pay for design. It is not like they do not have the budgets. Design is not perceived by many, as a service worth paying for.
These are the same clients, who would rather pay celebrities to endorse ordinary looking products, paying millions for the endorsements. Bag-makers are known to spend more on Bollywood stars like Kareena and John Abraham than on product designers. Appliance makers believe that paying cricket players like Dhoni a fee, is money well-spent, than spending on product development.
These are the same clients who believe that making an ad film and releasing it across all the satellite channels is a necessary investment for marketing than spending on appropriate design that will do the marketing itself.
These are the same businesses that understand stardom, more than value. It is the absence of star designers like a Karim Rashid that is also affecting the economies of the design industry.
Add to this, the fact that the design fraternity is small and fragmented. There are no stars. There are no rules. Each to his own. The professional bodies are also not making an impact, yet.
When that happens, clients begin to look at you as a resource. That is when, designers will be called upon to develop new stuff when a business is set up. They would look upon you as problem solvers. And not as vendors. Or suppliers. Or contractors.
I am not surprised that clients find it easy to allocate money for vendors and contractors. There is no ambiguity in the product specs. If it meets the specs, you pay the value.
But good design itself is ambiguous. The value of good design will be felt much later than sooner. As a society that is so used to 'making-do', the importance of good design is hard to understand.
So, how does one get what we deserve?
Spread the good word. Never lose an opportunity to disseminate the idea of good design.
Discuss money with fellow designers. This will help understand if one in under-charging or over-charging.
Do good work. Even for clients who pay less. This pays off in the long run.
Build a design-aware constituency. When people appreciate good design, they would demand it.
Get professional fees for design. Do not disguise it in implementation, publication or contracting expenses.
Do not settle. Over time, people will understand why you charge the way you charge.
Till then, keep your chin up, when faced with the question: "How much?"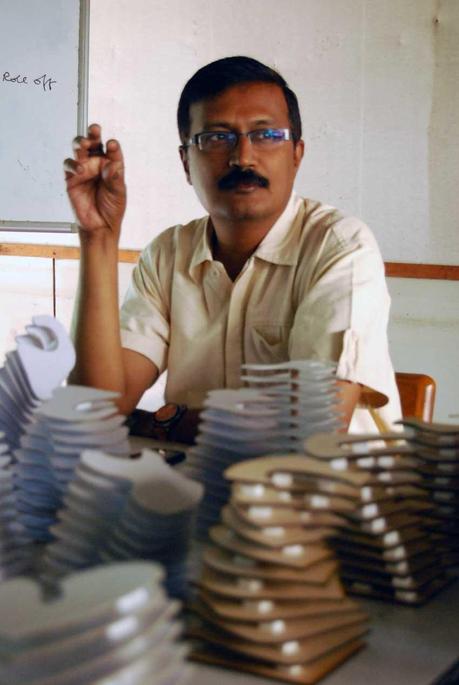 A Balasubramaniam is one of the early graduates of NID, (National Institute of Design, Ahmedabad) having specialised in Industrial design. He is known for his work in both the industrial sector and the crafts sector having done projects with Eicher Tractors, Eveready, Hero Motors, Usha, Crafts Counci, DC Handicrafts and the UNDP.
He has been involved in institution development as well, having headed the Fairtrade division of Oxfam, GB in India; co-ordinated setting up PRIDE, a design excellence division at NSIC; and led the design team of bamboo design and development projects in the North East for UNDP.
His foray into design education started with NIFT Delhi and he went on to teach and be a jury member in all the major design institutes, including NID, NIFT, SPA and IILM. Till March 2010, he was also heading the IILM School of Design, Gurgaon as its Dean.
He is the founder of January Design, a consultancy that works mainly with design and strategy projects for the MSME sectors of the industry, grass-root innovations and the crafts sector. He is also a consultant to the National Innovation Foundation.
He regularly writes on design issues in Times of India, Economic Times, Pool and other major design publications. His blog, Design Thoughts is popular for its cryptic commentary on the Indian design scenario.
Feel free to send him a mail.