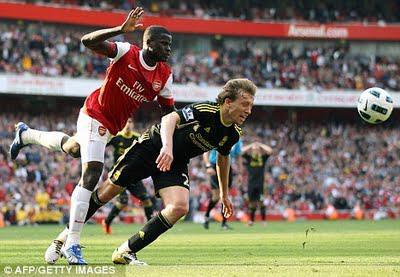 Arsenal showed us once again why they have no business being considered for the Premier League title. I have said it more than once (here and

here

) that the Gunners have serious issues. As usual, Arsenal dominated possession but failed to create many quality chances. In fact Liverpool had just as many, if not more, quality chances as Arsenal. Arsenal's reluctance to shoot is frustrating, especially when it is obvious that the opposing defense is staying compact. Shots from outside the box would help this team create chaos in front of net from parried saves, as well as give the defense something else to think about. Arsenal is always trying to walk the ball in the net or use the killer pass to break down the defense for a tap in. I think they forget the pretty goal and the scrappy goal count the same. In reality, Arsenal was lucky to be up 1-0 in the first place. The penalty given late in stoppage time was deserved, but you could make the argument that Fabregas dove. Then, after the goal, instead of locking down and playing defense for 2 or 3 minutes, Arsenal panics and is all over the place for the last stretch of the game. First, they gave up a free kick which could have been considered in the box for a penalty, then Eboue lost his mind and all but shoved Lucas when all he had to do was stand his ground and play defense. That late in the game, the whistle was probably coming any second, and Lucas was running away with his back toward goal to retrieve the ball. The fact that they could lose out on two points in that two minute span is just laughable. Arsenal has had one of its best Premier League seasons in years, and yet this has been the most frustrated I have ever been as an Arsenal fan. The Premier League is down this year and Arsenal has the talent to win the league, but just don't have the consistency or the intelligence to get it done in the clutch. We will have to see what Wenger does this summer. If I were to make a guess, based on past experience, it would be absolutely nothing.
In other news, the PFA Awards were handed out. Gareth Bale won PFA Player of the Year while Jack Wilshere took home PFA Young Player of the Year. I have no issues with Wilshere taking home Young Player of the Year, but Bale was a bit of a surprise. Bale has had a solid season, there's no denying that, but I think he has been hyped up a little thanks to his performance against Inter in the Champions League. I mean really, both Bale and Nani are wide players and I feel that Nani has been more influential for United than Bale has been for Spurs. Also, Nani was not even nominated for POY, which was surprising to say the least. Honestly, I am not outraged by Bale receiving the award because no one really stood out with a spectacular year. I really don't feel that one person was far and away the best player in the Premier League this season.
Here is the PFA Team of the Year:
Edwin Van Der Sar (Man Utd), Bacary Sagna (Arsenal), Ashley Cole (Chelsea), Nemanja Vidic (Man Utd), Vincent Kompany (Man City), Nani (Man Utd), Samir Nasri (Arsenal), Jack Wilshere (Arsenal), Gareth Bale (Tottenham), Carlos Tevez (Man City), Dimitar Berbatov (Man Utd).
It is very interesting to see the Team of the Year. It really illustrates how the household names of the past few years all have had down years. Guys like Drogba, Lampard, Rooney, Gerrard, and Fabregas all see themselves off of the Team of the Year list this season.