Eventhough I am liking less and less H&M stores, I must say that I admire the way the swedish company is able to create new brands that appeal to people : COS and its minimalistic aesthetic, Monki and its young quirky appeal and now

& Other Stories

. When some time ago Garance Doré told about this upcoming brand, I thought I will go and have a look once it will be launched. Something I never did because..well..I forgot ! But

Caterina

of

Not Just A Pretty Dress

made a post which enabled me to discover this new H&M baby so here I am with  my personal thoughts about its aesthetic and a wishlist (which will definitely stay a wish if you read below).
When I stumbled upon

& Other Stories site

, I immediately thought about Tumblr and the collage used by fashion designers to develop their concepts and show to others what is the mood, the atmosphere of their collection . The homepage  looks like a huge moodboard with its mix of pictures, videos and gif images. A mix that just like a fashion designer moodboard  makes you understand the universe of the brand : a very feminine, chic, glamour and dare I say both experimental and dreamy world (if what I just wrote made sense for you, hats off!) . And eventhough you are here to buy, this ingenious moodboard will make you forget you are a consumer, instead you will feel like a wanderer. A wanderer suddenly brought into a world where each piece of clothing, each pair of shoes and each bag has a story, but instead of drawing our attention on the items, & Other Stories prefers us to focus on the small details of what  they sell. One thing that particularly caught my attention was the extreme care given to two of our senses : the eyesight and the hearing. Their video Bag & Other Stories is definitely a great example of the brand's concept:
This said, their prices aren't really friendly, I would even say that they are my worst enemy. But what can I expect from a luxury brand if not to be expensive ? Some would argue that for a luxury brand & Other Stories is pretty affordable. I agree. Affordable for someone who unlike me is NOT student. Writing this, you can't imagine how much I want to flee from my current state. People I SO BADLY want to be economically independent to give myself the right to be extravagant every now and then (on a reasonable scale obviously), and spend 195€ on such a bag 

(if you are economically independent, not afraid of having a big hole in your bank account, and additionally love my wishlist, feel free to click on the words in bold you will see below ) 

: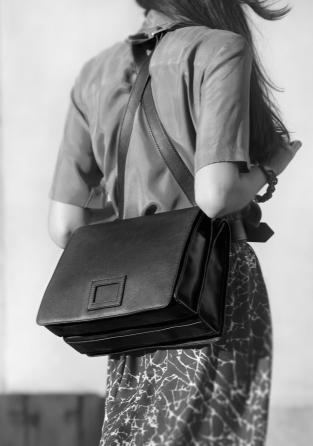 I guess I fell in love with it because it reminds me of the schoolbags of a time but with an original twist : the way it is worn and the fact it is actually a double satchel.
I was surprised not to be more attracted by the clothes, but what surprised me more was the fact that I actually spent quite the time admiring their shoes when I am not even a shoes' fetishist. So let's begin this shoes show !

1# Platform Wedge Pumps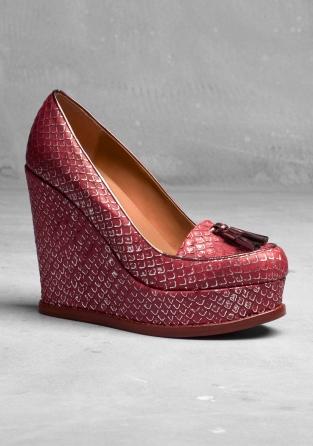 2#
Lace-up pumps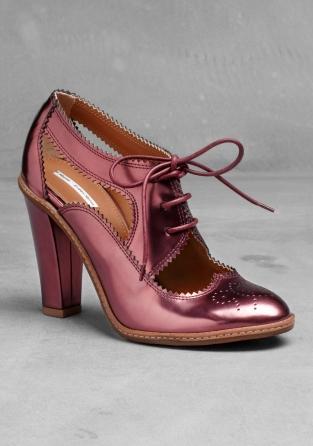 3 # Fabric slippers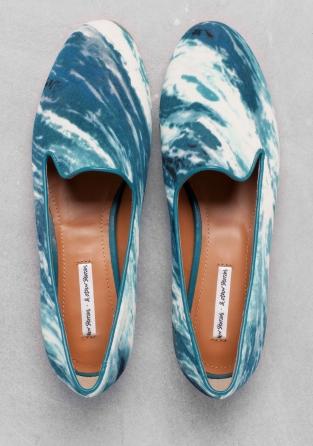 4# Open Heel Ballerina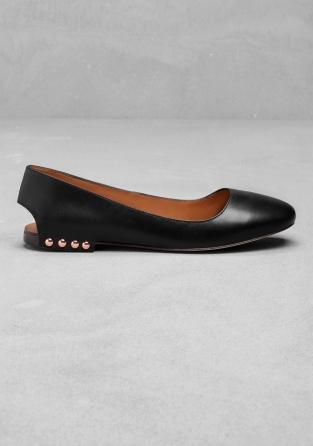 I could have add more shoes to this list but I think that these four pairs sum up pretty much who I am : I like feeling feminine and elegant without giving up my comfort but I am definitely the type that enjoy the most FLAT shoes. 
What are your thoughts about & Other Stories aethetic ?  How do you shop as a student ?