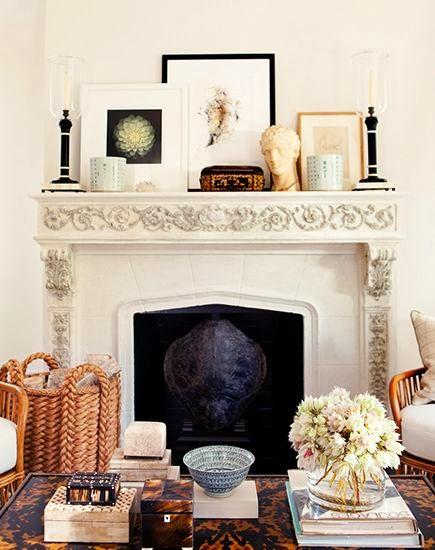 In looking at the many varied images that display art in ways that I find pleasing I began to notice my own favorites. I am talking about more than just hung on a wall versus tabletop or bookshelf display. I have been thinking about the particular details that make up the context for display of two-dimensional art. I'll show you a few examples and share my personal tastes along the way.
In the first photo the art work is propped on a mantel and layered. It also is an asymmetrical  assemble of art and objects framed by a symmetrical collection of objects. I find it quite pleasing but in my own home might feel as though something were missing in this over-mantle arrangement.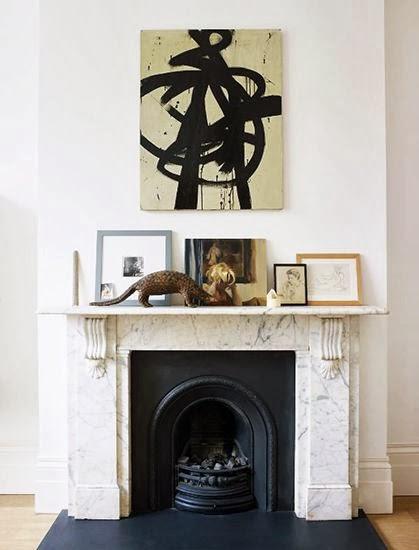 This layered asymmetrical art arrangement seems to ground the work on the wall above and the work above seems to call attention to the collection below. This is, to me, is perfection.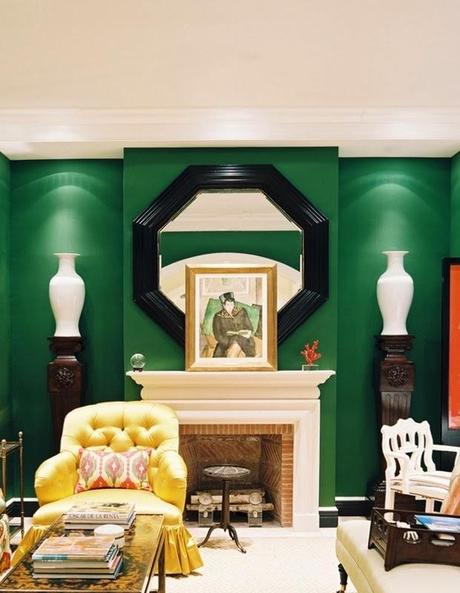 I could be persuaded to prop a piece in front of a mirror as Miles Redd has done here.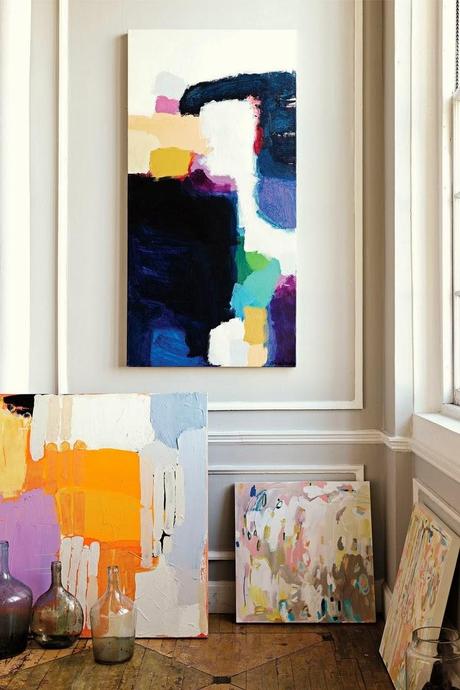 Propping paintings on the floor is evocative of an artists studio and is a common site in my own house. A house full of rambunctious kids may not be ideal for this type of display but its awfully romantic in a bohemian kind of way.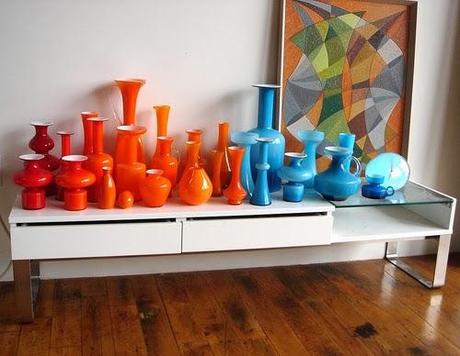 The idea of grouping a piece of art with another collection based on color, era and other similarities is intriguing to me although I might choose differently than this example.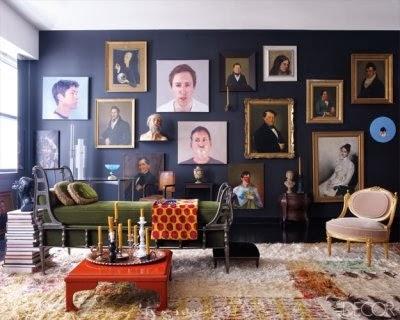 Gallery walls and salon style installations are big buzzwords these day but nothing new. I particularly enjoy them when there is a theme of sorts. Figures, caricatures and portraits are my favorites to group as you will see in the next two examples from my house.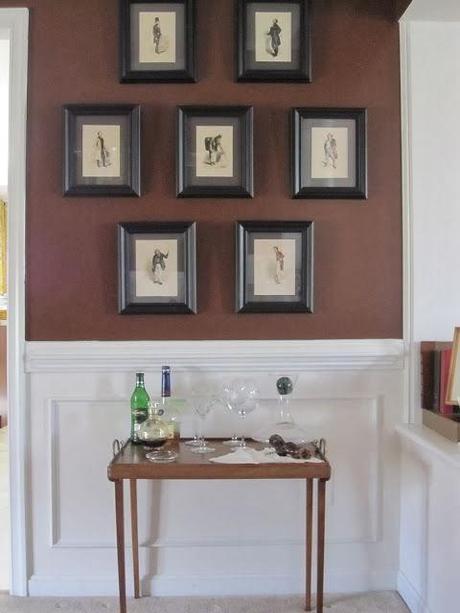 a corner of my dining room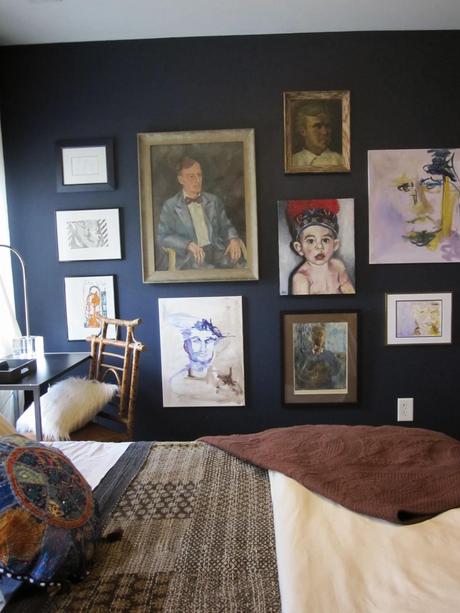 My college aged son's room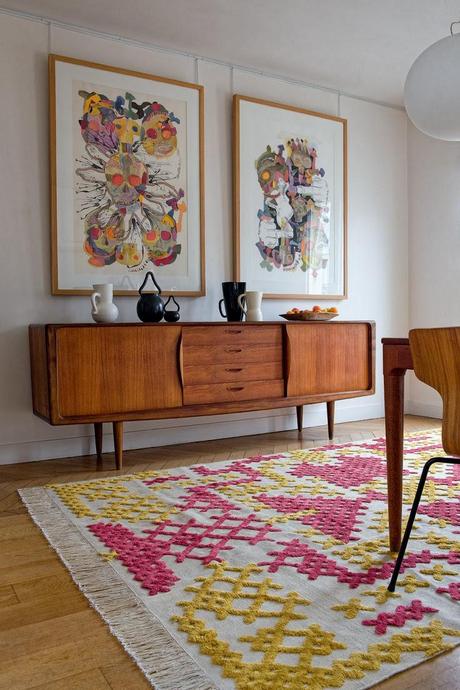 The choice whether to display art collections vertically or horizontally is a matter of taste and context in the space.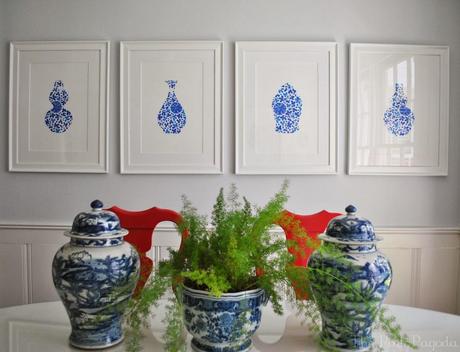 The Pink Pagoda
 A horizontal installation can bring life to a wall that is too wide to hold one work with any impact. My favorites either way include more than two.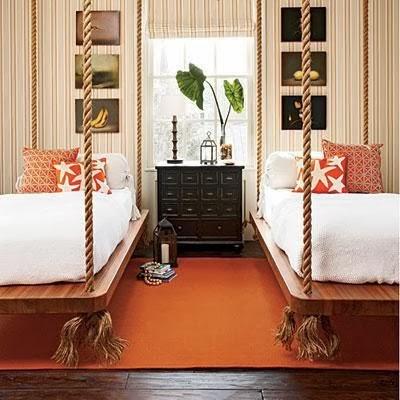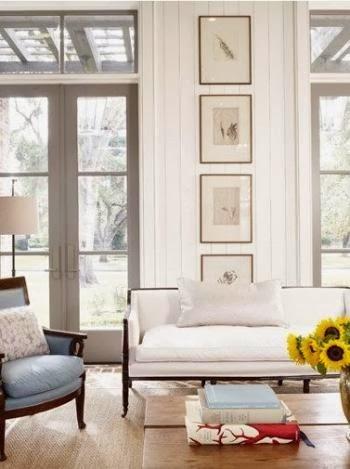 I love vertically hung pieces on a narrow wall. I have my own hang-ups (pun intended) about displaying art.  Do you have rules that you adhere to? What is your favorite way to display art?