- I'm sad that our baby showers are over. However, I'm thrilled the nursery is PACKED to the max with amazing items that we need to welcome our new little buddy home.
- Sunday night, H went with me for a "quick" trip to the Wal-Marts. I think he was scared that I would go all 9-month pregnant hormonal woman on someone. Anyway, before we could hit the tile floor of the store, H had already put a set of blue plastic golf clubs in the buggy for the baby. When I raised an eyebrow, he said that it's one of the baby's Christmas gifts.
Several things:

1. Are we seriously buying Christmas gifts for a child that isn't even here yet?
2. Where am I to store said Christmas gift until December?
3. The child isn't even born yet and I'm already hiding gifts from him. 
4. The tag said for ages 5 +. 
I could not steal the joy of the first time dad......so I gladly let him pay for the $6 clubs.
Once we were in the car, I broke the news to H that our child probably won't be crawling, much less hitting golf balls in the front yard in December. Nevertheless, if we have an overachiever child that has Bubba Watson characteristics with golf clubs......we are prepared.
- Over the weekend, we are installing the carseat bases to our cars. This is getting REAL people.
- 2 nights ago, my neighbor laughed at my cankles. They are quite comical these days.
- Speaking of comical......H has brought the jokes lately. I think he is trying to make me laugh this child out! 
 A security company was going door-to-door in our hood selling systems the other night (they saw me and my 9-month pregnant glory in the garage the night before as they were walking around). Anyway, while I was cooking dinner, H opened the door and stood on the front porch to talk with the company. When he came back inside, I started in with 20 questions:
Me: So....what did you tell him? Do even WANT a system?
H: He asked how far along you are in your pregnancy.......I told him you are not pregnant......and I asked if he was calling my wife fat?!
I almost dropped the spatula that was in my hand.
The look on my face! ha!
H then followed up with: well, my other thought was tell him that I'm just your boyfriend and that you will have to ask your husband if ya'll need one when he returns home.

I.Can't.Even.Make.This.Up.
I like to think that H just politely declined the system and the guy isn't judging us when judgment isn't necessary. 
- The french drains are completed! The yard is FINISHED! That will be a follow up blog post. 
- Over the weekend, I had the most delightful house guests. Sweet little Baylor Boy and his mama visited us! I saw a glimpse of my new life. And I'm excited. 
Cooper and Oscar LOVED having Baylor around.....and the next few pics pretty much sum up why.....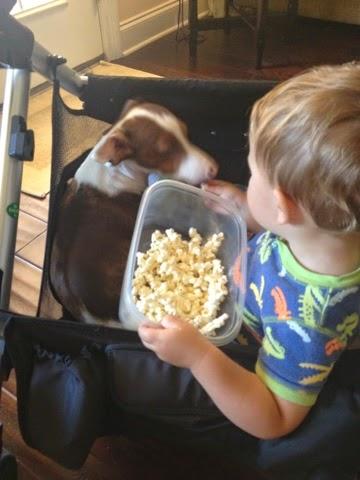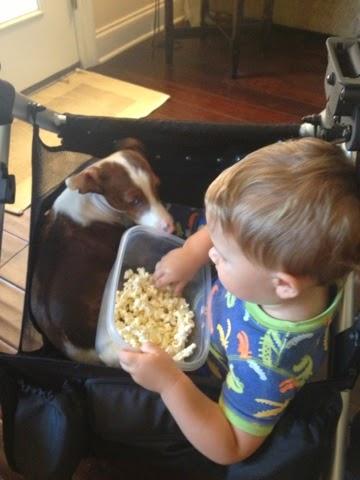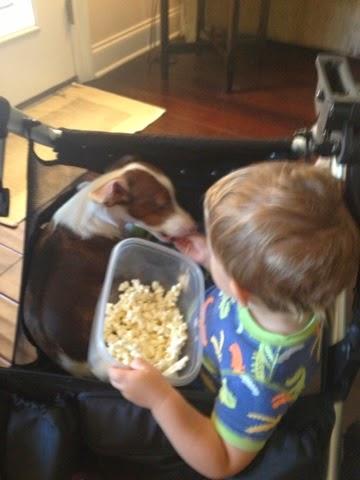 One for me.......one for you......One for me.......one for you......
We took Baylor to the pool, where he instantly made friends........then wore himself out! Then, in his sleep, he dumped his container of gold fish in his lap. Bless it!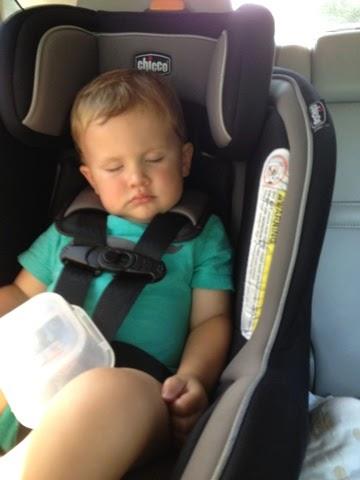 Two peas in a pod watching Fox and Friends on Sunday morning. Coffee for one......juice box for another.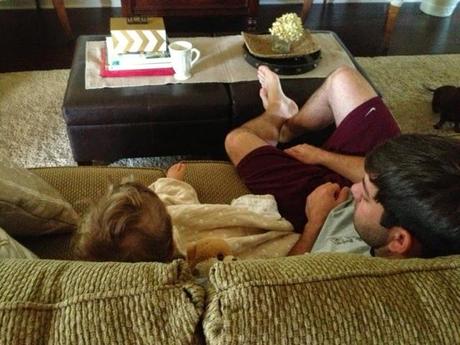 I could stare at this pic ALL.DAY.LONG! Bay is the sweetest little buddy that loves to give "tight hugs".....calls fruit snacks "prizes"......thinks the puppies are his best friend.....and loves his little life!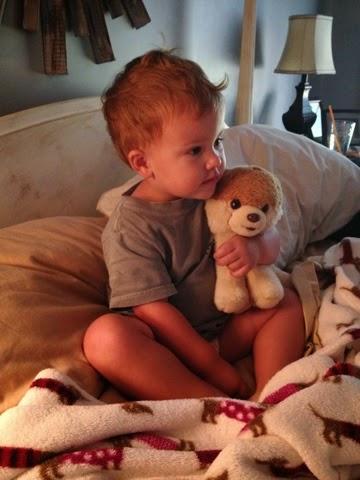 He is going to be the best little cousin ever! Thanks to him and his wonderful wardrobe......my child is clothed.