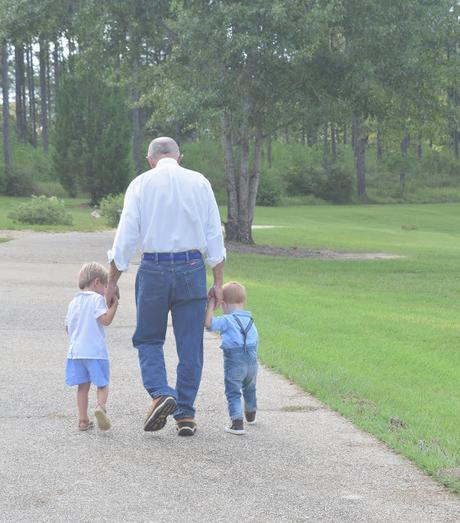 Man Oh Man. 
My sweet dad is rocking and rolling. 

Hurdle #1 of his journey has been crossed. 
That man is literally sitting his favorite chair after a Sunday full of some of his favorite guests. 
Dad's Sunday morning started with a delivery of hot apple dumplings. 
Then followed by lunch with long time friends, then a visit from his mom. 
OH! And Saturday.....he partied at Waylon's 2nd birthday party! 
This week, Jax and I are PawPaw's nurses. 
I'm sure he would rather have Brittany (one of his favorite hospital nurses) versus dealing with me and ALL of the healthy foods that I brought him. 
We have some BIG plans for the week: 
Monday- go to the post office so Jax and dad can sit in the car while I buy stamps and check the box. 
Tuesday- ride around on some dirt roads and lunch with family.
Wednesday- drive to Leakesville. (dad has already asked me for a Ward's biscuit.....and I've already told him no, but that I'll be happy to make him a great green smoothie instead)
Thursday- go to Hattiesburg to have his stitches removed. 
Friday- radiologist appointment. 
We are hoping that in a few weeks, dad will be able to start radiation on his brain. We are SO hopeful about this treatment even though it is going to be intense. He will have radiation everyday for 2 weeks. 
We are ready. 
Dad is ready.
Dad is preparing to put on his 'Armor of God' to battle it out with cancer. 
We have felt every emotion since August 7th. 
That Monday feels like it was a year ago, and yet it feels like yesterday all at the same time. 
Jackson seemed to have been 10 hours away from Hattiesburg on that day. 
The hours that passed each day while Dad was in the hospital seemed like minutes. 
We (me, mom and Nathan), are still telling dad about the events that happened from surgery #1 until he was discharged from the hospital. Dad really doesn't remember anything or anyone from the time in between his surgeries. 
Dear friends, we KNOW that God isn't finished with Brent Walley. 
That man is still being used by God. 
God has provided SEVERAL miracle moments over the past month that has shown his divine providence to my family. 
When the haze started to lift and we began putting the puzzle pieces together, we just sat in awe at his majesty.
 For several days, I literally had no words for God.
Sometimes, you just need to sit in silence at the feet of Jesus and allow him to hold you. 
After radiation is complete, visits with the oncologist will begin. 
We. Are. Ready.
Specific Prayer Requests that Dad needs right now: 
1. Strength as radiation begins;
2. Limited to no side effects of radiation; and
3. Continued high spirits.
Though the fig tree does not bud, and there are no grapes on the vines, though the olive crop failsand the fields produce no food, though there are no sheep in the penand no cattle in the stalls, I WILL REJOICE IN THE LORD. I WILL BE JOYFUL IN GOD MY SAVIOUR. Habakkuk 3:17-18