TAKEAWAY: Two ends of the generational spectrum are loving their tablets—-the very young and the very old.  While we are not surprised that even toddlers crave tablet action, we have suspected for a long time that the 70+ set has taken to the new platform with gusto. Now some studies support that suspicion.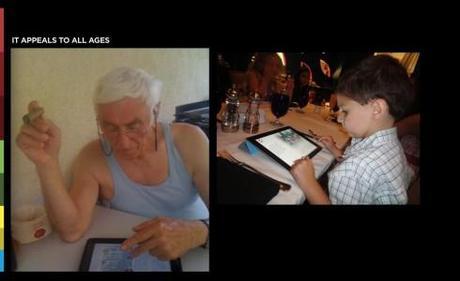 Tablets, especially the iPad, are extremely popular with two ends of the generational divide—-the very young and the 70+.  Both take to it and its offerings with gusto. Now a study reports that older readers have an easier time reading text on a tablet than on any other platform
We know how popular the tablet is—-more than 100 million iPads sold globally already, not to mention other tablets, such as the popular Kindle.
We also know that many older readers some of whom never touched a computer before,  now own a tablet, and enjoy using it including for news consumption. At a time when so many publishers fear to make dramatic changes in their operations because of fear of alienating those "loyal, older" readers, this should be welcome news.
According to data released by Pew's Internet & American Life Project, in August 2012 27% of American adults ages 50-64 and 13% of adults ages 65+ owned a tablet computer. Those figures were up from 15% and 7%, respectively, in January 2012, and just 4% and 2%, respectively, in November 2010.
Research from Germany
Now Researchers at Johannes Gutenberg University in Mainz, Germany report that these older readers have an easier time reading text on a tablet than on any other platform.  The researchers studied the amount of cognitive effort required to read text displayed on different media, including paper, e-readers and tablet computers. After dividing participants into two groups, one consisting of 36 subjects ages 21-34, the other of 21 subjects ages 60+, the researchers tracked eye movements and brain activity with electrodes to determine how much neural power was required to read text presented in the various formats.
The older readers displayed a lower level of brain activity when reading text on an iPad tablet, the study found, and finished each page of text three to four seconds faster, on average.
No surprise here, since we know that type in tablet editions is usually bigger, and that users can also magnify type to their own specifications easily, a big attraction for older readers who may be fighting tired eyes and overall visual deterioration.
Robert Wood Johnson Medical School findings
Another study published last November by researchers at New Jersey's Robert Wood Johnson Medical School found that tablets could help people with moderate vision loss read. Dr. Daniel Roth, an eye specialist and clinical associate professor at the medical school, presented results of the findings at an annual meeting of the American Academy of Ophthalmology.
The study tracked the reading speeds of 100 subjects with moderate central vision impairment when using iPads and Kindle tablets, versus print. His findings, based on tests conducted with 66 adults age 50 and over: older people read faster (a mean reading speed of 128 words per minute) when using an iPad, compared to a newspaper with the same 10-point font size (114 words per minute).
Subjects reading text in 18-point font on the iPad gained at least 42 words per minute in their average reading speed compared to print, while subjects reading the same size text on a Kindle gained an average of 12 words per minute compared to their print reading speed.
So, the tablet and those loyal older readers are having a honeymoon of sorts. Let's capitalize on it, and perhaps tailor content and editions to the older set, and, while at it, explore possibilities for one off apps that revisit events and use material in those precious files that every newspaper and magazine treasures.
Remember the 65+ readers usually have the time—-and the money.
Their hunger for news and information has never been greater.
The tablet makes consuming it all the much easier. While continuing to attract the elusive youngsters in the audience, let's also make efforts to also lure these older readers who are discovering the magic of everything digital.
Of related interest:
Pew's Internet & American Life Project
Video of 100 year old reading on the iPad
Watch this 2010 video of Virginia Campbell, then 99 years old, at the Mary's Woods Retirement Community in Lake Oswego, Ore. reading on an iPad. Ms. Campbell's glaucoma made it difficult for her to read, and for her the iPad was a blessing
Of special interest
5 reasons mobile will disrupt journalism like the Internet did a decade ago
http://www.poynter.org/latest-news/media-lab/mobile-media/204107/5-reasons-mobile-will-disrupt-journalism-like-the-internet-did-a-decade-ago/
Highlight:
Imagine being able to rewind to the 1990s and help your news organization make key decisions — and create new habits — to help prevent a landslide of layoffs and enable the business to thrive on the Internet. That's the opportunity we have today with mobile, the second tidal wave of change about to collide with the news industry.
The News Tribune Redesigns with a Print Audience in Mind
http://www.editorandpublisher.com/TopStories/ASection/The-News-Tribune-Redesigns-With-Print-Audience-In-Mind
Highlight quote from Executive editor Karen Peterson:
We're going to design a newspaper for newspaper readers. Hard-core newspaper readers. Readers who crave the feel of newsprint in their hands. Readers who aren't ashamed to say they prefer their news the old-fashioned way — on paper.
What to consider when redesigning a website
http://www.bizcommunity.com/Article/196/23/89147.html
Highlight:
Don't do it for purely aesthetical purposes. Meaning, don't engage in a website overhaul just because you want to prettify something. Your website is the single, most important and most powerful internet marketing tool you have. There's a checklist you should follow and not do it on a whim just because you want to make something beautiful.
L.A. Times Eliminates TV Listings in Print Edition
http://franklinavenue.blogspot.de/2013/02/la-times-eliminates-tv-listings.html
The web helps newspaper publishers extend reach by 35%
http://wallblog.co.uk/2013/02/15/the-web-helps-newspaper-publishers-extend-reach-by-35-infographic/
News Publishers Must Focus on Audience
http://www.digiday.com/publishers/news-publishers-must-focus-on-audience/
Digital publishers optimistic as ad revenues rise
http://www.guardian.co.uk/media/greenslade/2013/feb/15/digital-media-advertising
Where's Mario until March 2, 2013?

Mario's upcoming speaking engagements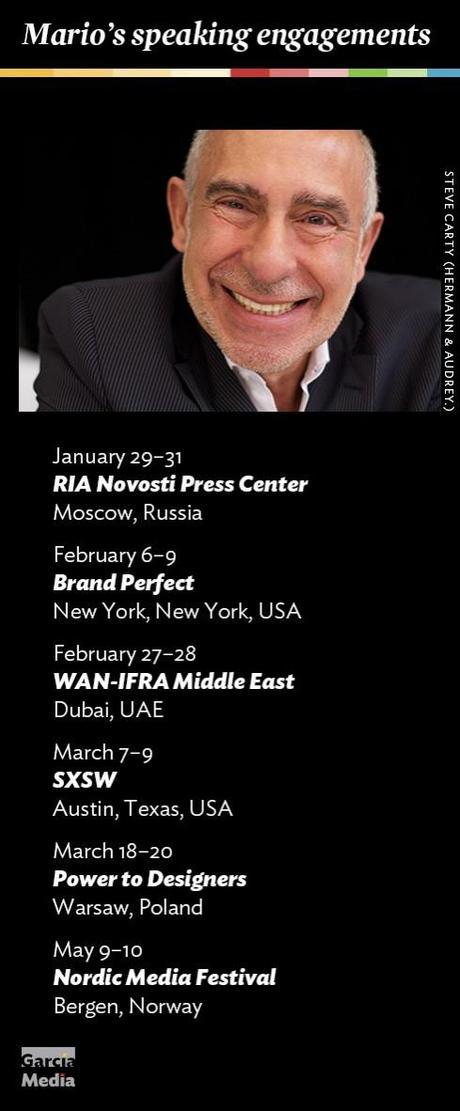 Take advantage of our iPad Design/Ad Lab workshops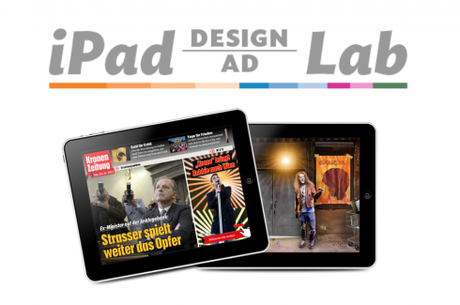 Do you want to take your brand to the next level by creating a tablet edition? Garcia Media can help. We now offer one- to two-day iPad Design Lab workshops on demand to jumpstart your presence on this exciting new platform. We also offer iPad Ad Lab workshops to develop engaging advertising models for your app. Contact us for more information.

Purchase the book on the iBookstore
iPad Design Lab has been given the
QED

 Seal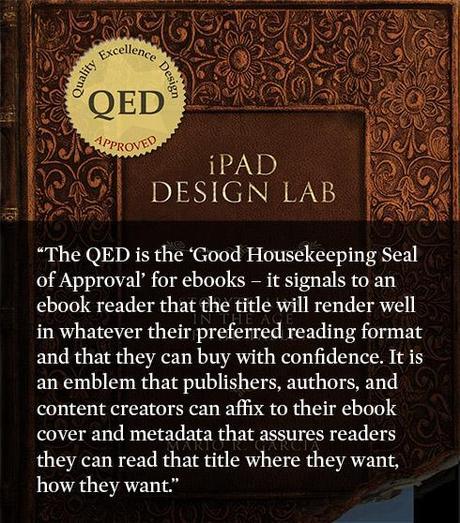 The QED (Quality–Excellence–Design) Seal is bestowed by the judges of the Publishing Innovation Awards after "a thorough, professional 13-point design review with an eye towards readability across multiple devices and in multiple formats."
Learn more about the QED Seal here.
The
EPUB

version of book is

HERE

:

Now available: The EPUB version of  iPad Design Lab: Storytelling in the Age of the Tablet, ready for download via Amazon.com for Kindle:
Here is how you can get iPad Design Lab book:
The original version of the book is the multitouch textbook version available on the iBookstore for iPad (iOS 5.0 and up): 
https://itunes.apple.com/book/ipad-design-lab/id565672822
This version includes video walkthroughs, audio introductions to each chapter, swipeable slideshows, a glossary and a sophisticated look and feel.
Apple only sells multitouch textbooks in certain countries at this time, unfortunately. Copies are available in at least the following countries: Australia, Austria, Belgium, Canada, Finland, France, Germany, Great Britain, Greece, Italy, Latvia, Luxembourg, The Netherlands, Poland, Portugal, Romania, Slovakia, Spain, and the United States.
For those in other countries and without an iPad, we have made the book available in a basic edition for other platforms. This basic edition includes the full text of the original, along with the images and captions, but lacks the other features such as audio and video. It is available on the following platforms in many countries:
Amazon Kindle: 
http://amzn.to/SlPzjZ
Google Books: 
http://bit.ly/TYKcew
Take a video tour of iPad Design Lab
"iPad Design Lab" trailer on Vimeo.
Read the Society of Publication Designers' review of The iPad Design Lab here:
http://www.spd.org/2012/10/must-read-ipad-design-lab.php

Keep up with Mario Garcia Jr.. via Garcia Interactive: helping transform online news since 1995.
http://www.garciainteractive.com
TheMarioBlog post #1197