This is the weekend edition of TheMarioBlog and will be updated as needed. The next blog post is Monday, September 5.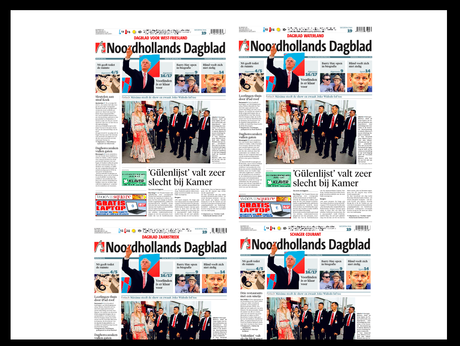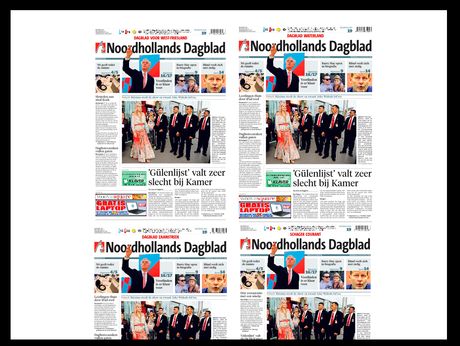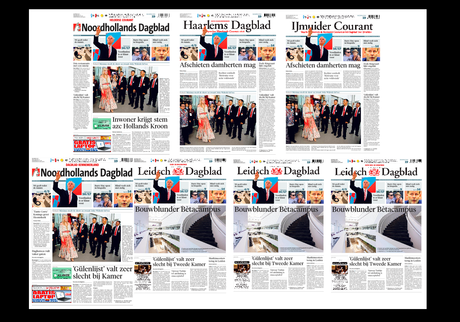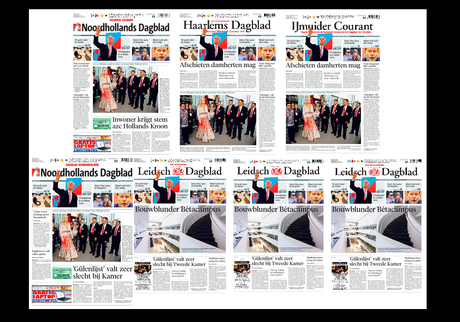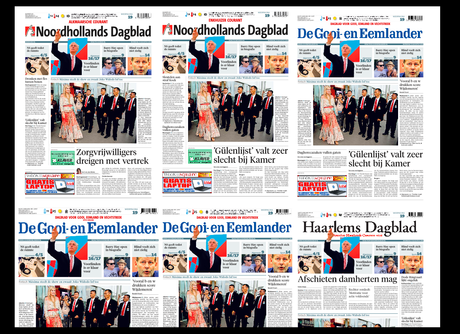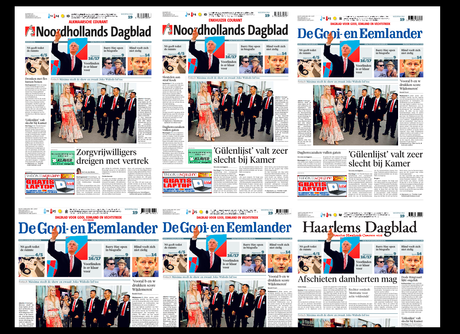 These local regionals part of Holland Media Combinative produce 17 daily editions, distributed across central and northwest Holland
It is great to be involved in Holland with a group of regional newspapers, which, all under one editor and central desk, produce the bulk of the content and execute the design. However, what is different, the big differentiator, is that very local content prevails in all 15 editions of newspapers that extend geographically from central to northern Holland.
These newspapers are all part of Holland Media Combinative, a part of the Telegraaf Media Group, which publishes the national daily, De Telegraaf.
For me personally and for Garcia Media, it is the fourth project in which we are called upon to unify visually and journalistically a group of newspapers which publish in different cities.  
Readers of the blog are familiarized with our work for Canada's Postmedia group, and in the United States, American City Business Journals, The McClatchy Group and, currently, the Gatehouse Media.
While visual styles are created to guarantee a look that can serve the various newspapers, the content continues to be quite local.  I have started this project in Holland, working with newly appointed editor in chief, Arjan Paans, and with art director Peter van den Elshout.  Together we have kicked off this project for completion in early 2017.
Together, these regioinal newspapers produce 16 very local daily editions throughout Holland.
Post media
Tablet editions: 4 years later, less finger-happy
http://www.garciamedia.com/blog/categories/postmedia
Postmedia unveils the reimagined Ottawa Citizen
http://www.postmedia.com/2014/05/20/postmedia-unveils-the-reimagined-ottawa-citizen/
Note to readers: a new Gazette coming
http://www.montrealgazette.com/news/local-news/Note+readers+Gazette+coming/10304103/story.html
ACBJ
Charlotte Business Journal: it's new look, new digital focus as part of Project Pinstripe
http://garciamedia.com/blog/articles/pcharlotte_business_journal_its_new_look_new_digital_focus_as_part_of_pinst
Pinstripe Project: Albany, St. Louis launch new look digital first approach
http://garciamedia.com/blog/articles/ppinstripe_project_albany_st._louis_launch_new_look_digital_first_approach_
A total rethink for Cincinnati Business Courier
http://garciamedia.com/blog/articles/pits_a_total_rethink_for_cincinnati_business_courier_p
It's a new Washington Business Journal
http://garciamedia.com/blog/articles/pits_a_new_washington_business_journal_p
The design of the Silicon Valley Business Journal, from prototype to reality
http://garciamedia.com/blog/articles/the_design_of_the_silicon_valley_business_journal_from_prototype_to_reality
Silicon Valley Business Journal: Creating the ultimate multi-platform operation
http://garciamedia.com/blog/articles/silicon_valley_business_journal—creating_the_ultimate_multi_platform_opera
Lessons learned from Silicon Valley, and a look at some details of SVBJ
http://garciamedia.com/blog/articles/lessons_learned_from_silicon_valley_and_a_look_at_some_details_of_svbj
McClatchy
http://garciamedia.com/blog/the_miami_herald_el_nuevo_herald_launch_with_new_look
http://garciamedia.com/blog/mcclatchy_project_unveiling_of_a_broad_evolution
http://http://www.poynter.org/news/mediawire/343727/today-mcclatchy-hits-reset-with-several-sites-heres-how/
http://www.poynter.org/news/media-innovation/326011/gyllenhaal-mcclatchy-reimagines-its-publishing-process/
http://garciamedia.com/blog/its_launch_time_for_three_more_mcclatchy_titles

Gatehouse Media
https://www.garciamedia.com/blog/garcia_media_and_gatehouse_media
http://garciamedia.com/blog/its_a_new_election_website_for_gatehouse_media
The local newspapers in our TMG project
Alkmaar, 
03P Alkmaar Courant, C53 Alkmaar eo www.nhd.nl
Kennemerland
04P Dagblad Kennemerland Kennemerland C54 www.haarlemsdagblad.nl
Haarlem eo
K05 Haarlem Dagblad / IJmuider Courant, C03 Haarlem and surrounding www.haarlemsdagblad.nl
Leiden eo
12P Leiden newspaper, C05 lead and surroundings www.leidschdagblad.nl
't Gooi
13P The Gooi and Eemlander, C71 Shy and Eembode www.degooieeneemlander.nl
Enkhuizen / West-Friesland
K02 Enkhuizer Courant / Newspaper for West-Friesland, C52 West Friesland, www.nhd.nl
Schagen / Den Helder
K01 Schager Courant / Helderse Courant, T51 Cup North Holland www.nhd.nl
Zaanstreek / Waterland
K06 Dagblad Zaanstreek / Waterland Dagblad, T49 Zaan Stick, Purmerend Waterland www.nhd.nl
Front pages we like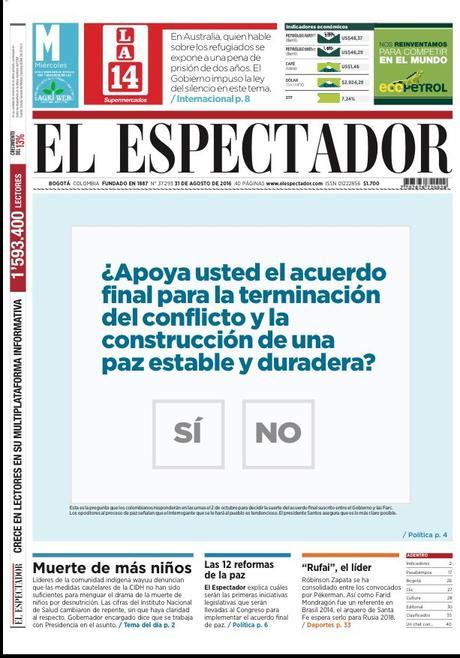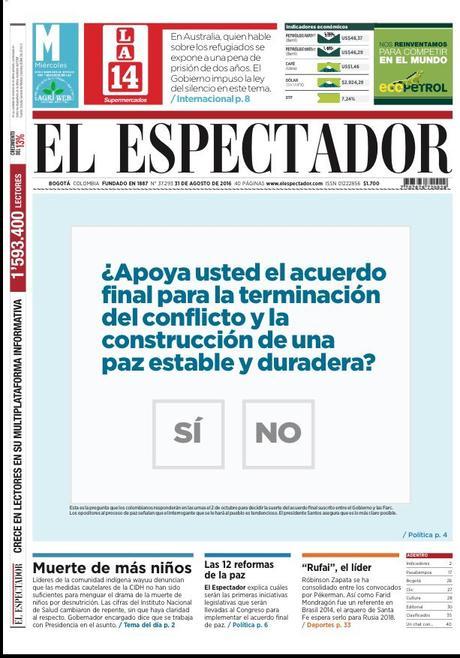 Colombia's El Espectador devotes its front page to an essential question: Are you or are you not in favor of the recently signed Colombian Peace Agreement, which brings to a close the government's conflict with the FARC guerrilla? Yes or No.
TheMarioBlog post # 2780
Please enable JavaScript to view the
comments powered by Disqus.
comments powered by

Disqus