This is the weekend edition of TheMarioBlog and will be updated as needed. The next blog post is Monday, May 9.
My Multiplatform Design & Storytelling students are already presenting their final projects.
Those projects get better each semester.
The assignment as explained in the course syllabus:
Final project : A multimedia story
It's been three years since The New York Times published "Snow Fall: The Avalanche at Tunnel Creek." It instantly became a storytelling sensation. More than that, it pioneered the multimedia story for the digital age. What is it that the best multimedia stories have in common? All emphasize segmentation, all introduce texture woven into the narrative with photo galleries, quotes, videos and highlights. All allow readers to explore related content.

For the final project, each student will create his or her own story and present it in a multimedia mode, appealing to the senses through audio, video, photography and text. This final project will become a valuable portfolio piece, while demonstrating your ability to tell stories across platforms. As for which story to utilize: You may have already worked on such a story for another class and/or job. We will recommend that students use Readymag, but other tools and approaches may be discussed with the instructors. Or, you may wish to pursue a subject of interest to you. More details of this project to be discussed in class.
As you will see here, the topics range from the newsy stories to travel pieces to features and even photo galleries.  In each case, the students had to become aware of how multimedia stories work, in which video, photos and audio become a part of the narrative, but each performing a different function and avoiding repetition throughout. 
I take pride in reporting that the majority of these students came into my class in January with little or no knowledge of design, although all came with a solid background in rerporting/editing, which are key to the success of a multimedia story.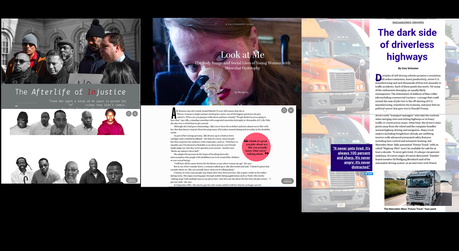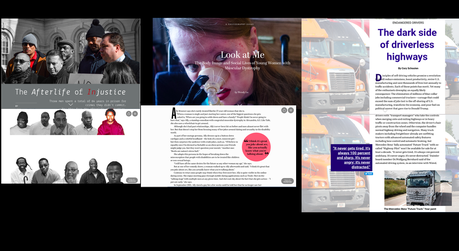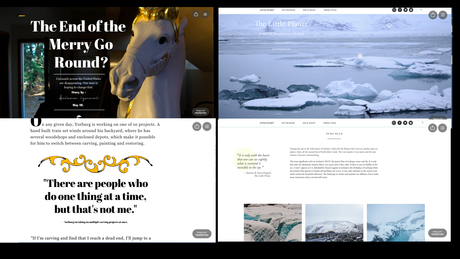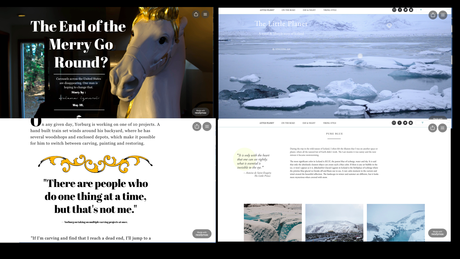 The Aftereffects of Injustice
Three men spent a combined 64 years in jail for crimes they did not commit
By Francesca Mirabale
http://readymag.com/francescamirabile/TheAfterlifeofInjustice/
Fun in the Post-Soviet Sun
The 15 countries born out of the fallen Soviet empire are not places often associated with beach vacations or bikinis. But from Bishkek to Vladivostok, the warming sun offers a universal escape. 
By David Trilling
 
https://readymag.com/davidtrilling/fun-in-the-post-soviet-sun/
Look at Me
The Body Image and Social Lives of Young Women with Muscular Dystrophy​
By Wendy Lu
http://readymag.com/u32117197/485958/
The End of the the Merry Go Round?
Carousels across the United States are disappearing. One man is hoping to change that.
By Ariana Igneri
https://readymag.com/u85883061/524323/
The Special Envoy
Did The Former Un Special Envoy To Yemen  Legitimize The Coup?
By Asem Alghamdi
http://unyemen.com/the-special-envoy/
The Little Planet
A travel & lifestyle story of Iceland 
By Yingying Xie
https://readymag.com/syprojects/the-little-planet/.
Guilford Goes To Gary
Pilgrim Fellowship, an interfaith youth group for high school students based in Guilford, Connecticut, is helping the people of Gary, West Virginia, with construction projects for families selected by a local missionary organization.
By John Kennedy
https://readymag.com/u45272446/530944/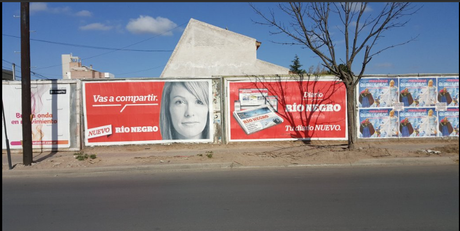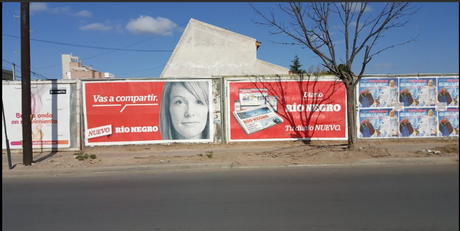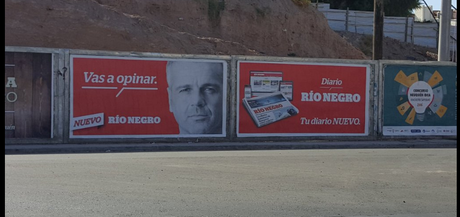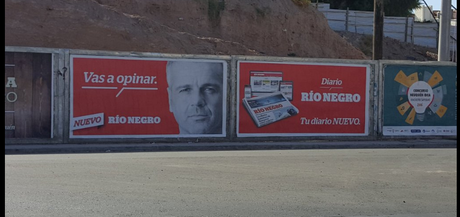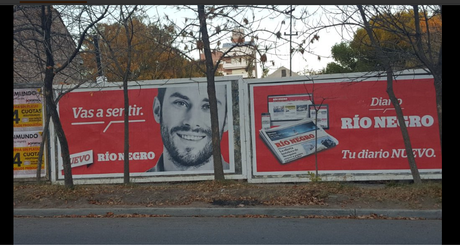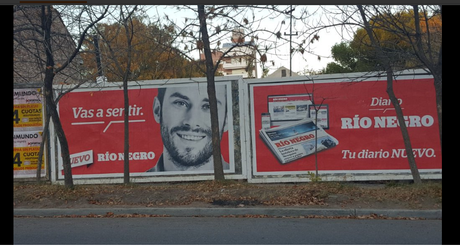 This is the latest Garcia Media Latinoamerica project, Rio Negro, the daily newspaper of the Pampas region of Argentina.
Here we can see how the launch has been promoted via billboards all over the Rio Negro region.
TheMarioBlog post #2161
Please enable JavaScript to view the
comments powered by Disqus.
comments powered by

Disqus