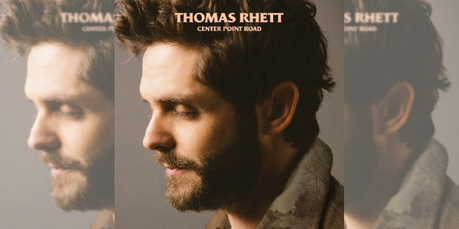 29-year-old country music hitmaker, Thomas Rhett has released his fourth album, Center Point Road, and it's a banger.
The 16 song album features appearances by Little Big Town, Kelsea Ballerini, and Jon Pardi, and gives country music fans 52 minutes of songs to dive into. It's more than we're used to from new albums. It's a treat, a kick-off to the summer music season, and continues the successful reign of the Georgia-native.
The iTunes editors' note calls Rhett " country's crossover king", and the album has already vaulted to #1 on their charts. We won't be surprised to see it climb to the same spot on the Billboard country charts as well.
This slideshow requires JavaScript.
In the lead up to the album's release, country fans were given a preview of everything they were going to get. The lead single, Look What God Gave Her has reached as high as #4 on the singles charts in Canada and the US, and lyric videos for Center Point Road, Don't Threaten Me With A Good Time, Beer Can't Fix, That Old Truck, and Remember You offered more early access to the new music.
Related: New Music Spotlight with Thomas Rhett, X Ambassadors, Ken Stead and More
Never afraid to follow his own path and embrace his own creative impulses, Thomas Rhett does it again on Center Point Road. Touches of R&B, pop, and more add to his country roots. Experimentation, excitement, and energy remain an important part of what he does. And no matter which direction it takes him next, we hope he keeps following those same ideals.
The 16 songs on Center Point Road go from sweet to fun, upbeat to slow dance ready, and that's fine by us. We're into it. We aren't surprised, we're pleased.
We can't predict the future, but we're guessing that it won't be long until we hear people singing along to the whole record dancing to their favourite tracks, and showing their love for the father of two and his music.
If you've missed them so far, watch the videos that have been released so far...
Since he first burst onto the scene with It Goes Like This, Thomas Rhett has been turning out hits and turning heads at the same time. And while life changes, that fact hasn't.
If you haven't listened to Center Point Road yet, now is the time. Hit play on the stream here, go find it at your favourite outlet, pick up the CD if that is your preferred way to listen, and enjoy!
And leave a comment for us here, telling us which song from the new album is your favourite so far.
Thomas Rhett, Center Point Road Tracklist