-Angel Russell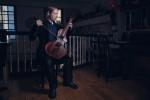 Musician and composer Thomas Brunkard's  project called A Never Ending Album has some new songs available. Sergeant Sparrow Recently interviewed Thomas about the project. The album does not have a set number of songs but will be added to perpetually. The internet reinvented the way music fans look at albums. It is a lot easier to skip songs of little interest to the listener when accessing an album online. Musicians who devoted time and effort to creating a cohesive set of songs or a concept album were inherently effected by how easy it is to listen to songs in snippets or in their entirety on sites such as bandcamp, iTunes, LastFM, Spotify, Pandora, the list continues. As was written in the previous Brunkard review by Sergeant Sparrow, "this led him [Brunkard] to create an album that is continuously evolving like the many updates our apps and phones now require." He looks at his music as more of a stream of continuous creativity rather than a specific amount of songs connected together through an album. His work is an amalgamation of the listeners ability to listen and the musician's ability to release through the internet.
His music is often dreamy and when the project began it had lush arrangements full of depth and intrigue. Brunkard is a guitar player first and not too much of a singer (according to him). He turns to his attention to arranging to help the music to vocalize for him. His melodies are melancholic but ethereal and can depict a lot of imagery if listened to in the correct mood and atmosphere. His love for guitar recently became over shadowed by his desire to add more bowed instruments to his music. As a guitar player it can be difficult to transition to cello, held between the legs and resting on the floor. It is an awkward position when one is used to the guitar. It is even more challenging to play violin, where your fingers must play smashed together on a tiny neck. He did some research and discovered the Guitarviol, a bowable guitar. You can read more about it here. A new song from his never ending album called Elégie Pour M. Toland can be heard here:
[soundcloud url="https://api.soundcloud.com/tracks/150496165″ params="auto_play=false&hide_related=false&show_comments=true&show_user=true&show_reposts=false&visual=true" width="100%" height="450″ iframe="true" /
It is an interesting listen to be able to keep up with how a musician evolves. In a project such as this you can rewind in time to where Brunkard was months ago to where he is now. You can hear how his musicality evolves and can anticipate where it might head next. The inspirations are evident in the instrument choices, the trials and uplifting times in life can be heard because he continues to right throughout. This project will evolve into the album of Brunkard's life more than a collection or snippet of  his career. It will surely be interesting to see where he will be in the years to come and compare it to different parts of his musical timeline. Each song becomes a montage of a slice of his life. What a journey.
Interview:
 Can you give us a brief description of your musical past and present?
I'm a musical nobody in terms of scale but I've had a lot of adventures from mundane commercial composition to composing for plays, movies and art projects. I've always been involved in working with others to bring their project to fruition, a catalyst or jobbing musician.
In terms of my background. I'm a self denying Irishman that grew up in a city that became very international very quickly. Anything and everything can happen in Dublin and the city has been enriched by a lot of different cultures arriving very quickly. This and our national obsession with music and song has been a big help to getting me to expand my own horizons musically.
Last March I released A Never Ending Album and in recent months the more classical instrumental stuff has been particularly well received. Lots of people are listening now on Soundcloud etc. I've not put a deposit on a yacht but it is exciting to see so many people from so many places enjoying very esoteric music!
Where did you get the idea for"A Never Ending Album?"
I've grown up with albums as the ultimate in musical curating. Nowadays music is consumed differently. If people actually bother to buy music it's more commonly as single songs or streamed so albums are pretty much defunct for an upcoming generation of listener.
A side effect with streaming services such as Spotify is that friends are creating playlists and sharing them like we used to do with mixtapes. That idea of potentially infinite curated list interested me. (Can you elaborate how you think they have died? Maybe include a sentence here about how that came about and then how playlists were created)
Similarly the same phenomena can be found in Soundcloud with non-musician users curating the billions of tracks up there and working like earthworms through the compost to bring rich musical earth to the ears of casual listeners.
Maybe that's what an album is now. My idea for this "album" is basically a Soundcloud playlist that is artist curated but presented as an album would in every other way (art and promo etc.). It's more of statement of the artist controlling an album over time for better or worse.
How do you write and record your tracks?
I get most of my ideas strolling through Dublin listening to music actually. Eventually I start mentally improvising off something like a Marin Marais piece or an old Blind Willie Johnson bit and then I've gotta rush home and start putting it together!
Sometimes I'm watching a movie and I spot how I would have liked the music to go down and then it forms up in my head.
Since I work alone in front of a laptop the piece usually takes on a life of its own as the layers are added. My song, GBH is a prime example of this. I started scoring an imaginary cop show in my head and when I sat down I got pulled between different instruments like a maniac weaver on a nuclear powered loom!
Your music draws on a lot of musical genres and inspiration. How do you change from one genre to the next so seamlessly?
I don't quite see the distinctions between genres as they're presented. If you go to learn music it's taught like each epoch has a definite book-end which I feel is an overly simplistic view of music history.
Our political and cultural upbringing moulds us into identities that cage us. That's the human condition and we don't get to fix that but in music we have chance to free our minds and go places that we don't let ourselves go in real life.
If music is for this escapism then it should never be caged in the same socio-political cages we contain our lives with.
I suppose that's a pretentious way of saying that it's same 12 notes so they'll all fit with a bit of elbow grease!
You say your still learning to compose, and yet your music seems so well orchestrated. What do you want to improve upon in your work?
I think given my background as a sideman that the biggest challenge for me is to try and make instrumental music that stands up in it's own right. I've been heartened by the reaction I've been getting at this early stage but there's a challenge for me to keep things interesting without becoming so stylistically diverse as to become inaccessible.
There's always room to learn as a musician. The challenge is to get the right knowledge but not to become consumed by it to the point that you're just making the music for yourself.
Where do you see yourself going musically in the future?
Eventually I hope to score a feature film. The reality is that I'll continue to develop my craft and keep sharing it in the hope that my work gives somebody somewhere something for the two minutes they listen to it before they click on to pictures of kittens in compromising binds and forget about it!
The internet is an facilitator of things so I also hope for a surprise adventure to come back at me as a I keep broadcasting my wares online.