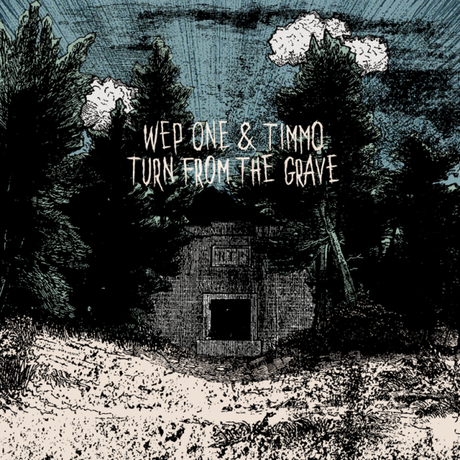 Now available on Hello.L.A., a France based art label created by Bertrand Blanchard, Turn From the Grave by Wep One & Timmo, is an complex and interesting album which combines electronic, Hip Hop, and Metal into an explosive buffet of sound. The seven song collection is a co-production between U.S. based electronic musician and rapper, Wep One, and Timmo, a Japan based electronic musician and producer.  The two collaborated over the internet and have not met in person, although you wouldn't guess that by listening to Turn From the Grave.
The album  begins with "Compound 47" a gritty mix of Wep's vocals, static synths, and phased guitars, with minimal to sparse drums underlying the melee. Wep one's lyrical mastery harkens to the most hardened of hip hop artists laced with a growl of wolf like mastery. The electronic samples and synths add an ethereal and alien soundscape with a futuristic quality. This could be hip hop circa 2062, sent back through a time portal. The second track "Turn From the Grave" starts with a robotic pulse sweeping the listener along into an interstellar starship dance party with robot DJ's and Captain Wep leading the rabble rousers with his command of vocal form. "Imprint" the third song continues the galactic dance party and was co-produced along with Timmo and Wep by KaeoFLUX . The rest of the album continues along these lines and never ceases to be an interesting integration of sonic fortitude.
This is for hip-hop fans and electronic music fans alike, and even those who are tired of the same old thing. This album is certainly breaking new ground in electronic music and hip hop. Ready for something new? You've found it. You're welcome.
Hard Copies SOLD OUT
Digital Available for DOWNLOAD:
http://store.hellola-hellola.com/product/wep-one-timmo-turn-from-the-grave/
Facebook
Wep One
https://www.facebook.com/WepOneMusic/
Timmo
https://www.facebook.com/TIMMO80
KaeoFLUX
https://www.facebook.com/kaeoflux/
Hello.L.A.