Here are a few recipes out of the range I usually share.  By the way, the chicken enchilada recipe is killer. It's super easy to whip up your own red enchilada sauce too. Just do a quick google search.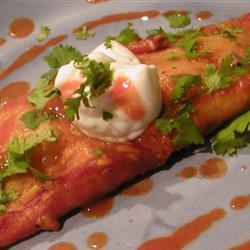 Gerry's Chicken Enchilada's from All Recipes
We've been enjoying these for years. Time intensive? Yes. Worth it? Yes. Best thing about making enchilada's from scratch- it's just as difficult to make 50 as it is to make 10. I make these for large groups of people and it is always a great time!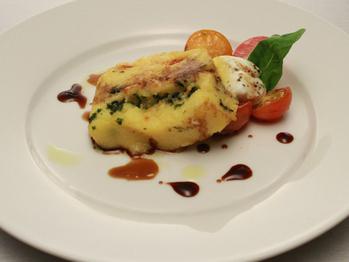 Polenta Terrine with Italian Sausage, Roasted Peppers & Kale from Tiffany D. on Top Chef All Stars
When I watched the episode of Top Chef All Stars where Tiffany made this polenta terrine I thought it looked delicious. Now with my recent experience cooking grits for "Shrimp and Grits" I think I'm ready to tackle this polenta dish.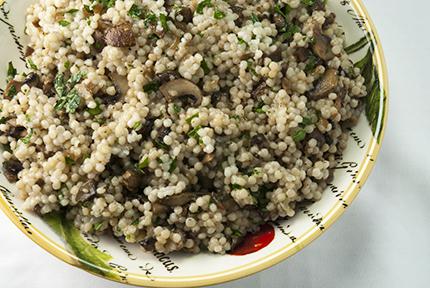 Israeli Couscous with Mixed Mushrooms from Sauce and Sensibility
If you haven't tried pearl couscous (Israeli couscous) it's pretty great. It can be a meal all in itself if mixed with a light sauce and some veggies. Serve fish over couscous with a light lemon sauce for a delicious meal. When I found this recipe I couldn't pass it up. It looks delicious!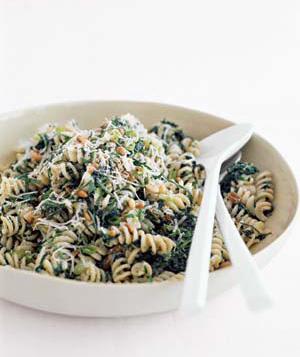 Fusilli With Spinach, Ricotta, and Raisins from Real Simple
This fusilli recipe looks different. I'm not usually about dried fruit (raisins) in my food but this looks different. I think the pine nuts could be replaced with toasted almond slivers or chopped walnuts.