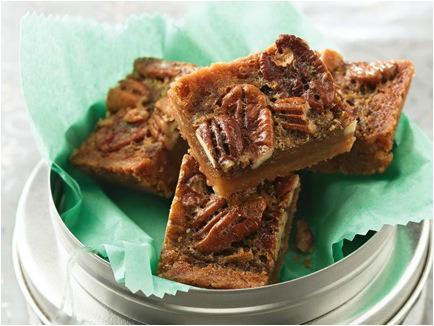 This week's featured Make Me, Bake Me Recipe: Pecan Rum Bars
If you've been following this blog for very long, you know I'm a big fan of alcohol-infused desserts! (Insert lush jokes here.) These deliciously rich pecan rum bars are like eating a slice of your grandma's homemade pecan pie (minus the extended visit and lessons in crocheting a sweater). The flaky, buttery crust, crunchy toasted pecans, and rich gooey filling are some of my long-time favs…all stuffed into a single, portable bar. (I mean really, does it get any better than that?) It's recommended that you light a fire and have yourself one of these delicious treats with a hot rum toddy. (Okay, I made that last part up, but it sure makes for a decadent dessert accompaniment.) Happy baking, dessert enthusiasts…
Crust
1 cup butter, softened
1 cup packed brown sugar
2 cups all-purpose flour
Filling
2 eggs
1/2 cup packed brown sugar
1/2 cup dark corn syrup
2 tablespoon rums or 2 teaspoons rum extract
2 cups pecan halves (lightly toasted)
Icing
1/2 cup powdered sugar
1 tablespoon butter, softened
2 teaspoons rum or 1/2 teaspoon rum extract plus 2 teaspoons water
Directions
Heat oven to 375°F. Grease bottom and sides of 13×9-inch pan with shortening or cooking spray (do not use dark pan).
In medium bowl, beat 1 cup butter and 1 cup brown sugar with electric mixer on low speed until creamy. Stir in flour. Press evenly in pan.
Meanwhile, in medium bowl, mix all filling ingredients except pecans. Stir in pecans. Pour over crust, spreading pecans evenly.
Bake 12 to 15 minutes or until filling is set. Cool completely, about 1 hour.
In small bowl, mix icing ingredients (add additional rum or water, 1/2 teaspoon at a time, if icing is too thick to drizzle). Drizzle icing over bars. For bars, cut into 8 rows by 4 rows.
Makes 32 bars
Source: Betty Crocker