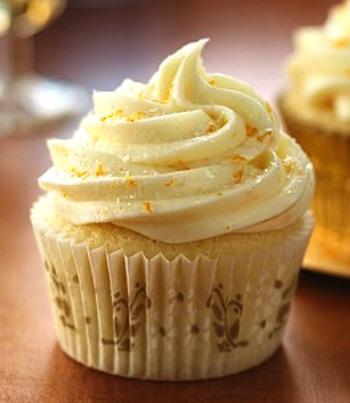 This Week's Make Me, Bake Me: Mimosa Cupcakes
Perhaps this makes me a certified lush, but I love desserts that mimic my favorite cocktails. (I mean really, who doesn't love a Mimosa or three?) Crisp, sparkling champagne and tart OJ…makes you want to fast-forward to Sunday and find a charming brunch spot that offers (bottomless) Mimosas, doesn't it? Well, Mimosa enthusiasts, this cupcake recipe is almost as good as the real deal. The sweet bubbly and tarte orange juice come through in each and every bite. Plus, these delectable darlings make for an eye-pleasing dessert; perfect for any party or engagement that calls for a sweet treat. Oh, and if your guests attempt to eat more than two, do the responsible thing and take away their keys (or, at least, their extra cupcakes.) No DWSIs (driving while under the sugar influence) are gonna happen on your watch!
Enjoy…
Cupcakes
1 box Betty Crocker SuperMoist white cake mix
3/4 cup champagne or ginger ale
1/2 cup orange juice
1/3 cup vegetable oil
3 egg whites
1 teaspoon grated orange peel
Frosting
6 cups powdered sugar
1/2 cup butter or margarine, softened
1 teaspoon grated orange peel
3 tablespoons champagne or ginger ale
3 tablespoons orange juice
Sprinkles
Edible glitter or coarse white sparkling sugar
Grated orange peel
Directions
Heat oven to 350°F (325°F for dark or nonstick pans). Place paper baking cup in each of 24 regular-size muffin cups.
In large bowl, beat cupcake ingredients with electric mixer on low speed 30 seconds, then on medium speed 2 minutes, scraping bowl occasionally. Divide batter evenly among muffin cups (about two-thirds full).
Bake 18 to 23 minutes or until toothpick inserted in center comes out clean. Cool 10 minutes; remove from pan to cooling rack. Cool completely.
In large bowl, beat frosting ingredients with electric mixer on medium speed until smooth and creamy. Spoon into decorating bag with large star tip. Pipe onto cupcakes; sprinkle with glitter and orange peel. Store loosely covered in refrigerator.
Makes 24 cupcakes
 Source: Betty Crocker