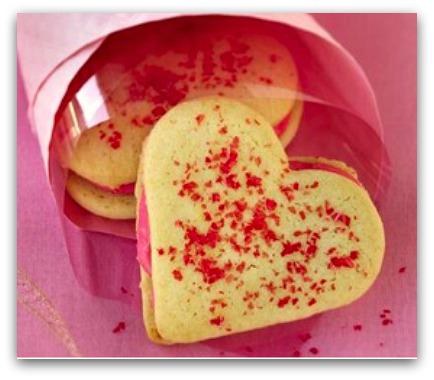 This Week's Featured Make Me, Bake Me: Heart Sandwich Cookies!
Looking for a cute, impressive Valentine's Day treat to make? Then try these adorable sandwich cookies! These oh-so-charming heart-shaped sugar cookies are delicious all by themselves but when you add the creamy cinnamon filling they become an irresistible confection! Not only are you going to totally heart this recipe (pun intended) but you might even start bragging to others you've become an expert dessert maker (as these impressive treats look like they're right out of a bakery)! Whether for a lover, gal pal, or co-worker these cookies are guaranteed to be a big hit. Don't be alarmed when Cupid comes knocking on your door, begging for seconds…
Ingredients
Cookies
1/2 cup butter, softened
1/2 cup granulated sugar
1 egg
1 tablespoon milk
1 teaspoon vanilla
1 & 1/2 cups all-purpose flour
1/2 teaspoon baking powder
1 teaspoon red edible glitter
Cinnamon Filling
1/4 cup red cinnamon candies
1/3 cup water
3 tablespoons butter, softened
3 cups powdered sugar
Directions
In medium bowl, beat 1/2 cup butter, granulated sugar and egg with electric mixer on medium speed until creamy. Beat in milk and vanilla, scraping bowl frequently, until well mixed. On low speed, beat in flour and baking powder until well mixed, scraping bowl frequently.
Shape dough into 2 equal halves; wrap in plastic wrap. Flatten each to 1/2-inch thickness. Refrigerate until firm, about 1 hour.
Heat oven to 400°F. On generously floured surface, roll out 1 half of dough 1/8 inch thick. Cut with small (2-inch) heart-shaped cookie cutter. On ungreased cookie sheets, place cookies 1 inch apart. Sprinkle glitter on cookies. Bake 5 to 8 minutes or until edges are lightly browned. Repeat with remaining half of dough, except do not sprinkle with glitter. Remove from cookie sheets to cooling rack. Cool completely, about 10 minutes.
Meanwhile, in 2-quart saucepan, heat candies and water to boiling over medium-high heat, stirring constantly. Reduce heat to medium-low; simmer uncovered about 3 minutes, stirring frequently, until candies are melted. Remove from heat. Using wire whisk, stir in butter and powdered sugar, 1/3 cup at a time, until smooth.
Spread or pipe heaping teaspoon filling in center of flat side of each undecorated cookie. Press decorated cookie over filling; press firmly to secure.
Makes 3 dozen sandwich cookies
Source: Pillsbury