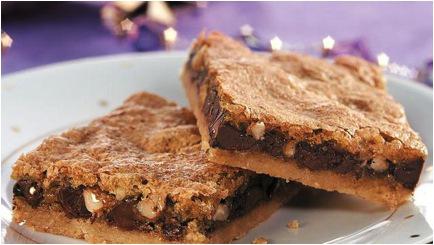 Photo Credit: Pillsbury
Ahhh, how I just love simple recipes that are quick to make but fast to deliver loads of dessert satisfaction (read: nothing beats a quick n' easy recipe that allows me to consume the dessert within an hour of making it). This week's Make Me, Bake Me packs a lot of dessert punch with it's rich, chocolately middle sandwiched in between two layers of chewy cookie deliciousness. If you like: A) dessert B) cookie bars C) chocolate and toffee D) all of the above, this dessert is right up your bakery. Enjoy, dessert enthusiasts…
Ingredients
Crust
1 cup all-purpose flour
1/2 cup packed brown sugar
1/2 cup butter or margarine, softened
Topping
1 cup packed brown sugar
2 tablespoons all-purpose flour
1 teaspoon baking powder
2 eggs
1 cup semisweet chocolate chips (6 oz) (or milk chocolate chips, if preferred)
1/2 cup chopped nuts
Directions
Heat oven to 350°F. In small bowl, mix crust ingredients until well blended. Press in bottom of ungreased 13×9-inch pan. Bake 8 to 10 minutes or until lightly browned. Cool slightly, about 5 minutes. Increase oven temperature to 375°F.
Meanwhile, in medium bowl, mix 1 cup brown sugar, 2 tablespoons flour, the baking powder and eggs until well blended. Stir in chocolate chips and nuts. Pour topping evenly over crust, spreading slightly if necessary.
Bake 13 to 18 minutes or until deep golden brown and center is set. Cool completely, about 1 hour. For bars, cut into 6 rows by 6 rows.
Makes 36 bars.
Source: Pillsbury