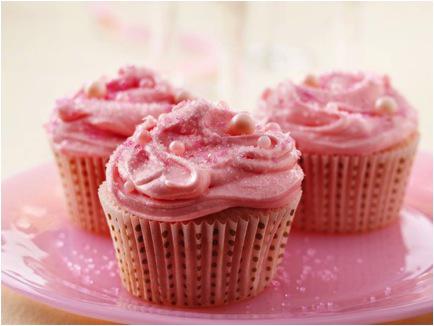 This Week's Featured Make Me, Bake Me: Champagne Cupcakes
Break out the bubbly, dessert enthusiasts! It's time to celebrate. The occasion? Your soon-to-be new favorite cupcake! These cupcakes are as delicious as they are gorgeous. (Pretty + delicious? Yes, please.) A quick back story: one of my absolute favorite bakeries in Dallas (Society Bakery) offers a champagne cupcake that is the kind of delicious you'd jump through hoops for — as in stalking the bakery's owner and begging her to give up her recipe kind of hoops. (Hey, don't judge. They're that amazing. And then some.) So, bust out the champagne (and baking apron), cupcakes lovers, and bake up these lovely 'lil confections, ASAP. (What to do with the extra bubbly, you ask? Skip the milk and pour yourself a glass to accompany your cupcake. Why not? These oh-so-cute miniature cakes are most definitely worth celebrating!) Cheers!
Champagne Cupcakes
1 box Betty Crocker SuperMoist white cake mix
1 1/4 cups champagne
1/3 cup vegetable oil
3 egg whites
4 to 5 drops red food color (I opted to skip this as I'm a purist when it comes to cupcake color)
Champagne Frosting
1/2 cup butter or margarine, softened
4 cups powdered sugar
1/4 cup champagne
1 teaspoon vanilla
4 to 5 drops red food color (I opted to skip this as I'm a purist when it comes to cupcake color)
Garnishes
Pink decorating sugar and edible pink pearls (optional)
Directions
Heat oven to 350°F (325°F for dark or nonstick pan). Place paper baking cup in each of 24 regular-size muffin cups.
In large bowl, mix dry cake mix and champagne. Add oil, egg whites and food color. Beat with electric mixer on medium speed 2 minutes. Divide batter evenly among muffin cups.
Bake 17 to 22 minutes or until toothpick inserted in center comes out clean. Cool 10 minutes; remove from pan to cooling rack. Cool completely, about 30 minutes.
In medium bowl, beat frosting ingredients with electric mixer on medium speed until smooth. Frost cupcakes. Sprinkle with garnishes, if desired. Store loosely covered.
Makes 24 cupcakes
Source: Betty Crocker