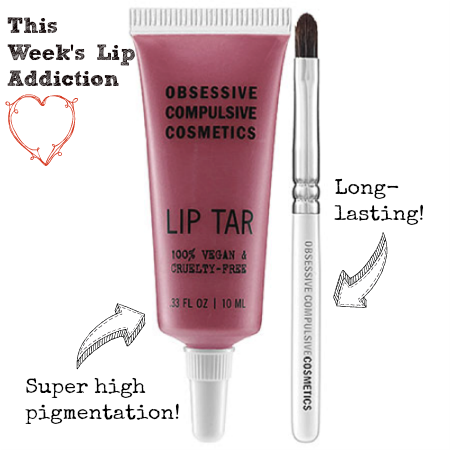 Shown: Lydia – darkroom plum
No question that when it comes to makeup, lip color is my obsession. Glosses, stains, matte and cream lipsticks, and balms, I heart all things lippie. So in honor of my lip addiction…obsession….enthusiasm, I'm starting a series fittingly titled This Week's Lip Addiction, where I'll spotlight my latest lip crush! So without further adieu, my latest lip obsession? Obsessive Compulsive Cosmetics Lip Tar. This mind-blowing lip color goes on slick and moist and then dries down to a satin finish that out-lasts the typical lip color consuming activities (from latte sipping to lunch noshing). Here's the lip-loving scoop:
Lippie specifics:  What lip-lured me in from the get-go is Lip Tar's long-lasting wearability. This high-opacity lipstick concentrate has never-ending longevity (think Energizer Bunny meets lipstick) and comes in a huge variety of colors ranging from pastel peach to vampy black. And for all the cruelty-free fans or lippie lovers who simply don't want a bunch of unnecessary ingredients in their lipstick, this straight-forward formula does not contain petroleum or silicone and is 100 percent vegan and cruelty-free.
Lippie lowdown: Lip Tar will undoubtedly become one of your new lippie faves due to combining the longevity of a creamy lipstick with the breezy application of a gloss. Ultra-saturated in color, Lip Tar contains an unprecedented amount of pigment – so a little goes a long way. (A high-pigment lipstick that lasts for hours? You had me at high!) And for easy travel and application, each Lip Tar ($16 each) also comes with a vinyl carrying case and mini lip brush.
You can find this luscious lippie must-have at Sephora or Beauty.com, lippie lovers. Kiss, kiss!
Do you have a favorite lipstick/gloss, readers? Which brands are you obsessed with?