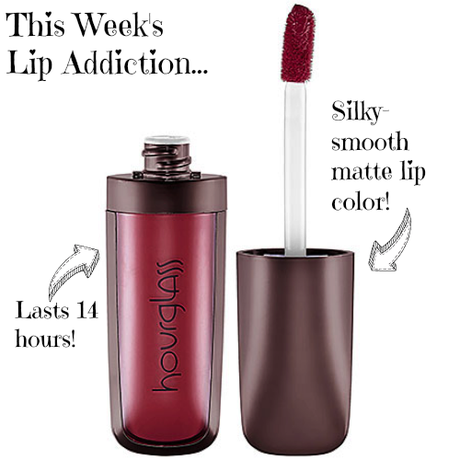 Color: Empress – deep aubergine 
No question that when it comes to all things makeup, lip color is my can't-live-without. Glosses, stains, matte and cream lipsticks, balms — I heart all things lippie. So in honor of my love for lip color, I've started a series fittingly titled This Week's Lip Addiction, where I spotlight my latest lip crush. This week's lippie pick? Hourglass Rouge Opaque Liquid Lipstick. Its rich pigmented color and silky smooth matte finish makes my lip-loving heart go pitter patter. Here's the smoocher-worshiping scoop:
Lippie specifics:  If you're a sucker for packaging, you'll love this lipstick's sleek gloss-like tube. This super rich liquid lipstick ($28) goes on smooth and delivers 14 hours (yes, I timed it) of continuous wear without flaking or dryness (and a lip color that can last through my 3x's daily caramel latte is a big-time bonus). After half a day, my color (albeit a slightly lighter shade) stayed put. The only problem you'll potentially run into is deciding which color to pick (trust me when I tell you you'll want all nine shades).
Lippie lowdown: The "proprietary" blend of lip-loving ingredients in this liquid lipstick delivers intense, vibrant color with exceptional longevity. Things like skin-conditioning emollients, antioxidant fruit extracts, cili fruit, goji berry, and vitamins A, C and E help to protect the lips throughout the day (which, in laymens, means amazing lipstick that glides on and stays put all day). Moisturizing + long-lasting lip color = a worthy lippie pick.
You can find this long-lasting liquid lipstick at Sephora or Beauty.com, lippie lovers. Kiss, kiss!
Do you have a favorite lipstick/gloss, readers? Which brands are you obsessed with? Share 'em below!