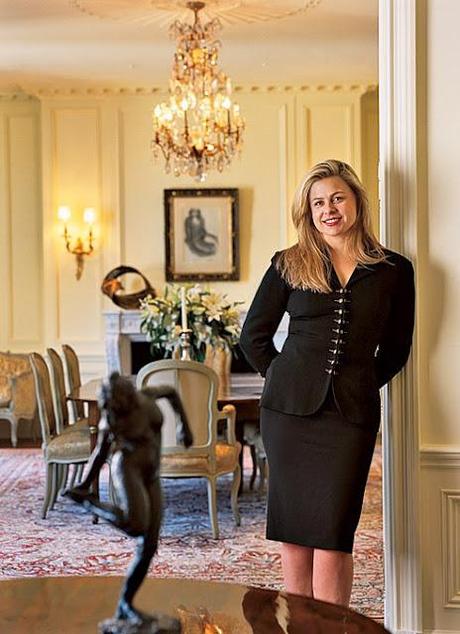 Years ago, I was flipping through a shelter mag, and came across a photo of a young girl painting outside with her father in the garden. I tore out the page. She with the curtain of blonde hair, straddling the bench, painting, with..... the coolest cowboy boots on, ever. I tore it out for her fashion sense. It was the 80s.  But a several years ago, I found that old binder that I had kept tear sheets in. And I found that photo.... and realized that it the  father in the photo was, Mark Hampton. It was a teenage Alexa that I had admired. Last year, at High Point Market I ran into Alexa at the Hickory Chair Furniture Co. showroom (with whom she has a line). She's just as fabulous in person as she is in print. I told her the story (because I'm totally, not cool, that way) and she boomed, "GIVE ME A HUG!" .
SADLY, I wasn't able to be a part of The Skirted Round Table this week. I had jury duty. But, Joni and Linda got together with Alexa, she of  the major design pedigree, blessed with Design DNA that has catapulted her to the top ranks of this industry. Have a listen to her impressive prolificity in the world of interiors. 
The Skirted Round Table
or subscribe to our free podcast on iTunes!